Performance
ATI outfitted three motherboard manufacturers with fully functional CrossFire demo systems to show off at the show. The systems featured an ATI CrossFire reference board and a pair of graphics cards: a Radeon X850 XT and a CrossFire Radeon X850 XT.
The CrossFire X850 XT had a DVI dongle with two ports; one connected to the monitor, the second connected to a DVI cable, which was fed into the DVI output of the regular X850 XT card.
Even in CrossFire mode, the two graphics cards appear independently in device manager, which may allow for multi-monitor operation while in CrossFire mode: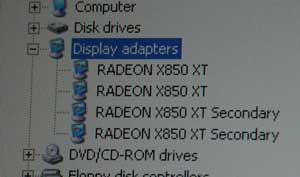 Enabling CrossFire is done from within the ATI control panel, and unlike NVIDIA's SLI, no reboot is required: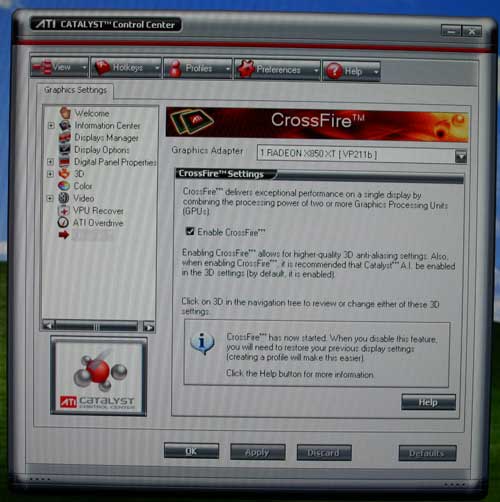 With CrossFire enabled, the new AA modes are available for user selection:

Armed with one of these machines that ATI sent to their partners, we managed to get some benchmark time with CrossFire. Unfortunately, we didn't have much time to test nor did we have a full suite of benchmarks, so all we could run was Doom 3 (it was either Doom 3 or 3dmark 05).
The system that we used for testing featured an Athlon 64 FX-53, 512MB of memory and the two X850 XT graphics cards running under Windows XP Professional.
We ran all Doom 3 tests with 4X AA enabled at the High Quality presets in the unpatched retail version of Doom 3.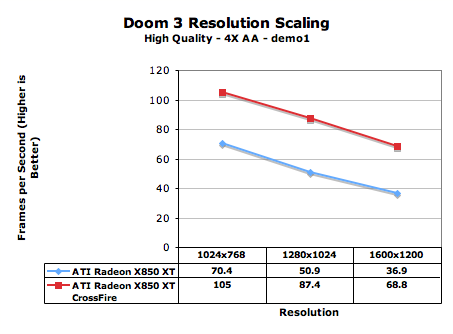 Even at this early stage, performance and stability were both impressive. The system that we were running had just been assembled hours earlier and didn't crash at all during our testing. In fact, the system was so new that the motherboard manufacturer who let us test with their hardware hadn't even seen it running - it was their first time as well as ours.
The performance of the solution was equally impressive; at 1024x768, the dual GPU CrossFire setup improved performance by 49%. At 1280x1024 and 1600x1200, the performance went up by 72% and 86% respectively. We had our doubts that ATI would be able to offer performance scaling on par with what we've seen on NVIDIA's SLI, but these initial numbers, despite being run on early hardware/drivers, are quite promising.