ATI's Answer to SLI: CrossFire (The Card)
ATI does not have dedicated silicon on their GPUs for chip-to-chip communications as NVIDIA does. ATI bills this as a positive aspect of their solution, as their CrossFire solution is capable of running cards with two different (and even different speed) GPUs. NVIDIA's SLI solution is restricted to running on not only the same model of card, but cards with the same video BIOS. Timing is crucial when hooking the two GPUs together for SLI. In fact, an out-of-spec SLI bridge can even cause problems. We will only be able to see which solution performs better when we get hardware in our hands, but if all things are equal, ATI will have the advantage here.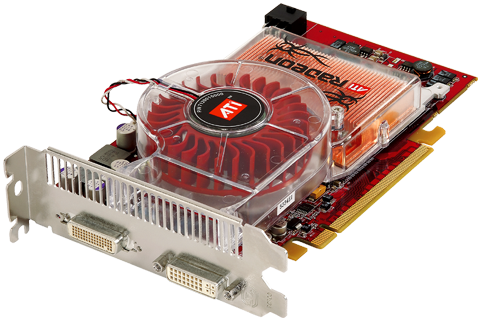 In order to make up for their lack of a chip-to-chip interconnect, ATI includes a Compositing Engine chip on their CrossFire card. Because of this, the CrossFire card can be paired with any Radeon X800 or X850 (there will be a CrossFire card for each flavor). The driver controls clock speeds of each card automatically and manages synchronization as necessary. Synchronizing boards can be done on a general scale and doesn't need to be clock for clock. All CrossFire cards have 16 pixel pipelines, but disable 4 pipelines when running in tandem with a 12 pipe Radeon. This is what allows ATI to provide a limited number of CrossFire cards to work with multiple Radeons. Each card does need its own x16 PCI Express slot, and the boards communicate through an external cable.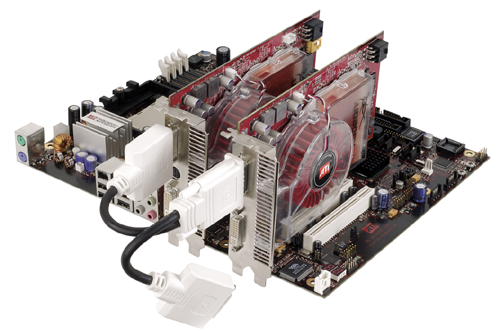 This may look more like the older 3dfx SLI solution, but in reality, the Radeon X800 or X850 sends its data digitally from the DVI output to the input on the CrossFire card, which then handles the data and forwards the final frame to the display device. Under alternate frame rendering (AFR), the data is simply sent on unchanged, but the Compositing Engine handles the combination of a split or supertiled frame, as well as the final rendering of ATI's super AA modes (more on these later).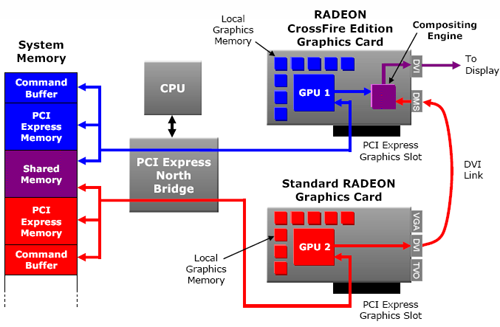 In order to function properly, the standard and CrossFire cards share some system RAM. This allows each card access to all necessary data that doesn't need to be unique for each frame. ATI's driver handles splitting the workload and configuring a unique command queue for each card based on the application and the rendering mode selected. Rendering modes are not user selectable, and are predetermined through Catalyst AI. Each card also has access to its own system memory as usual.