Conclusion & End Remarks
Our time with the new Altra Max has been interesting, as it's very much a chip design that quite polarising and pushing some aspects of core scalability to the very extreme.
When Ampere had talked about their plans to put to market a 128-core variant of the Neoverse N1, a 60% increase in cores over their first generation 80-core attempt, we were of course perplexed on how they would achieve this, especially considering the chip is meant to be used on the very same platform with same memory resources, and also on the same fundamental technology – same core microarchitecture, same mesh IP, and same process node.
The Altra Max is a lot more dual-faced than other chips on the market. On one hand, the increase of core count to 128 cores in some cases ends up with massive performance gains that are able to leave the competition in the dust. In some cases, the M128-30 outperforms the EPYC 7763 by 45 to 88% in edge cases, let's not mention Intel's solutions.
On the other hand, in some workloads, the 128 cores of the M128 don't help at all, and actually using them can result in a performance degradation compared to the Q80-33, and also notable slower than the EPYC competition.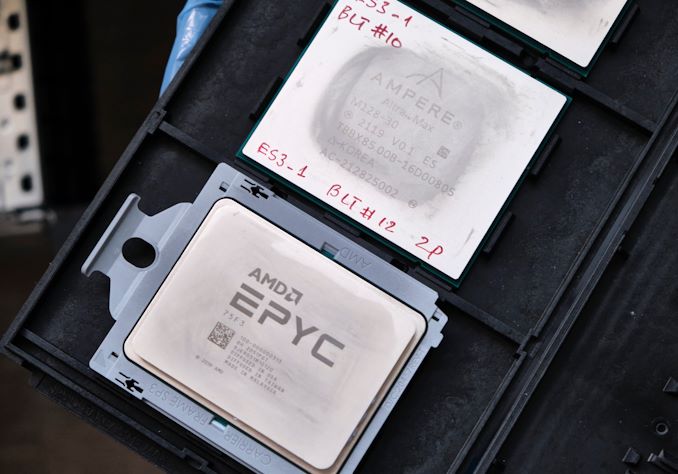 I think what we're seeing here is that Ampere is hyper-optimising themselves into certain workloads. The Altra Max marketing is especially focused around cloud-computing and hyperscaler deployments of the chip. Ampere's recent announcement earlier this summer, detailing that the company is working on their own custom CPU microarchitecture with specific plans to target such workloads, and abandon the general use case Neoverse Arm CPUs, with Ampere's description of "general use case" here being mentioned in a negative context, is telling that this is all a deliberate strategy.
What differs a cloud CPU from a regular CPU? I'll be frank here in mentioning that I don't have sufficient background on the matter other than to say that memory does not seem to be a focus-point of such workloads. We're still working on expanding our test suite with more real-world distributed systems workloads to cover such scenarios. By Ampere's wording of their announcement this summer, and by the very apparent direction of the new Mystique design performance characteristics, it seems we'll see even greater such extremes in the future.
On the competitive landscape, Ampere is carving out its niche for the moment, but what happens once AMD or Intel increase their core counts as well? A 50% increase in core counts for next-gen Genoa should be sufficient for AMD to catch up with the M128 in raw throughput, and technologies such as V-cache should make sure the HPC segment is fully covered as well, a segment Ampere appears to have no interest in. Intel now has an extremely impressive smaller core in the form of Gracemont, and they could easily make a large-core count server chip to attack the very segment Ampere is focusing on.
Only time will tell if Ampere's gamble on hyper-focusing on certain workloads and market segments pays out. For now, the new Altra Max is an interesting and very competent chip, but it's certainly not for everyone.
Related Reading: