Gigabyte Brings Solid State Storage to the Mainstream
In an effort to differentiate themselves from other motherboard manufacturers, Gigabyte has introduced a number of interesting add-ons for their motherboards, the most interesting of which is their $50 RAMDISK PCI card.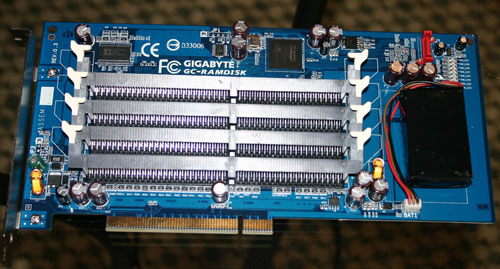 The card is a regular 32-bit PCI card that features four standard DIMM slots on board. The card also features a custom Gigabyte FPGA that is programmed to act as a SATA to DDR translator, which convinces the SATA controller you connect the card to that the memory you have on that card is no different than a regular SATA HDD. As long as you have memory on the card, the card will be available at POST as an actual SATA drive, with no additional drivers necessary.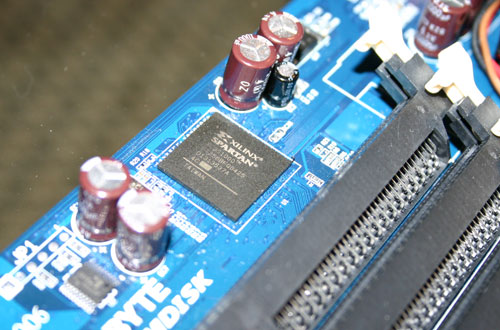 The Custom Gigabyte FPGA
The card is powered via the PCI slot, but RAM is volatile and thus if no power is provided to the card then all of the data is lost. In order to make this solution more realistic for real-world usage, Gigabyte outfitted the card with a rechargeable battery pack that can keep the memory powered and data intact for up to 16 hours with no power. After that 16 hours is up, your data is lost, but as soon as you apply power to the card again the battery pack will begin to recharge.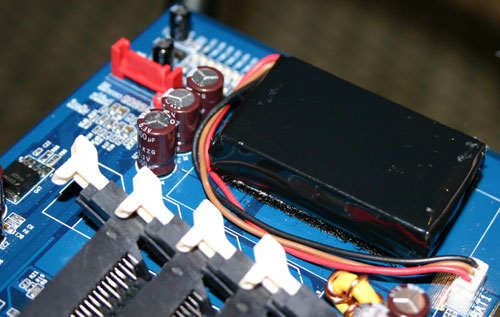 The Battery Pack and SATA connector. You connect a SATA cable from this port to the SATA controller on your motherboard and the RAMDISK will be treated as a hard drive.
Given that the card offers no real backup other than the battery it's not really suitable for extremely sensitive data, but it works well if your system is on all the time. Obviously the biggest benefit of using DDR memory as storage is that all accesses occur in nanoseconds, not milliseconds and is thus much faster at random accesses than regular hard drives. Transfer rates are also improved, but you're limited by the bandwidth of the SATA interface so DDR200 memory is the fastest that is supported.
It is an interesting step for Gigabyte, and we'd like to see how the technology evolves over time.