Whenever someone asks us who the larger graphics designer is, they are always shocked when we reply with the truth: Intel. As much as ATI or NVIDIA would like you to believe, discrete graphics make up the minority of the desktop graphics market. Integrated graphics account for the majority of the graphics market and neither VIA, S3, XGI, NVIDIA nor ATI ever held enough pull to really put a dent into Intel's sales. nForce2 IGP may have been the only exception to this, but at the time Athlon was still new and didn't hold a lot of market share either. Of course, the profit margins and performance of integrated graphics pales in comparison to discrete graphics, but the majority of people are not gamers so expensive graphics solutions are overkill.
NVIDIA decided to stop their IGP initiatives for a couple years; nForce3 and the original nForce4 boards do not have any integrated graphics at all. Some nForce4 OEM partners have opted to bundle low cost GeForce 6200TC video cards with nForce4 motherboards, although the cost of these bundles usually exceed the magic $100 price point. ATI has been mildly successful with the Xpress 200 (RS480, RS400) chipset since picking up Fujitsu and Gateway, although RS350 and RS300 were not very successful at all.
This summer, Intel, ATI and NVIDIA will all be vying for the IGP market - not just on the AMD platform, and not just on the desktop. Intel's 945G, NVIDIA's C51/C60 and ATI's RS482/RS410 will turn the second half of 2005 into a market with options again.
ATI RS482, RS410
ATI's integrated graphics solution offers very little above their existing RS480/RS400 solutions right now. RS480 motherboards, more commonly dubbed Xpress 200, are primarily limited to Socket 754 Athlon 64 platforms, but some reference Socket 939 boards are also floating around. RS400 motherboards, which are also called Xpress 200, are only available in Socket 775 varieties for Intel processors. Aside from the minor tweaks here and there, RS482 and RS410 only differ from their predecessors by the production method. Existing Xpress 200 core logics are produced on 130nm processes, but the new chips will use 110nm. The new chipsets come in several varieties; RS will remain the integrated graphics solution and RX will remain the discrete graphics. There will not be an "RD" (Crossfire or MVP) chipset for ATI on RS482 or RS410 chipset. RD480's successor - RD580 - is expected to start sampling this August, with RD690 sometime after that. For Intel, the MVP roadmap goes from RD400 straight to RD600, and RD600 is expected to start sampling in September.
Several months ago, when the original RS300 and RS350 motherboards were reviewed, the south bridge on both chipsets performed abysmally. Poor USB performance and general instability ended up hurting ATI in the long run, as the SB400 south bridge was eventually designed by ULi. ULi's version of SB400 ships with all Xpress 200 motherboards available right now, but optimistic claims that within a month or so ATI's new south bridge, SB450, will start bundling with their existing and next generation core logics.
The new RS482/RS410 and SB450 combo boast a few new features, although most are attributed to SB450. For starters, SB450 brings a new audio DSP to the chipset, which looks like a run of the mill, 7.1 channel AC'97 replacement. Since RS482 and RS410 also claim HDTV capability, an improved audio codec over AC'97 is technically a necessity. Some RS400 motherboards have Component Video outputs, and since the integrated X300 graphics can obviously support a 1280x720 signal (or better), HDTV compatibility is somewhat unsensational. From the ATI roadmaps we have seen, RS482 and RS410 also make this claim.
Unfortunately, like most things ATI, OEM partners have told us that none of these 110nm chips will make their expected June ship date, which is probably why there aren't many details floating around yet. The A11 silicon is still waiting approval from some committees as well (A12 will be final). ATI makes an interesting note in their roadmap that integrated Gigabit Ethernet offers no cost or performance advantage over using a third party chip, and thus Gigabit Ethernet will continue to remain a third party add on for motherboard manufacturers.
ATI roadmaps mention RS600 (Intel) and RS690 (AMD) on the horizon as well with Radeon X700 integrated graphics. For whatever reason, there is also a mysterious dotted line drawn from R520 to the RS600/RS690 core logic. In addition, the roadmap hints at a second generation MVP (Mutli-VPU Platform) for mass production sometime in December 2005.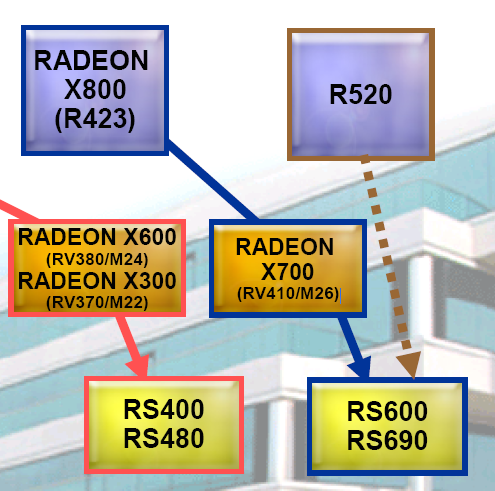 All of ATI's roadmaps also talk a lot about HDCP (HD Copy Protection) and CGMS-A (Content Generation Management System for Analog). We have talked about HDCP in the past, and particularly its role on the PC platform. Since these IGP chipsets from ATI are fusing audio with video output anyway, and are particularly geared toward the HTPC market, don't be surprised if HDMI onboard really does become a reality soon.
NVIDIA C51/C60
NVIDIA's integrated graphics iteration of nForce4 surfaced with news a few weeks ago and it is the furthest chipset from production at this point. NVIDIA's C51, also known as CK804u, has been demonstrated inside NVIDIA already and non-working AMD motherboards were already on display at CeBit 2005. The Intel variation of this, dubbed C60 is also starting to show up in various locations as the Intel counterpart to C51. The internal NVIDIA roadmaps state C51 is "MCP51 in-house", but the final silicon may live up to the single chip CK8 moniker - Crushed K8. C51 will come in three flavors; "G" for graphics, "D" for desktop and "M" for mobility.
The roadmap we looked at for NVIDIA mentioned that C51 had networking, SATA, Audio and USB disabled, which indicates to us that the chipset still has a long way to go in the testing and debugging process. Like RS480/RS400, the upcoming C51 and C60 are also unified memory architectures (UMAs), only with TurboCache graphics. NVIDIA's roadmap details that qualified drivers should be ready for later July, so expect boards soon after.
The large difference between Xpress 200 and NVIDIA's new IGP is the scope. ATI and NVIDIA have pushed for standards like MXM for notebook upgradeability, but C51M (and we suspect C60M) are full blown IGP core platforms, primarily for budget mobility. AMD's Turion initiative has fairly weak core logic support, and a well developed nForce4 mobility chipset would give Turion a lot more steam. ATI's M22 (X300), M24 (X600) and eventual M26 (X700) will come as discrete solutions for notebook manufacturers and not as full package chipsets.
NVIDIA's roadmap also stressed the addition of low cost SLI boards. Both nForce4 variants (AMD and Intel) will no longer have the paddle board in the near future and also get a slightly more economical board layout since nForce4 is mature enough for manufacturers to move to a four layer design. Expect these new cheap boards by December.
Of course, with Anand in Taipei already and Computex starting next week, expect lots of new roadmaps and goodies in the next few days!