DDR400 3:4:4:12 Graphics Performance
Our initial tests were with 2:2:2:8 timings at DDR400. We found that cheap 512MB sticks of CL 3 DDR400 could be had for next to nothing, and system builders will no doubt get a further discount. Buying complete systems with a cheap (high latency) gigabyte of PC3200 and a TurboCache or HyperMemory card shouldn't be much of a problem. To be sure that our tests reflect cheap memory well, we used 3:4:4:12 timings and increased our command rate from 1T to 2T. This should do well to represent cheap DDR400 RAM.
Our graphs will show the percentage performance advantage that 2:2:2:8 1T has over 3:4:4:12 2T memory when paired with our budget cards. Our tests were performed at 800x600 with no AA/AF enabled, as we had previously determined this to be our performance sweet spot for these cards. Graphs will be sorted in order of how resilient they are with respect to memory speed. Cards that run at more consistent framerates on fast and slow RAM will be near the top, and cards that benefit more from faster memory will be near the bottom.
Upon examination, the graphs reveal counter-intuitive data. We see that the 64MB TC card and the ATI card generally benefit the most when moving from slow to fast RAM. We would think that the more local RAM that a card has, the less dependent that the card will be on system RAM. We can see here that this simply isn't the case.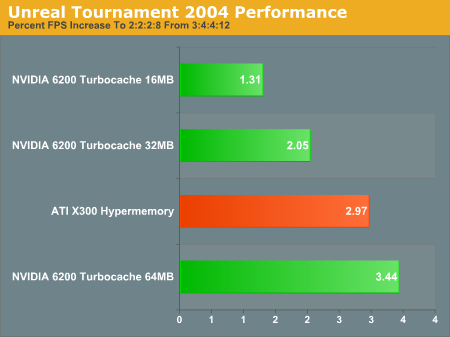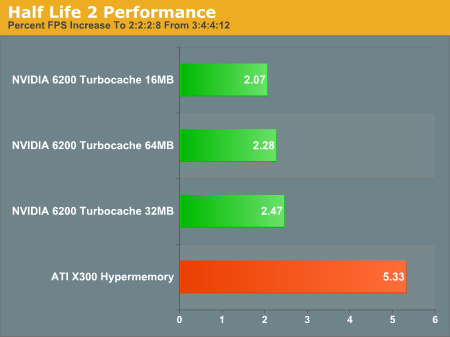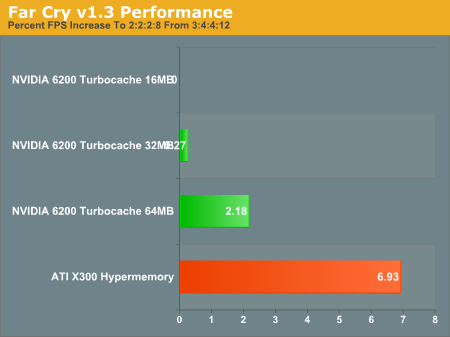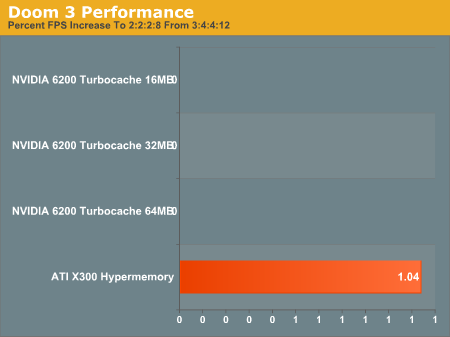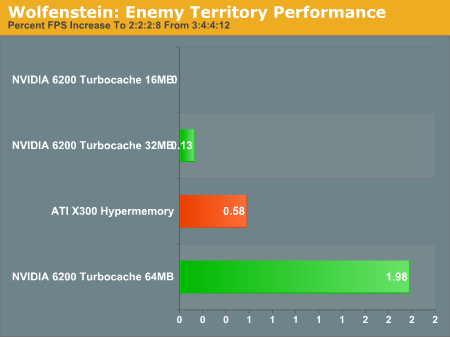 Even when comparing the 16MB and 32MB TC cards (which have the same clock speeds), we see that the 16MB card's performance is most consistent. In the end, the 32MB card still performs the best followed by the 64MB TC card, the HyperMemory card, and the 16MB TC card.