Overclocking With Rocket Lake: The Conclusion
In our launch day review of Intel's Rocket Lake processors back in March, we dived into the defining factors of Intel backporting its 10nm into a working and usable 14nm desktop product. While the overall reception was mixed from media and users alike when compared directly to its predecessor 'Comet Lake,' the biggest addition was PCIe 4.0 support for the highest available bandwidth in consumer storage and graphics cards and through support for AVX-512 in desktop environments.

Intel has been pushing the limitations of its silicon right out of the factory through its refinement of 'turbo' through the Intel Thermal Velocity Boost (TVB) and Adaptive Boost Technology (ABT). This, combined with the motherboard vendor's own Multi-Core Enhancements (MCE), performance is further increased beyond Intel default and does yield great out-of-the-box performance. While Adaptive Boost Technology relies primarily on thermal and power budgets, Thermal Velocity Boost can be heavily mitigated and manipulated through the use of better CPU cooling. The better the CPU cooler, the better the levels of TVB performance there will be.
Core i9-11900K Results Analysis: Stock versus Overclocked
When it comes to analyzing our results at both stock settings and when achieving the highest all-core frequency overclocking on all four Core i9-11900K processors and the four Z590 boards, we saw some interesting results.
Motherboard
Chip #1

Chip #2

Chip #3

Chip #4
ASRock
Z590 Taichi
5.2 GHz
1.440 V
5.2 GHz
1.450 V
5.2 GHz
1.460 V
5.2 GHz
1.450 V
ASUS ROG
Maximus XIII Hero
5.2 GHz
1.430 V
5.2 GHz
1.450 V
5.2 GHz
1.470 V
5.1 GHz
1.380 V
GIGABYTE Z590
Aorus Master
5.1 GHz
1.330 V
5.1 GHz
1.350 V
5.1 GHz
1.350 V
5.1 GHz
1.370 V
MSI MEG
Z590 Ace
5.2 GHz
1.440 V
5.2 GHz
1.460 V
5.2 GHz
1.470 V
5.2 GHz
1.460 V
Overall, all four of our chips managed 5.2 GHz all-core on at least one of the boards. Chip #1 seemed the best overall, while Chip #4 only hit 5.2 GHz on two of the boards. The ASRock on the other hand overclocked all four processors to 5.2 GHz, however the best and worst chip/voltage combiantions occured on the ASUS ROG.
For performance, we averaged the results achieved for each benchmark using each chip at both stock settings and overclocked to the maximum capable overclock for each benchmark and sub-test from each benchmark. This shows the best of both worlds when it comes to enhancements from each of the four motherboards and processors as a collective rather than individually, more so to make the data easier to digest, relatively speaking.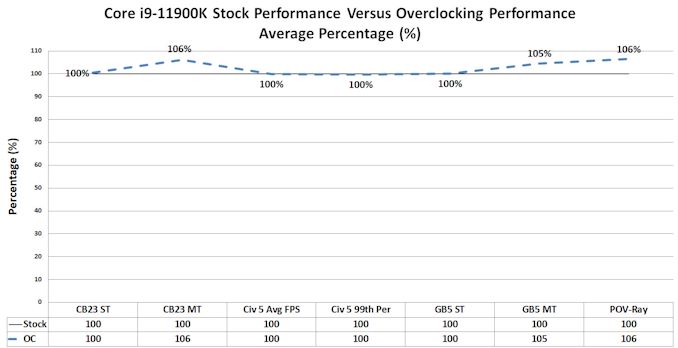 Above is the performance average from each processor and motherboard in each of our benchmarks. As this is unreadable, we've made it a little clear in the chart below.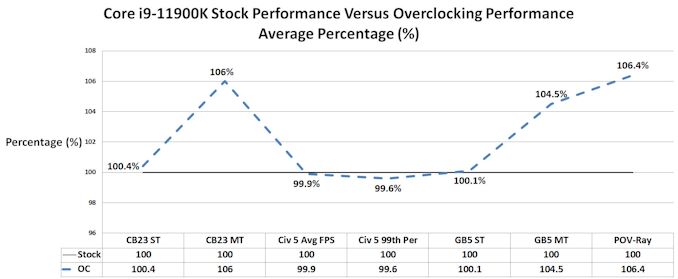 Focusing on the performance for each of our benchmarks, the biggest increase came in POV-Ray, with an average increase of 6.4% when comparing overclock to stock across all four chips and Z590 boards. In Cinebench 23 MT, there was an increase of 6% on average. GeekBench 5 was much of the same, with an increase of 4.5% on average for MT.
The reason why all the ST results are low is one of the follies of all-core overclocking - Intel optimizes the chip to have the best cores boost to a high turbo, in this case 5.3 GHz. In the past, overclockers used to blast through the peak turbo even for all-core overclocking, but now this seems to be limited at best. In our testing we went for the best all-core, and hit 5.2 GHz, which means ST is slightly down, but the rest of the system running background tasks can boost higher.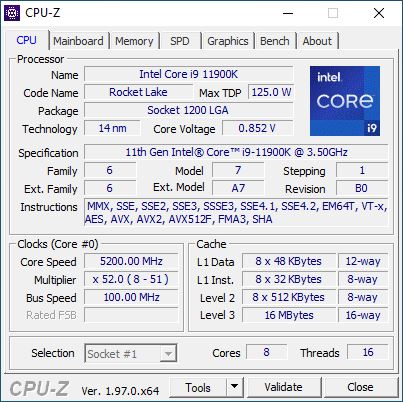 One of our Intel Core i9-11900K's at 5.2 GHz all-cores before benchmarking
One of the things to look for when doing this is thermals and power. The Cryo Cooler used was excellent at showcasing idle temperatures below ambient, with the hardware designed to control the thermals to eliminate any potential condensation by going below the dew point (an important number based on humidity). But at stock it did some nice numbers.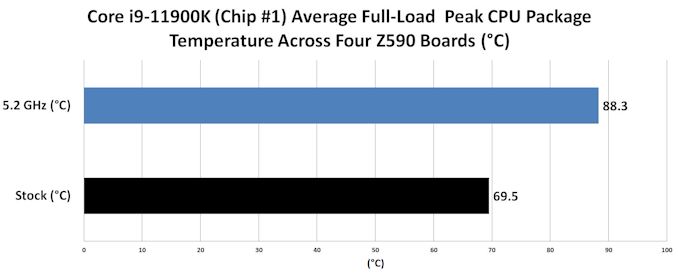 Regarding CPU package temperatures, we used Chip #1 on all four Z590 models at both stock settings and overclocked 5.2 GHz for our data points. Going from stock settings compared to overclocking the Core i9-11900K (Chip #1) to 5.2 GHz, we saw an average increase of around 18.8ºC in CPU package temperature. This is a large rise in heat when factoring in the multi-threaded performance gains which maxed out at 6.4% in our POV-Ray benchmark. Actually to be honest, we expected more from a TEC, but when going full beans on an overclocked system, we're likely going up against the limits of what a TEC can handle.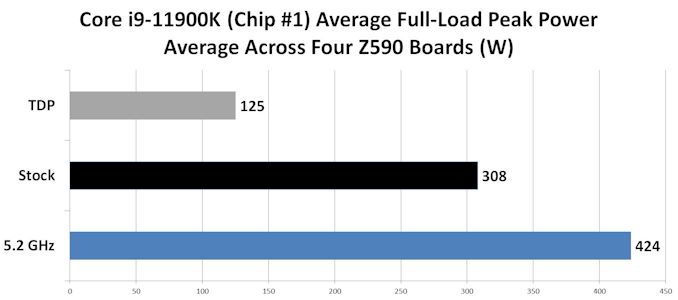 Looking at the accompanying full-system power draw (minus the TEC) in POV-Ray using Chip #1 when averaging it out across the four Z590 models, we saw an increase of 37.6% in the overall power draw taken from the wall. Again comparing this against performance, our increase in overall POV-Ray performance from stock to overclocked sits around 37.6%. It is no secret that Intel's Rocket Lake processors draw bundles of additional power when overclocked as well as run very toasty indeed.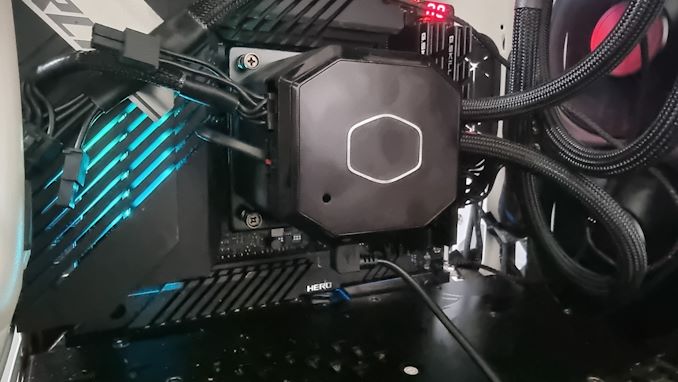 One of the things we noticed when using the Cooler Master ML 360 Sub-Zero is that TEC cooling is a relatively small unit compared to more competitive overclocking TEC constructions. The TEC cooling properties themselves did allow for sub-ambient idle loads, but it was a different story with a full-load placed on it. What is actually happening is called thermal runaway, which can actually accelerate the thermal properties of the plate. Once the cooling properties of a TEC have reached high thermal levels and in uncontrollable situations such as a 200 W TEC trying to cool a Core i9-11900K outputting 300 W, it can actually have a negative bearing on temperatures as the thermal energy within the cold plate will continue to rise. This means that the TEC doesn't really take hold of things when energy levels reach a certain point when compared to liquid-cooled solutions.
Is it Worth Overclocking The Core i9-11900K?
When it comes to overclocking the Intel Core i9-11900K on Z590, the biggest question is, is it worth it? There are a couple of plus points, and there are a couple of negatives to consider. The biggest plus point comes in multi-threaded performance, where an all-core overclock of 5.2, and 5.1 GHz did pull ahead against default settings. Unfortunately, in single-threaded applications and in our Civilization V game testing, we actually saw occasions where performance actually yielded a negative result.
The other main caveats came in thermal strain and additional power draw. When using chip #1 as our average baseline for thermal and power, numbers just went up and up and up. To put the power draw into perspective, using current average US energy prices, assuming the system was at full-load for the full duration, 10 hours a day over 300 days a year equates to an extra $41 in energy bills. Overall that's not a lot, but it does make you think if you want a heat source in the corner of your office. (Ian: One thing to consider is that Threadripper owners have 280W CPUs just fine, but there's a performance delta there as well.)
For enthusiasts looking to purchase a pre binned processor from a retailer that is guaranteed to do higher than average overclocks and provide optimal cooling conditions such as custom liquid loops, there are benefits to be had. Unfortunately, the benefits aren't those of generations ago when users could overclock a Core i5 to Core i7 levels of performance.
On the whole, and from a personal perspective, unless a user is willing to drop an incredible amount of money on a top Z590 motherboard, the best available CPU cooler, an equally adept power supply, and a pre binned Core i9-11900K, then sure, it's fun to get the most out of a system. However, for the everyday user or gamer looking for the best out-of-the-box gaming solution, then overclocking the Core i9-11900K simply isn't worth it. The additional cost would be better to upgrade storage, memory, or even the next step up in graphics.