The ASUS ROG Maximus XIII Hero: A Quick Recap
The ASUS ROG Maximus XIII Hero is one of ASUS's most premium desktop models for Intel's Rocket Lake processors. Some of its features are shared on the more expensive flagship Z590 models. The aesthetic is clean throughout, and ASUS includes integrated RGB LED lighting in multiple areas. This complements the black and silver design throughout rather well. Looking at the Hero's core features, ASUS includes three full-length PCIe slots, with the top two operating at PCIe 4.0 x16 and x8/x8, while the third slot is electronically locked to PCIe 3.0 x4. In between the top to slots, ASUS also includes a single PCIe 3.0 x1 slot. Focusing on memory support, the Hero can accommodate up to 128 GB across four slots, including support for speeds of up to DDR4-5333 out of the box.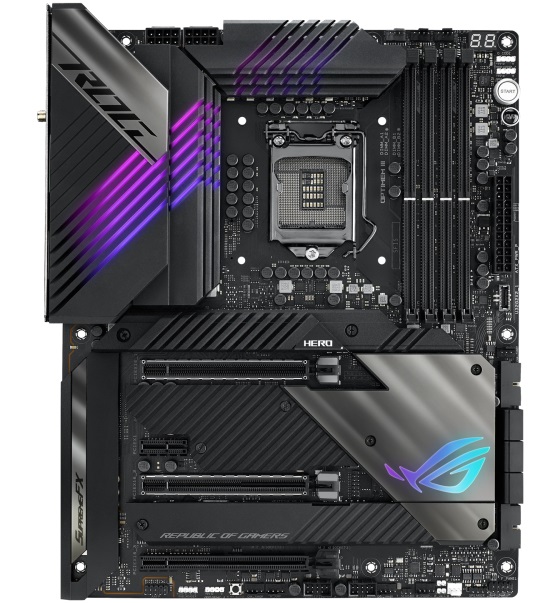 For storage, the Maximus XIII Hero includes for M.2 slots in total, including one PCIe 4.0 x4 M.2 slot, one with support for PCIe 3.0 x4 drives, and two with support for both PCIe 3.0 x4 and SATA drives. Other storage options include six SATA ports supporting RAID 0, 1, 5, and 10 arrays. The Hero boasts an impressive selection of controllers, including Thunderbolt 4, which adds two Type-C ports to the rear panel, as well as dual Intel I225-V 2.5 GbE controllers and Intel's latest AX210 Wi-Fi 6E CNVi. Like other models in the same market segment, it includes premium onboard audio, consisting of a ROG SupremeFX ALC4082 HD audio codec and an ESS Sabre ES9018Q2C DAC.
ASUS ROG Maximus XIII Hero Key Overclocking Variables
Some of the main variables to consider on the ASUS ROG Maximus XIII Hero when it comes to overclocking include:
Premium 16-phase power delivery operating at 7+1 (teamed design)
2 x 8-pin 12 V ATX CPU power inputs
Solid passive VRM cooling design
Support for DDR4-5333 out of the box
Examining the 16-phase power delivery on the Hero more closely, it uses an Intersil ISL69269 PWM controller, operating in a 7+1 configuration but no doubles with ASUS' teamed mode. For the CPU section, ASUS uses fourteen Texas Instruments 9540RR 90 A power stages in teamed mode, making it a 7-phase CPU VRM design. The SoC section uses two Texas Instruments 59880 70 A power stages, which also uses teaming.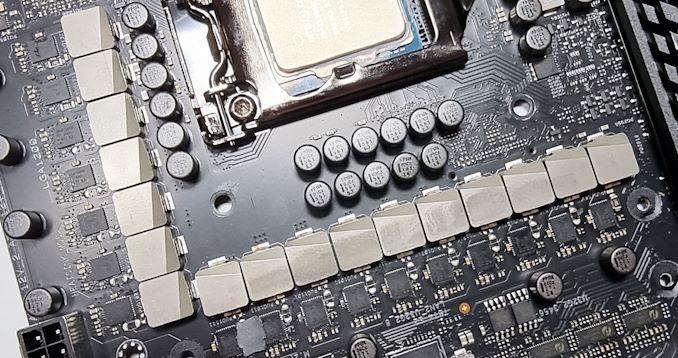 The 16-phase power delivery on the ASUS ROG Maximus XIII Hero (operating at 7+1)
The Hero is using a passively cooled power delivery design. Keeping the power delivery cool is a large two-part heatsink connected to the large rear panel cover on the board. It's very weighty and has plenty of mass to it.
ASUS ROG Maximus XIII Hero Firmware for Overclocking: Extreme Tweaker
The ASUS firmware across its Z590 range is consistent in layout, with subtle differences in GUI across each of the different series in the lineup. All of the board's overclocking options can be found within the Extreme Tweaker section of the Advanced area of the BIOS.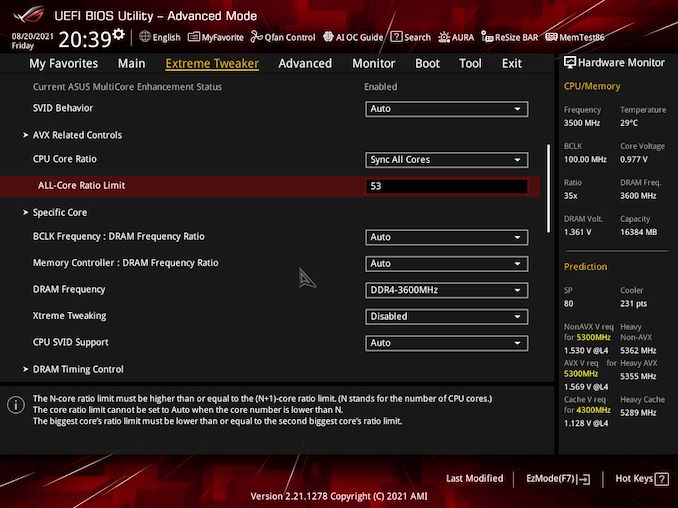 Within the Extreme Tweaker section, there's plenty of options for users to overclock all the main elements of the processor, memory, and integrated graphics. There are many variables to consider when performing extreme tweaks and for users looking to maximize efficiency. Still, the main options for overclocking the CPU are the CPU Core Ratio and CPU VCore voltage settings. Adjusting both of these options are the basic fundamentals of getting the most out of a processor.
For overclocking memory, ASUS allows users to enable X.M.P 2.0 profiles on compatible memory kits and provide extensive options for users looking to tweak latency timings and push the memory frequency.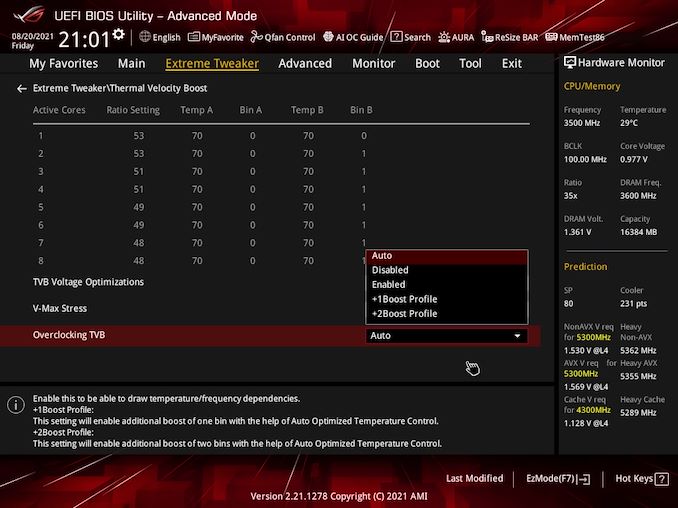 The ASUS ROG firmware also allows users to overclock individual cores on the installed processor, with some more aggressive Intel Thermal Velocity Boost profiles. It should be noted that to make the most out of these profiles, more aggressive forms of cooling will be required, such as premium AIO's or custom water cooling.
ASUS is typically good with its ROG models for overclocking, and the varied amount of options available, including CPU frequency, voltage, power options, and memory settings, make this a solid option for users looking to maximize performance with Rocket lake.
When using the ASUS ROG Maximus XIII Hero to overclock each of the four Core i9-11900K's, we achieved the following stable all-core overclocks:
Achieved Stable Overclock on Each Core i9-11900K
Intel Core i9-11900K Sample
Achieved All-Core
CPU Frequency
Achieved
CPU VCore
Voltage (V)
Chip #1 - Batch V051F933
5.2 GHz
1.430 V
Chip #2 - Batch V051F933
5.2 GHz
1.450 V
Chip #3 - Batch V051F933
5.2 GHz
1.470 V
Chip #4 - Batch X101J374
5.1 GHz
1.410 V
From our testing on the ASUS ROG Maximus XIII Hero, three of our four Core i9-11900K's managed 5.2 GHz all-cores stable throughout our testing. The only one that didn't was the chip from the odd batch, which managed to achieve 5.1 GHz all-cores with a CPU VCore of 1.410 V. Despite our best efforts, chip #4 wasn't stable at 5.2 GHz all-cores even with voltages up to and including 1.50 V. On the ASUS board, our motherboard testbed chip is actually the best performer of the four chips, with 5.2 GHz all-cores at a modest 1.430 V on the CPU VCore.
In our VRM thermal testing during our full review of the board, we got the following results with the ASUS ROG Maximus XIII Hero with Chip #1 at 5.1 GHz with 1.450 V:
VRM Sensor Temp: 55°C
VRM Probe 1: 52°C
VRM Probe 2: 54°C
Ambient Temp: 23°C
During our review of the ASUS ROG Maximus XIII Hero and specifically in our VRM thermal testing, the Hero displayed some of the best VRM thermals we've seen from a Z590 motherboard. The design is a passive one, but it handled our predefined load very well, and we have no doubt that the credit should go to the design team at ASUS for this one.