The ASRock Z590 Taichi: A Quick Recap
The ASRock Z590 Taichi is the brand's flagship model for Z590, and unless it releases a variant with an Aqua model with custom monoblock, such as it did for Z490 and X570, the Taichi is the main halo. Some of Taichi's prominent features include two full-length PCIe 4.0 slots operating at x16 and x8/x8, with a third full-length slot electronically locked to PCIe 3.0 x4 and one PCIe 3.0 x1 slot. In the top right-hand corner are four memory slots with support for up to DDR4-5000 with a maximum combined capacity of 128 GB.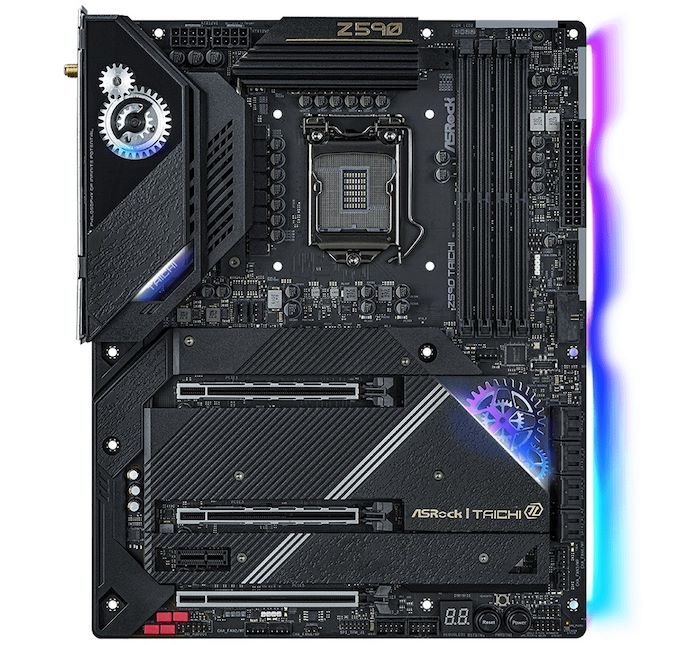 Looking at storage, the Taichi has a total of three M.2 slots, with one supporting fast PCIe 4.0 x4 NVMe drives and two with support for both PCIe 3.0 x4 and SATA M.2 drives. For conventional drives, ASRock includes a total of eight SATA ports, with six driven by the chipset with support for RAID 0, 1, 5, and 10 arrays; an ASMedia ASM1061 SATA controller powers the other two. Other notable features of the Z590 Taichi include a Thunderbolt 4 controller which adds two Type-C ports on the rear panel, a Realtek ALC1220 HD audio codec and ESS Sabre 9218 DAC pairing for the onboard audio, a Killer E3100G powered 2.5 GbE port, and a Killer AX1675x Wi-Fi 6E CNVi offering support for both the 6 GHz band and BT 5.2.
ASRock Z590 Taichi Key Overclocking Variables
Some of the primary variables to consider which are directly related to overclocking on the ASRock Z590 Taichi include:
Premium 14-phase power delivery operating at 6+2 (doubled design)
2 x 8-pin 12 V ATX CPU power inputs
Active VRM cooling
Support for DDR4-5000 out of the box
Delving more into the finer specifications of the Taichi power delivery, it uses a 14-phase power delivery that operates in a 6+2 configuration and is driven by a Renesas ISL69269 PWM controller. The CPU section uses twelve Renesas ISL99390 90 A power stages and is paired up by six Renesas ISL6617A doublers. The SoC section includes two ISL 99390 90 A power stages.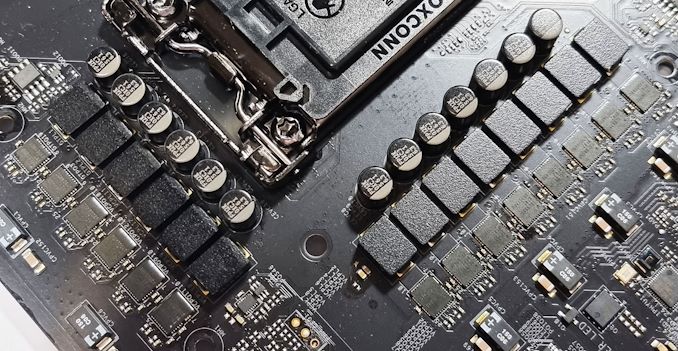 The 14-phase power delivery on the ASRock Z590 Taichi (operating at 6+2)
Keeping the power delivery cool is a pair of heatsinks that are interconnected by a single heat pipe. The overall design includes a small cooling fan which makes this solution an active one, with optional brackets in the accessories for users to install either a 4 cm or 3 cm cooling fan.
ASRock Z590 Taichi Firmware for Overclocking: OC Tweaker
The ASRock Taichi UEFI firmware uses a funky black, blue, and purple accented GUI, which fits in with the board's design. ASRock includes two modes for users within the BIOS, the 'Easy' mode and the 'Advanced' mode. All of the board's overclocking settings and features can be found within the OC Tweaker section of the Advanced area of the firmware.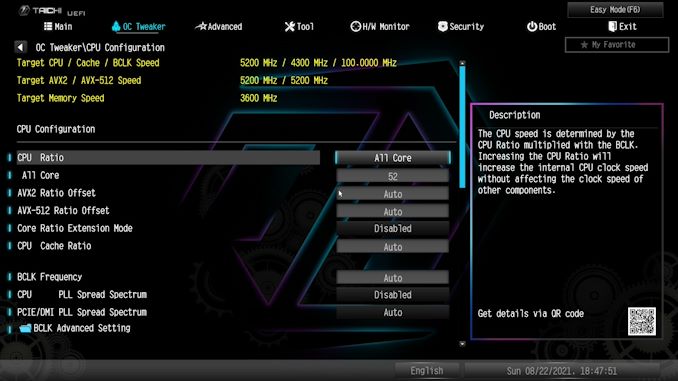 Inside the OC Tweaker section, ASRock includes individually segmented menus for the CPU Frequency, Memory, and Voltage settings. Being easy to navigate between the three core menus makes it a pleasant experience. When it comes to overclocking on the Taichi, the most common settings for overclocking the processor include the CPU Ratio (frequency), the AVX ratio offsets, and the CPU VCore voltage. On the ASRock Z590 Taichi, applying any custom variable for CPU VCore will force Level 1 of the board's load line calibration settings, although users can change this if they wish to do so.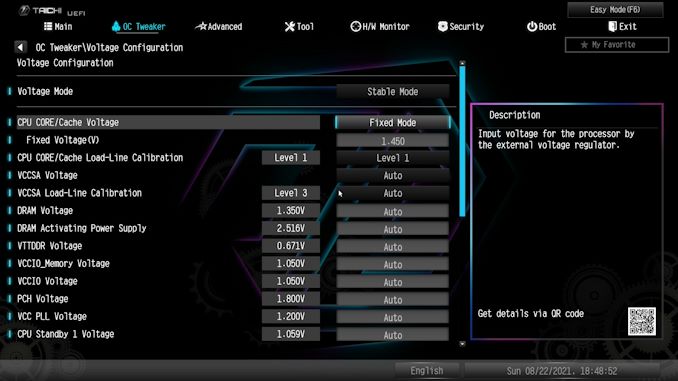 Other variables to consider when overclocking Rocket Lake on the Z590 Taichi is through memory, with multiple options available to push frequency and tighten or loosen latency timings. The ASRock UEFI firmware is quite aggressive in its interpretation of boost via its Multi-Core Enhancement profiles. However, users can dial these up a notch (or down) with plenty of power settings for alternating Thermal Velocity Boost settings. Users looking to maximize performance on Rocket Lake will need adequate cooling to do so and a capable power supply with enough headroom to cover the increased power consumption that happens when Rocket Lake is pushed.
The ASRock Taichi firmware is a solid example of a BIOS done correctly. However, splitting the primary settings (CPU, Memory, and voltage) into separate menus can be as much of a benefit as a hindrance. There are many settings for users to play around with, but it's recommended that novice users stick to the default settings (we will go into more detail on this in conclusion).
Getting a baseline on stability and maximum all-core frequencies when using the ASRock Z590 Taichi, we achieved the following:
Achieved Stable Overclock on Each Core i9-11900K
Intel Core i9-11900K Sample
Achieved All-Core
CPU Frequency
Achieved
CPU VCore
Voltage (V)
Chip #1 - Batch V051F933
5.2 GHz
1.440 V
Chip #2 - Batch V051F933
5.2 GHz
1.450 V
Chip #3 - Batch V051F933
5.2 GHz
1.460 V
Chip #4 - Batch X101J374
5.2 GHz
1.450 V
Testing our four Core i9-11900K processors with the ASRock Z590 Taichi yielded some interesting results. We managed to hit 5.2 GHz stable with CPU VCore voltages of between 1.440 V and 1.460 V. In terms of silicon quality; we found the best sample with his board to be chip #1, which gave us an all-core overclock of 5.2 GHz at 1.440 V.
In our VRM thermal testing during our full review of the board, we got the following results with the ASRock Z590 Taichi with Chip #1 at 5.1 GHz with 1.450 V:
VRM Sensor Temp: 68°C
VRM Probe 1: 70°C
VRM Probe 2: 71°C
Ambient Temp: 25°C
The ASRock Z590 Taichi is using an actively cooled power delivery heatsink design, with further room via accessories in the box to add an additional cooling fan. In our testing, we saw very competitive VRM thermals against the other Z590 models we've reviewed so far.