Basic Features: Asus P5WD2 Premium
As discussed in the Dual Core Platform Shootout, NVIDIA does not plan, at this time, to produce a non-SLI version of the nForce4 chipset for Intel. This makes the nF4 Intel boards expensive and specialized in providing support for two video cards working together. The 955X is similarly the enthusiast or high-end version of Intel's new chipset line, with the 945 being the lower cost version of the new Intel chipsets that will be aimed at the computer mainstream. In the chipset hierarchy, you would expect the nF4-SLI based boards to be the most expensive, followed by 955X, and finally the 945. You will also likely see chipsets from SIS, VIA, and ATI that will generally compete with the Intel 945. ATI and SIS in particular are targeted at the integrated video or "G" versions of the 945. Depending on final decisions, you may also see either ATI or VIA (or both) decide to take NVIDIA's approach with an "SLI-like" dual video card setup on the Intel high-end.
This puts in perspective the target market of both these motherboards, which is the computer enthusiast. Asus will likely have other 955x boards with some reduction in features, but their top-of-the-line are the P5WD2 Premium with the Intel 955x and the P5ND2-SLI Deluxe with nForce4-SLI Intel. In the past, Asus has had several models of their top boards with essentially the same performance - the less expensive boards just have fewer features.
The point is that other Asus 955x boards may have fewer features and a lower price, but you can expect performance to be very similar to what we have measured with the P5WD2 Premium.
 Specification
 Asus P5WD2 Premium
 Asus P5ND2-SLI Deluxe
CPU Interface
Socket T (Socket 775)
for Intel Pentium D & Prescott
Socket T (Socket 775)
for Intel Pentium D & Prescott
Chipset
Intel 955x/ICH7R
NVIDIA nForce4-SLI Intel Edition/NVIDIA MCP-04
Pentium D Support
(Dual-Core)
Full Support
Full Support
TM2 (Thermal Monitor 2) Support
Full Support
Not Currently Supported
(but may be in future)
BUS Speeds
100-450MHz (in 1MHz increments)
790-1600 MHz (in 1MHz increments)
CPU Ratios
Unlock Supported, Adjustable down depending on CPU
Unlock Supported, Adjustable down depending on CPU
Memory Speeds
At 200(800) - 400,533,600,667,800
221 - 332,442,553,589,663,737,884
266(1066)
400-1200 (Asynchronous)
PCI/AGP Speeds
Asynchronous (Fixed)
Asynchronous (Fixed)
PCI Express
90 MHz to 150 MHz in 1MHz increments
100 MHz to 150 MHz in 1MHz increments
FSB Turbo
Auto, Standard, Turbo
PLUS HyperPath 3 On/Off
On, Off
Core Voltage
Auto, 1.2875V-1.70V in 0.0125V increments
Auto, 0.8375V-1.60V in 0.0125V increments PLUS +100mV option
DRAM Voltage
Auto, 1.80V to 2.3V in 0.05V increments
Auto, 1.85V to 2.3V in 0.05V increments
Chipset Voltage
MCH - Auto, 1.5V, 1.55V, 1.6V, 1.65V
ICH - Auto, 1.05V, 1.2V
Auto, +1.5V
Termination Voltage
FSB - Auto, 1.2V, 1.3V, 1.4V, 1.5V
CPU - Auto, 1.30V, 1.35V, 1.40V
SB/SATA Voltage
NA
Auto, +1.6V
LDT (Hyper Transport) Ratios
NA
1x, 2x, 3x, 3.5x, 4x, 5x
Memory Command Rate
NA
Auto, 1T, 2T
Memory Slots
Four 240-pin DDR2 Slots
Dual-Channel Unbuffered Memory to 8GB
Four 184-pin DDR Dual-Channel Slots
Unbuffered ECC or non-ECC Memory to 8GB (64-bit OS) or 4GB (32-bit OS)
Expansion Slots
2 x16 PCIe Slots (configured as 1 x16 and 1 2x/4x)
1 x1 PCIe
3 PCI Slots
2 x16 PCIe Slots (configured as 1 x16 or 2 x8)
2 x1 PCIe
3 PCI Slots
SLI
Semi-SLI - x16 video plus x4/x2 video
(Function is Driver Limited)
NVIDIA (x8 + x8) SLI
Onboard SATA
4-Drive SATA 2 RAID by ICH7R
PLUS 2-Drive SATA 2 by Sil3132
4-Drive SATA 2 RAID by nF4 PLUS
2-Drive SATA 2 RAID by Sil3132R
Onboard IDE
One Standard NVIDIA ATA 100/66/33 (2 drives)
PLUS 2-Drive 133/100/66 IDE by ITE
Two Standard NVIDIA ATA133/100/66 (4 drives)
SATA/IDE RAID
4-Drive SATA 2 RAID by ICH7R
RAID 0, 1, 5, 10 Intel Matrix
4-Drive SATA 2 RAID by nF4 PLUS
4-Drive IDE RAID(8 total)
Can be combined in RAID 0, 1, 0+1, 5, and JBOD (8 drives total)
2 SATA 2 Drives by Sil3132R as RAID 0, 1
Onboard USB 2.0/IEEE-1394
8 USB 2.0 ports supported ICH7R
2 1394A FireWire ports by TI 1394a
10 USB 2.0 ports supported nF4
2 1394A FireWire ports by VIA VT6307
Onboard LAN
Dual Gigabit Ethernet
Intel PCIe Gigabit LAN
PCI Gigabit by Marvel 88E8001
Dual Gigabit Ethernet
NVIDIA PCIe LAN by Marvel PHY
Intel PCI Gigabit LAN
Onboard Audio
Azalia HD 8-channel audio, Realtek ALC882D featuring Dolby Digital Live!,
Coaxial & Optical SPDIF Out ports
Realtek ALC850 8-Channel codec with 6 UAJ audio jacks, Coaxial & Optical SPDIF Out
Power Connectors
ATX 24-pin, 1 or 2 x4-pin 12V
ATX 24-pin, 1 x4-pin 12V
Other Features
Includes TV Tuner & Remote Control, Asus EZ Plug, Stack Cool 2, AI Overclocking
Asus EZ Plug, Q-Fan2, Stack Cool 2, AI Overclocking
BIOS
AMI 0207 (4/30/2005)
Phoenix Award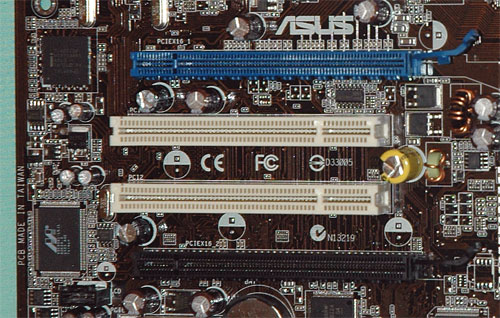 The Asus P5WD2 does have two x16 PCI Express slots and an SLI bridge in the box, but the board can't really be configured as two x8 slots as we see in NVIDIA SLI boards. The main slot remains 16X in both single and dual video modes. The 2nd x16 slot can be configured as Auto, 2X, or 4X in a "semi-SLI" mode that disables the remaining x1 PCIe slots if x4 is selected. The 2 video slots are of limited use for combining video card capabilities as they are now configured. To work at all with current NVIDIA video cards, you have to use the very early (and almost impossible to find) 66.75 drivers. We verified that two video cards are recognized as SLI by the 66.75 drivers, but we could not get any current SLI-enabled games to work properly with the pair of video cards. Asus tells us that future BIOS upgrades will improve this performance. Asus also hinted that other dual video card configurations may also support the dual slots. Could this mean that ATI dual video will work on this Asus with a BIOS update when ATI releases their dual video solution?
Until we see further developments in dual video-card solutions, the two x16 slots work best in supporting two video cards driving up to four monitors. For those who want to drive a 2nd high-end card, the 2nd x16 slot can be configured in a faster x4 video mode, which will not limit the performance of most current video cards.
Actual cooling on the board follows the Asus preference for passive "no-fail" cooling, with no active fans on any of the chips. During overclocking, the chipset does create a lot of heat and we would advise that if you plan to seriously overclock the P4, you are going to need to add a fan at least to the Northbridge heatsink.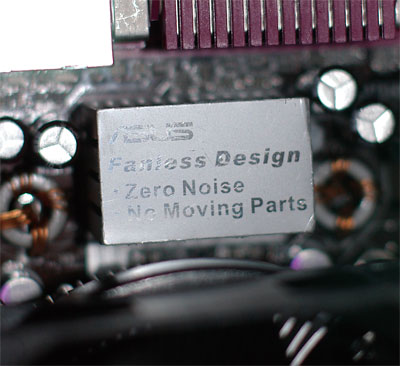 Asus has also chosen to cool the mosfets that feed the CPU vcore with a heatsink. This is a trend that many manufacturers of performance-oriented boards are adopting as heat on high load increases instability. We saw the same feature used on the widely publicized Grouper ATI board from Sapphire a while back, which even featured custom aftermarket water blocks. The same could be applied to the P5WD2 if you chose to use water-cooling.
Voltage options are refreshingly wide on the P5WD2, with memory voltage to 2.3V, a full range of chipset, bus, and termination voltage adjustments, and an exceptionally wide range of vCore voltage adjustments. Memory ratios are also the widest that you will likely see on any 955X board, which allows the option to run the memory much faster than the CPU. The actual memory tweaks, however, are somewhat limited; it would be nice to see some of the tweaks that we have grown to love on the NF4 chipset available on Intel chipsets also.
Asus is still supporting PATA RAID, although it must now have a limited shelf life. Also available is a SATA port positioned for adding a rear-mounted SATA back plate port for those who just like to run an external or portable SATA drive. This feature means that you won't have to open up the case to add a SATA drive.
The only annoying flaw was that the CMOS jumper is poorly positioned. When using 2 video cards, you will need to remove the lower video card to get to the CMOS jumper - or remove the battery to clear CMOS. The layout is otherwise very good, with little to complain about. Some clever manufacturer should consider adding a "CMOS-clear" push button on their motherboard; it would be really handy for enthusiasts who push their boards to the performance limit.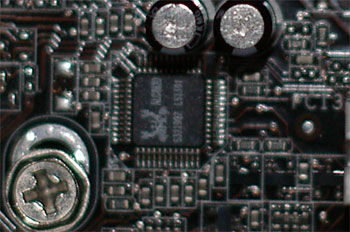 The P5WD2 Premium fully supports Azalia 8-channel High-Definition audio with the Realtek 822D codec. This includes support for Dolby Digital Live!, multi-streaming, jack-sensing, jack-reassignment, and both Coaxial and Optical SPDIF outputs.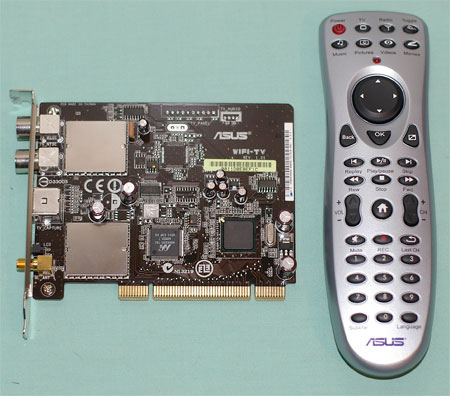 Our evaluation board included a really interesting PCI combo TV Tuner/WiFi card for the P5WD2. The package even included a remote for controlling your new multimedia capabilities. At this point it is unclear whether Asus will include the WiFi/Tuner and Remote in retail packages. If this is important to you then ask what is in the box before you order.