Audio/Video Encoding
MusicMatch Jukebox 7.10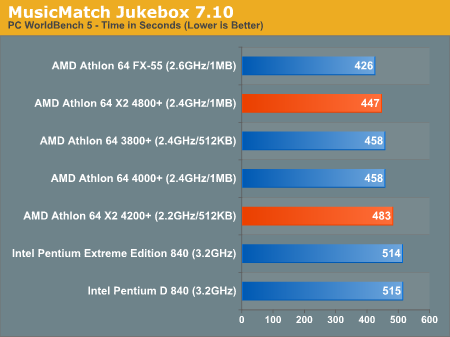 DivX 5.2.1 with AutoGK
Armed with the DivX 5.2.1 and the AutoGK, we took all of the processors to task at encoding a chapter out of "Pirates of the Caribbean". We set AutoGK to give us 75% quality of the original DVD rip and did not encode audio.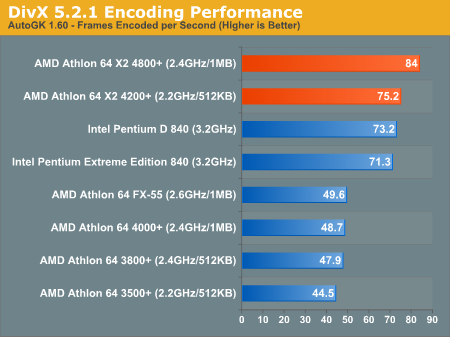 The Athlon 64 X2 finally gives AMD the performance that it needs when it comes to DivX encoding. Unfortunately, it is at a significantly increased cost.
XviD with AutoGK
Another very popular codec is the XviD codec, and thus, we measured encoding performance using it instead of DivX for this next test. The rest of the variables remained the same as the DivX test.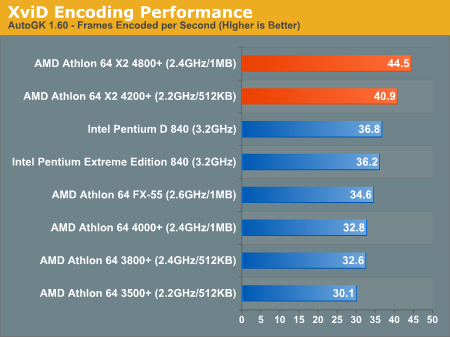 Windows Media Encoder 9
To finish up our look at Video Encoding performance, we have two tests, both involving Windows Media Encoder 9. The first test is WorldBench 5's WMV9 encoding test.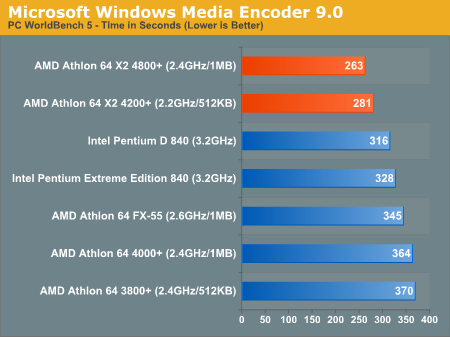 But once we crank up the requirements a bit and start doing some HD quality encoding under WMV9, the situation changes dramatically: