Power Consumption: Athlon 64 vs. Athlon 64 X2
In Part II of our preview of Intel's dual core processors, we noted that the addition of a second CPU core generally didn't increase overall system power consumption by that much.
In fact, the Pentium D 2.8GHz vs. single core 2.8GHz comparison yielded only a 15% increase in system power consumption under load for the dual core CPU. While we didn't look at power consumption in our dual core Opteron review, armed with desktop parts, we were ready to look at how desktop power consumption was affected by the move to dual core.
Single core AMD CPUs have always consumed less power than single core Intel chips; in fact, the 130nm Athlon 64 FX-55 consumes less power than a 3.0GHz Pentium 4 (5xx or 6xx series).
How much more power would a dual core Athlon 64 X2 consume? To answer this question, we looked at three CPUs on the same platform and measured system power consumption. We used a 130nm Athlon 64, a 90nm Athlon 64 and a 90nm dual core Athlon 64 X2 - all clocked at the same frequency and with the same per-core cache sizes. The results are below: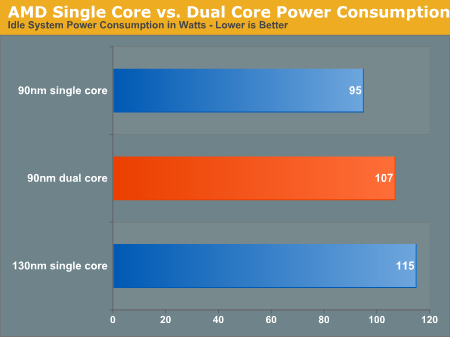 At idle, the Athlon 64 X2 falls directly between the 90nm Athlon 64 and the 130nm Athlon 64, but does the same hold true when the system is fully loaded performing our WMV HD encode test?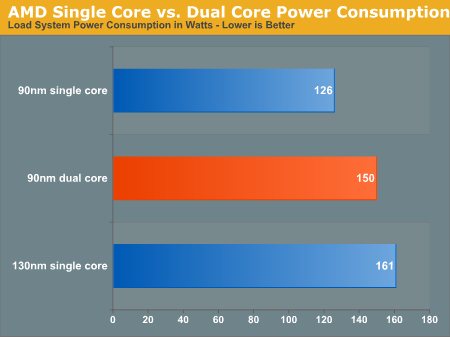 Surprisingly enough, it is. Clock for clock, the Athlon 64 X2 will consume less power than a 130nm Athlon 64, and less than 20% more power than a 90nm Athlon 64. Note that the Athlon 64 X2 4200+ compared here also consumes less power than all single core 90nm Intel Pentium 4 CPUs. Even the Athlon 64 X2 4800+
consumes less power than all single core 90nm Pentium 4 CPUs.
If you're worried about the Athlon 64 X2 generating too much heat, there's no reason to be concerned - if you're happy with the heat levels of your current 130nm Athlon 64, the X2 will run even cooler.