Longhorn Manufacturing and Installation Features
One of the sessions we attended covered the OEM/business side of Longhorn preparations. Home users don't often think about these issues, but for a company like Dell, installing and configuring the OS on millions of PCs is a critical matter. Some of the basic problems with deployment of Windows are summarized in the following slide.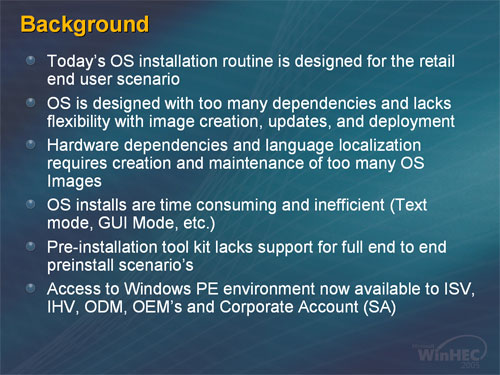 If none of those items sound particularly important, then you probably haven't dealt with the deployment of a large number of PCs. Hardware dependencies, languages, etc. are all matters that have to be dealt with on a typical assembly line. Longhorn comes with quite a few changes to help their OEM and business partners.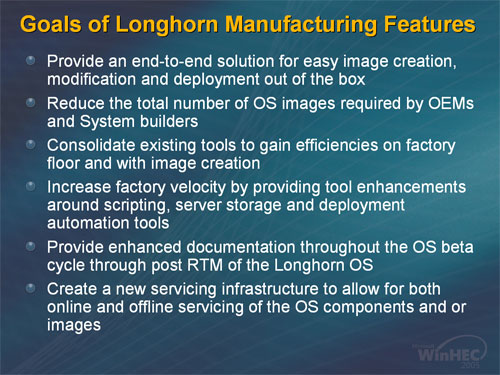 Several of the bullets deal with the management of system images. While ghost utilities have been used in the past, Longhorn will include its own imaging system. The underlying OS has also been componentized in order to facilitate deployment. For example, languages are now an entirely separate component; a single "world wide binary" is used for executables and it simply plugs into whatever language pack(s) the user has installed. The imaging system appeared to be very robust, as only the OS' developer could make it.
The Windows Images (WIM) can contain multiple configurations, and a single file called "unattend.xml" will contain all of the settings for a specific installation. So, rather than having a separate image for Home, Pro, and Media Center, with further images for each system platform, not to mention the various languages... you can get by with a single image! There will still be separate images for x86-32 and x86-64, however, and it wasn't entirely clear (to us) at what point a separate image might be required for different systems. Still, instead of dozens or even hundreds of disk images, the process can be reduced to perhaps two images per machine platform.
Most of this is accomplished using a new tool called Setup Manager. Images can be created, and modifying them can be done by opening the image and adding or deleting files, or simply by dragging and dropping packages onto an existing image. (All of this can alternatively be done at the client level if desired, but that's basically the current way of doing things, so it's nothing new.) If everything goes as planned, an online ordering process could also be integrated with the new imaging tools to create an on-the-fly unattend.xml file for a specific machine. Then on the assembly floor once the hardware is built, the image and configuration file are used to setup the OS and software for a custom PC. The OEM partners at the session looked very interested in the new features, although it's certainly not going to have as big of an impact for home users.
An interesting point that was made during this presentation (and covered elsewhere) is that DOS is going away. We'll still have a command prompt within Windows, but the DOS environment is basically dead. Consider the many businesses and OEMs that currently use DOS to load up a tool like Ghost, along with network drivers for specific platforms. A lot of new hardware - particularly SATA and USB devices - will not be properly supported by DOS. DOS will hit the end of the road on 12/31/05 as far as Microsoft is concerned, and there will be no way to use a DOS executable to start the Windows setup process. What's needed is a new tool to accomplish this task.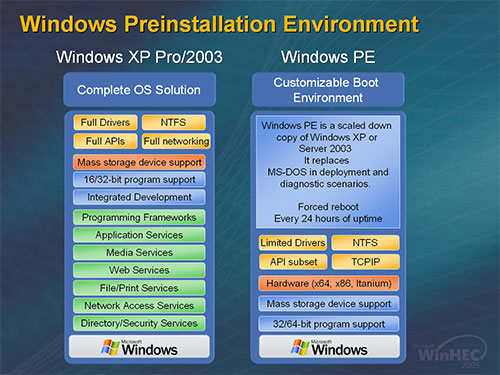 Enter Windows PE (Pre-installation Environment), basically a stripped down version of Windows with reduced API support. Like regular Windows, it can be customized to fit the need; it can even be turned back into the full Windows environment if desired, although that's counter productive. (It also has a forced reboot that occurs every 24 hours.) WinPE can easily fit on USB flash devices, coming in at under 64MB for the minimum configuration, although 128MB flash devices may be more appropriate for customized toolsets. Network support among other features will be available, and the same drivers as regular Windows can be used. This should make things easier for driver teams as well as the system builders - at least, that's the plan. We certainly won't miss DOS much - R.I.P. MS-DOS, 2005. Incidentally, WinPE is available for use now (or very soon), and it will work with XP and Server 2003 while we wait on the release of Longhorn.
A few last comments on Longhorn information we picked up at the show. First, Longhorn should install much faster than XP, which is welcome news. The goal is for Longhorn to be installed and ready to use within 15 to 20 minutes of inserting the CD/DVD. DVD? That's right! It's not official yet, but we heard the comment several times that based on the current size of the Longhorn build, DVDs will probably be used. We hope so, as installing from a single DVD sounds a lot better than 3 to 5 CDs. (The current Longhorn image is over 900MB and still missing many drivers, so DVDs really make sense.) The installation process will be faster in part due to less file copying; the image will be extracted to the hard drive, and then enumeration of PnP devices will occur and you're done. With even high-end systems still taking 45 minutes to an hour to complete the XP installation, the thought of getting everything done in less than half that amount of time is definitely appealing.