If looks could kill
Aesthetically, both of these displays are best of breed. Aside from the allure of a 20" flat panel display, both displays are less than two inches deep with thin bezels. Unlike your video card or motherboard, looks
are
important for a display. Why spend several hundred dollars on a display that you can't stand looking at? We have several awkward displays with decent specifications in the past and needless to say, we were more than happy to send those displays back to the manufacturer as quickly as possible.
As the Apple fans continue to snicker with anticipation, we might as well just get it out there - the Apple Cinema 20" is a phenomenally beautiful monitor. Typically, we don't even spend much time analyzing the look of a display, but Apple clearly deserves it here. The panel of the Cinema 20" display is encased in a brushed aluminum bezel with a brushed aluminum stand. Along the sides of the display, acrylic-on-white runners completely seal the display off from the outside world. We have criticized several display manufacturers in the past for allowing too much air and light into the housing of the panel and backlights. If the LCD panel can be passively cooled well enough, we always encourage manufacturers to seal the internal components of their displays. Less dust in the inside of the display is bound to prolong the life of the electronics inside.
However, many of our readers jump on us whenever we decide to comment on "what is art?" So, we will leave that to the reader. Below, you can also see a few images of the Dell 2005FPW. The stand is bulkier, but with reason, since the panel is flexible on all three axes. The UltraSharp 2005FPW stand can also be removed and replaced with a VESA compatible wall mount. Not unexpectedly, the Dell 2001FP, 1905FP and other stands are also interchangeable.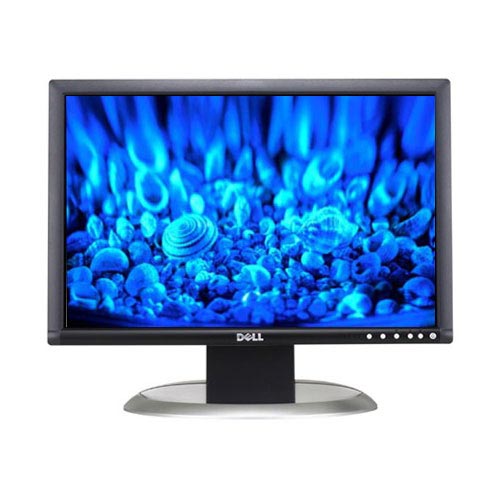 The inputs remain largely unchanged from the Dell 2001FP, with the exception of an additional menu interface button. The formula for monitor design seems to have been perfected at Dell, and not surprisingly, the UltraSharp 2005FPW looks nearly identical to any other Dell monitor manufactured since Q2'03. We are slightly concerned about the passive cooling vents in the rear of the display, as these will allow for dust particles to eventually enter the electronics of the panel. However, we did not see any light from the backlights
seeping through these exhausts
like we did on the Dell 1905FP.
After a few hours of operation, we recorded the air temperature near the exhausts of the Dell 2005FPW at 28 degrees Celsius with an ambient air temperature of 23 degrees Celsius. There are no exhausts on the Apple Cinema 20" display, so this test is not applicable for Apple.