Overclocking
Experience with the MSI MEG Z590 Ace
The art of overclocking can be considered as a skill, as to get the right combination of settings to deliver an optimized, yet stable enough system to deliver the performance can be time-consuming and tedious. Despite the excellent work from both Intel and AMD over the last couple of years with its interpretations of 'turbo' and 'boost', this doesn't typically affect all of the cores, and instead focuses on one or two. On an eight-core processor such as the Intel Core i9-11900K, providing whatever software of application is being used can utilize the cores and threads, typically more performance can be had from pushing all of the cores higher. At present, Intel employs some of the most aggressive methods of automatic overclocking with its Thermal Velocity Boost (TVB), and more recently with Rocket Lake, its new Adaptive Boost Technology (ABT) on its 11th Gen Core i9 K and KF processors.
Perhaps the biggest disadvantage when it comes to overclocking the processor is having to deal with the extra heat and power implications. As Intel is pushing its silicon almost to its limit right out of the factory, adequate cooling is needed. Due to previous experiences when overclocking our i9-11900K in previous Z590 reviews, we've seen power consumption figures surpassing 350 W when overclocking, which is a phenomenal amount of wattage for an eight-core chip. Even at default settings, new processors, from both Intel and AMD, typically run warmer than previous generations, so we recommend using premium cooling solutions such as AIO CPU coolers, or even large tower coolers to help manage the extra heat generated.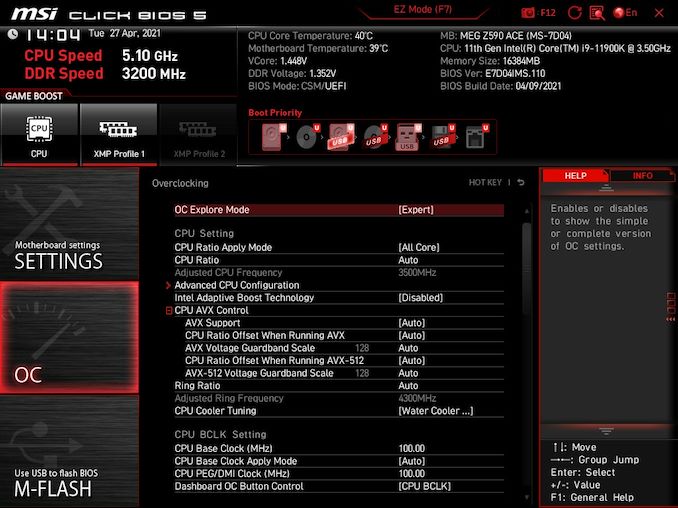 Looking at our experience with the MSI MEG Z590 Ace, all of the board's relevant overclocking settings can be found in the OC section, which can be accessed in the Advanced section of the BIOS. MSI includes a large 18-phase power delivery, with premium components, and as such, MSI includes an LN2 mode which can be enabled within the firmware for extreme overclockers looking to go sub-ambient with their chips.
In the OC section of the BIOS, users can overclock the CPU, memory, and integrated Intel UHD graphics, and everything is laid out in a long straight menu, with specific sub-menus for power settings, CPU-specific technologies, and memory latencies. Towards the top of the menu are the CPU, Cache, and Core AVX frequency settings, with voltages further down the list. The Click 5 BIOS includes extensive memory customization and overclocking capabilities, with frequency, Intel's new Gear Mode that allows users to operate 2:1 with users looking to use very high-frequency DDR4, as well as primary, secondary, and tertiary latency control.
Overall, the MSI Click BIOS 5 on the Ace has everything a novice user could need to perform simple overclocks, including the ability to enable X.M.P 2.0 profiles on compatible memory kits, as well as more for advanced users and experienced tweakers. We've seen many iterations of MSI's firmware over the years, and MSI's Click BIOS 5 is perhaps the most user-friendly and advanced we've seen from the company. It's easy to navigate, all the options to get overclocking done are present, but be aware that overclocking any area of Intel's processor, including memory, invalidates the warranty.
Overclocking Methodology
Our standard overclocking methodology is as follows. We select the automatic overclock options and test for stability with POV-Ray and Prime95 to simulate high-end workloads. These stability tests aim to catch any immediate causes for memory or CPU errors.
For manual overclocks, based on the information gathered from the previous testing, start off at a nominal voltage and CPU multiplier, and the multiplier is increased until the stability tests are failed. The CPU voltage is increased gradually until the stability tests are passed. The process is repeated until the motherboard reduces the multiplier automatically (due to safety protocol) or the CPU temperature reaches a stupidly high level (105ºC+). Our testbed is not in a case, which should push overclocks higher with fresher (cooler) air.
Overclocking Results

When overclocking our Intel Core i9-11900K with the MSI MEG Z590 Ace, we noticed that MSI also hasn't included any specific overclocking presets to its firmware for users to use. It does include the 'Game Boost' function, but when we tested it against the hardware at default settings, we actually saw less performance in our POV-Ray testing, with higher thermal and power draw which provided no benefit whatsoever.
When testing the board with manual overclocking, we managed to get our Core i9-11900K to 5.2 GHz on all-cores stable, albeit with a monstrous power draw of 485 watts! With liquid cooling selected in the cooler tuning feature within the board's firmware, it effectively lifts all power limitations, and as we didn't see any thermal throttling, it also seemed to disable any thermal limits that may have been present. Overclocking from 4.7 GHz to 5.2 GHz, we saw consistent and incremental increases in our POV-Ray testing, with relatively tight VDroop control through the lower frequencies. As we stepped up from 5.0 GHz and with more CPU VCore set in the firmware, VDroop did get a little loose, and at 5.2 GHz, we saw CPU VCore overshoot by around 4%, which is still acceptable, but comes at a thermal and power cost.
Overall the MSI MEG Z590 Ace is a solid board for enthusiasts to overclock Rocket Lake with, and there's potential for further performance gains, provided that users are using adequate and premium cooling. The levels of VDroop throughout our testing with default load-line calibration settings are acceptable, and the Ace can be considered a solid board for overclocking.