System Performance
The biggest change from the Surface Laptop 3 to the new Laptop 4 is what is under the hood. On the Intel front, Microsoft outfits the Surface Laptop 4 with the latest Intel 11th Gen Tiger Lake platform, with Core i5-1145G7 and Core i7-1185G7 options. Microsoft recommends these choices for customers needing the highest single-threaded performance, and they also offer them with the most memory at up to 32 GB. On the AMD front, Microsoft has expanded the AMD choices to include the 13.5-inch model this time, whereas for Surface Laptop 3, only the 15-inch model was offered with Ryzen. As already discussed, Microsoft has not gone with the latest and greatest Cezanne Ryzen platform for the Surface Laptop 4 but are instead using the Ryzen 4000 series Renoir APU from 2020.
There are a whole host of reasons why they would have chosen to go this route. With 2020 being the year that it was, it is very possible that they were planning on launching this in late 2020, but due to the pandemic globally, they were not able to hit that goal. Also, Microsoft has tagged AMD with providing "custom" processors for the Surface Laptop 4, which would likely be a supply issue when the chip is just coming off the fab. A more mature process, and lessons learned over the time manufacturing, would allow AMD to meet these demands easier than on day one of a new platform.
For the Surface Laptop 3, Microsoft designed semi-custom processors for their laptop, with the Microsoft Surface Edition Ryzen APUs being the fastest models available, and with an extra graphics unit for both the Ryzen 5 and Ryzen 7. This close partnership with AMD continues with the Surface Laptop 4, with semi-custom versions here as well. The extra graphics core only exists on the Ryzen 5 model though, bumping it to 7 graphics units from 6, whereas the Ryzen 7 model is just a frequency bump.
Surface Laptop 4 Processors
CPU
Intel Core i5-1145G7
Intel Core i7-1185G7
AMD Ryzen 5 4680U
AMD Ryzen 7 4980U
CPU Core
Willow Cove
Willow Cove
Zen 2
Zen 2
Cores / Threads
4C / 8T
4C / 8T
6C / 12T
8C / 16T
GPU
Intel Iris Xe
80 Eus
Intel Iris Xe
96 EUs
Vega 7
Vega 8
Base Frequency
1.1 - 2.6 GHz
1.2 - 3.2 GHz
2.1 GHz
2.0 GHz
Max Boost Frequency
4.4 GHz
4.8 GHz
4.0 GHz
4.4 GHz
Cache
8 MB Smart Cache
12 MB Smart Cache
3 MB L2 / 8 MB L3
4 MB L2 / 8 MB L3
PCIe Version
4.0
4.0
3.0
3.0
Process
Intel 10nm SuperFin
Intel 10nm SuperFin
TSMC 7nm
TSMC 7nm
The Surface Laptop 4, despite not using the Ryzen 5000 mobile platform, should still be a strong choice, with up to eight cores and sixteen threads in the Ryzen 7 4980U found in the review unit. It is a bit strange to not see memory parity with the Core i7 model though, as many potential AMD buyers will be put off by the lack of 32 GB memory support. Microsoft has expanded its Ryzen offerings and has more choices than ever, but is certainly holding it back somewhat with memory, and unlike storage, memory is not something that can be upgraded as it will be soldered in. The AMD powered Surface Laptop 4 offers double the cores, but only half the memory. It is a very odd pairing.
To see how the Surface Laptop 4 performs, it was run through our Laptop testing suite. If you would like to compare the Surface Laptop 4 against any other device we have tested, please use our Online Bench tool.
For comparison systems, both the Intel i7 and AMD Ryzen 7 models of the Surface Laptop 3 are included, as the obvious comparison point for the new generation. In addition, the Surface Book 3 is included, as it is the other 15-inch system from Microsoft, and includes a discrete GPU option. The Dell XPS 13 with Ice Lake is our newest version of the XPS 13 tested, although it has been updated to Tiger Lake since our review. For Tiger Lake, we have only tested the MSI Prestige 14 Evo so far, so that is included, and highlighted in blue, as a comparison against the best Intel has to offer, and what would be available in the Intel powered version of the Surface Laptop 4.
PCMark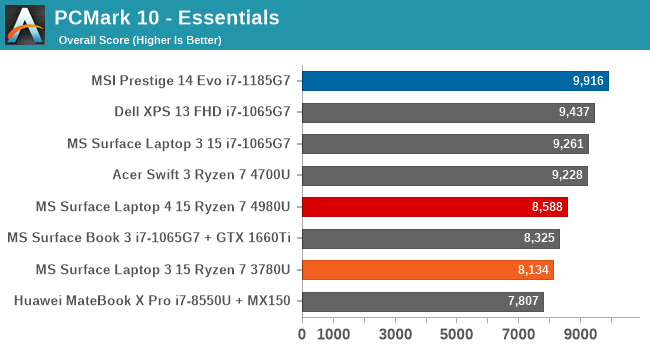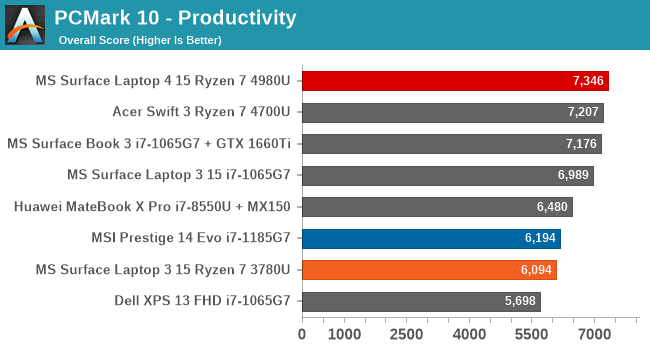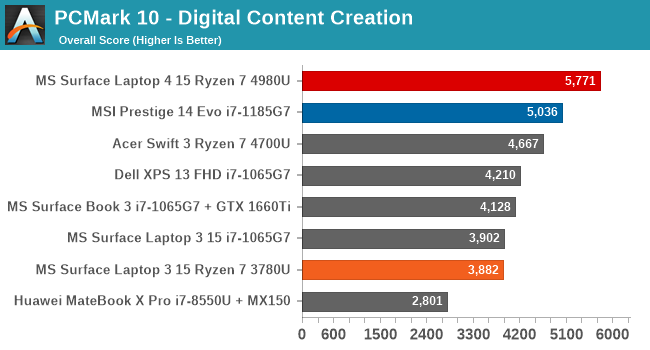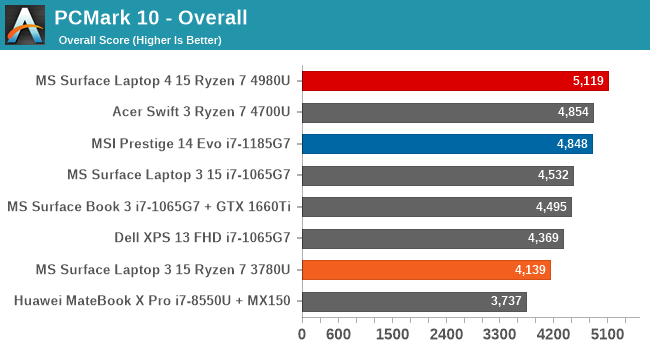 UL's PCMark suite is a comprehensive set of tests which cover a wide range of workloads. They are broken into categories, and all components factor into the result, including CPU, GPU, memory, storage, and thermals. The Surface Laptop 4 performs very well. Having eight full cores with simultaneous multithreading available elevates the Surface Laptop 4 above the other notebooks tested. AMD's Vega 8 graphics is also quite strong in the 15-Watt class.
Cinebench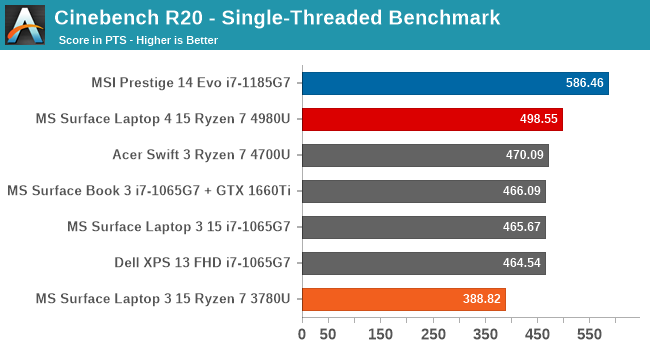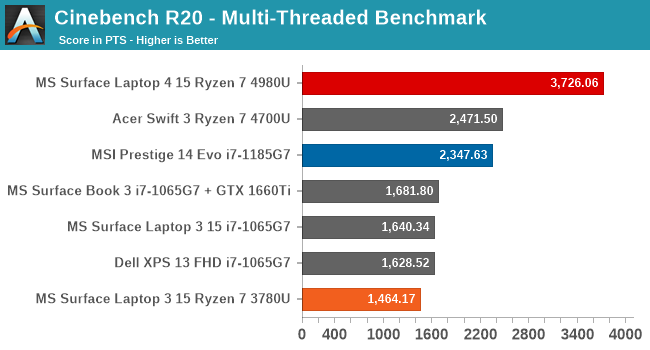 Cinebench is a purely CPU test, with both single-threaded and multi-threaded workloads. The single-threaded result shows just how far AMD has come since the Picasso platform of Surface Laptop 3, and the extra frequency headroom of the Microsoft Surface Edition bumps this device near the top. AMD, at least with the Zen 2 cores found inside of Renoir, is not quite at the same single-threaded performance of Intel's Tiger Lake with its Willow Cove cores though, and the MSI Prestige is significantly ahead. Turn the tables to the multi-threaded results though, and AMD packing eight cores and sixteen threads onto this APU makes it dominant here. Remember though, Cinebench is not very memory dependent, and on more typical workloads, the extra cores and threads may not bring quite as large of an advantage.
Handbrake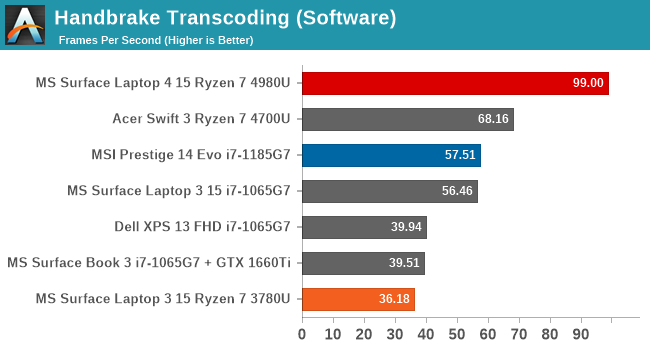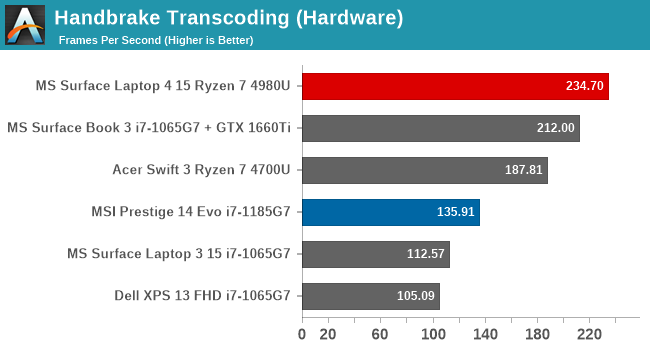 As one of the most popular video transcode tools, Handbrake makes an excellent real-world data point. With Handbrake, you can choose to do the transcode completely in software, which is 100% CPU based, or you can offload it to the video engine in the GPU. The general rule of thumb is that software-based transcoding provides the best results, but doing it in hardware is significantly quicker. On both fronts, the AMD powered Surface Laptop 4 is very speedy, and its extra cores and threads dominate the software encoding portion. Vega's media engine also performs very well, and lands at the top. It even manages to outperform the NVIDIA encoder in the Surface Book 3, which is very impressive.
7-Zip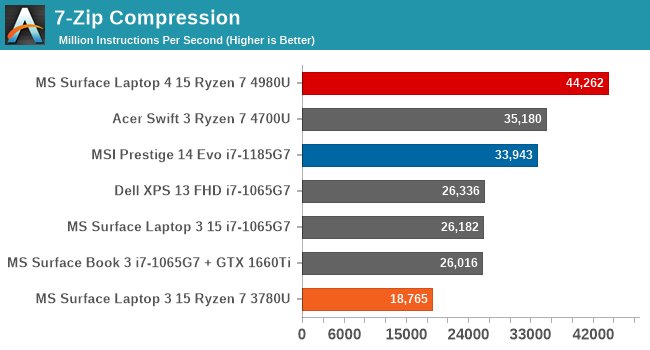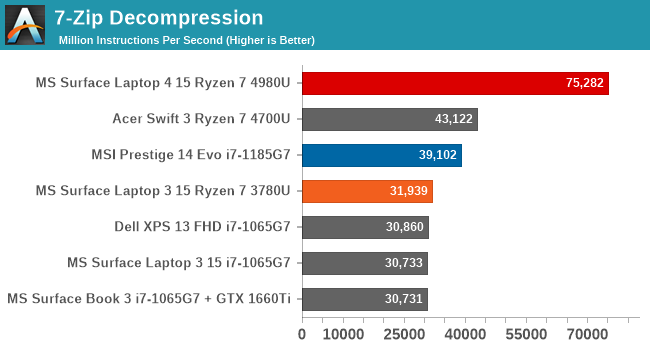 File compression and decompression is another common task on the PC, and for this we turn to the popular 7-Zip tool, which is open source, and includes a built-in benchmark. Once again, the extra Zen 2 cores dominate. The difference between the Surface Laptop 4, and the previous Surface Laptop 3 with Picasso, is enormous.
Web Performance
Web performance comes down to scripting performance, and unlike most other tests, the scripting engine in the browser plays a major role, so for consistency, this test uses the Microsoft Edge browser, which is now leveraging the Chromium engine under the covers. As always, browser performance evolves over time with updates, so these results, more than the previous ones, are more of a snapshot in time.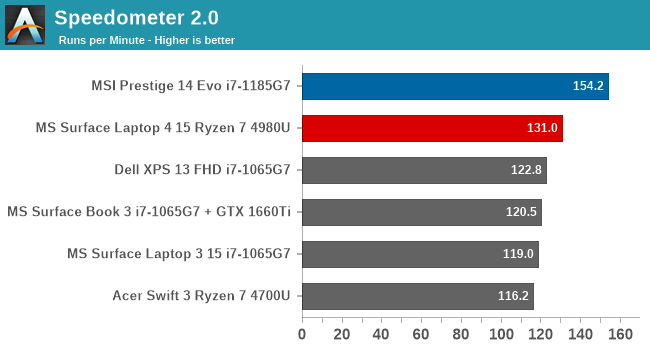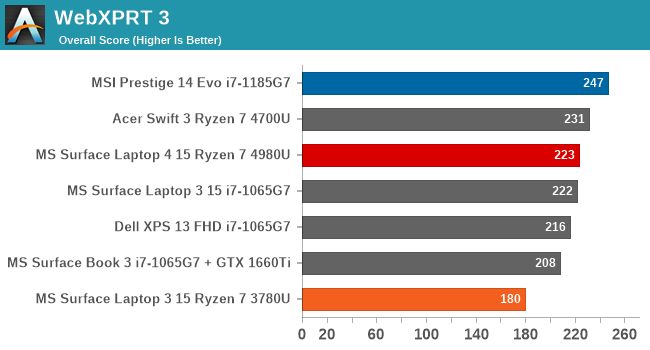 In Speedometer, Intel's Tiger Lake platform, with its superior single-threaded performance, and Intel's aggressive Speed Shift, is still the winner here, although the new, higher frequency Ryzen 7 4980U is able to surpass the Ice Lake laptops and slot into second place. WebXPRT is in a similar situation, but the Renoir platform still provides solid performance here.
Storage Performance
On the storage side, Microsoft has moved away from soldered BGA SSDs, back to more traditional M.2 designs, and this is to improve repairability, since the BGA designs could not be replaced. This is a good move for customers. It is still not simple to swap out the SSD, but it is at least possible. SSDs in notebooks are often from multiple vendors, and our review unit features a 512GB Samsung PM991. This is a PCIe 3.0 x4 design, and is a mid-level design in terms of performance, with a maximum rated read speed of 2200 MB/s, and write speeds of 1200 MB/s.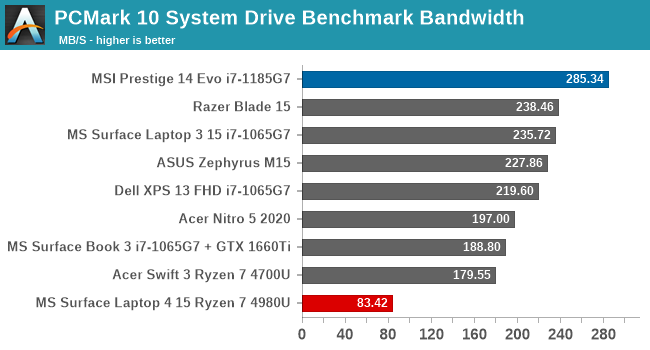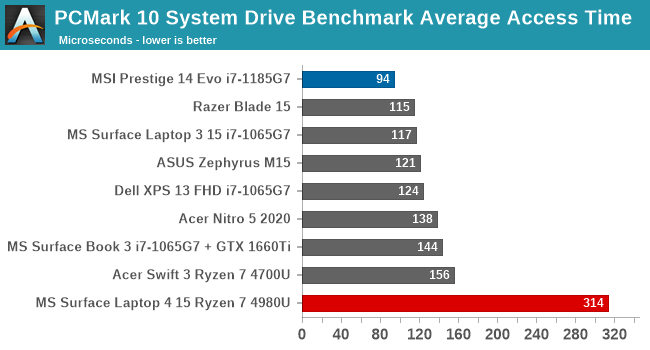 Unfortunately, the results in the Surface Laptop 4 were less than amazing. On peak, it can hit the rated speeds, but to more accurately see how this SSD performs, the PCMark 10 storage test is run, which uses real-world data traces, and runs for over an hour. Although this is the exact same SSD as found in the Acer Swift 3, and at the same capacity, performance was much lower.
Although the device does get warm during the test, the SSD only gets to about 52°C and the SMART controller does not indicate that the drive is throttling. So for reasons that are less than clear at the moment, the results above appear to be the best that the PM991 version of the Surface Laptop 4 can do.
To see if this was a one-off or not, I reached out to Daniel Rubino of Windows Central to see how his Surface Laptop 4 review unit performed. His model was slightly different and included a SK Hynix drive; nonetheless he got an overall score of 989, almost double our score. If ntohing else, this underscores the fact that SSDs are a commodity, and with the global chip shortage, it is not surprising to see the sourcing be from multiple vendors.