Multitasking Scenario 3: Web Browsing
For this benchmark, we decided to switch things up a bit and keep Firefox as our foreground application while background tasks ran.
The Firefox, iTunes and Newsleecher tasks from the first test scenario were also present in this one, plus we did the following:
Open Outlook, immediately import 130MB PST file and immediately switch app focus to Firefox.
We then recorded the total time required to import the new PST while Firefox was our foreground application. The results were very interesting: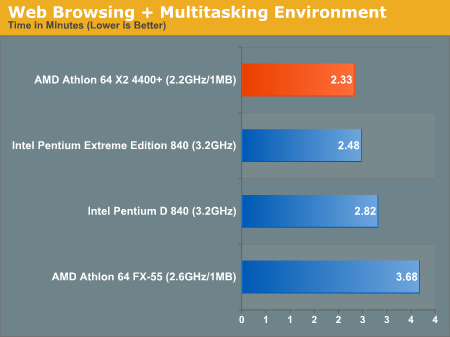 The original version of this test wasn't even competitive on single-core AMD CPUs, but by toning down the Flash usage in Firefox (the major modification was that we removed the IGN page with a huge, and very animated Flash ad), we can now do a good single-to-dual core AMD comparison.
Once again, we see some very good results from the dual core platforms; the Athlon 64 X2 4400+ manages to offer significantly better performance than the higher clocked FX-55, as do the two Intel platforms.