Development Performance - Compiling Firefox
Our Quake 3 compile test was getting a bit long in the tooth, so we're introducing a brand new test: compiling Firefox. We followed the instructions diagramed
here
.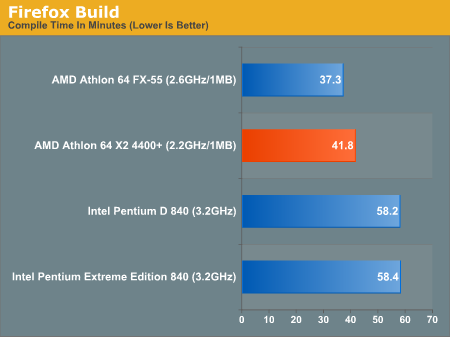 This particular test is only single threaded, and so we see that the fast single core CPUs take the lead. Intel's performance in this compiling test, as always is the case with our compiling benchmarks, is not up to par with AMD.
The Real Test - AnandTech's Multitasking Scenarios
Before our first dual core articles, we asked for feedback from the readers with regards to their multitasking usage patterns. Based on this information, we formulated some of our own benchmarks that would stress multitasking performance. We've already gone over the impacts of dual core CPUs on subjective interactions, so we'll just point you back
to previous articles for our take on that
if you haven't read them already. In the end, we know that dual core CPUs make our systems much more responsive and provide the same sort of smooth operation that SMP systems have done for years. But, the question now is: who has better multitasking performance? AMD or Intel? And that's exactly what we're here to find out.
We started with a test bed configured with a number of fairly popular applications:
Daemon Tools
Norton AntiVirus 2004 (with latest updates)
Firefox 1.02
DVD Shrink 3.2
Microsoft AntiSpyware Beta 1.0
Newsleecher 2.0
Visual Studio .NET 2003
Macromedia Flash Player 7
Adobe Photoshop CS
Microsoft Office 2003
3ds max 7
iTunes 4.7.1
Trillian 3.1
DivX 5.2.1
AutoGK 1.60
Norton Ghost 2003
Adobe Reader 7
Cygwin
gcc
mingw
Doom 3
Splinter Cell: Chaos Theory
What's important about this list is that a handful of those programs were running in the background at all times, primarily Microsoft's AntiSpyware Beta and Norton AntiVirus 2004. Both the AntiSpyware Beta and NAV 2004 were running with their real time protection modes enabled, to make things even more real world.