Dual Core Desktop Performance: AMD's Athlon 64 X2 4400+
AMD didn't send out any Athlon 64 X2 processors for this review. They promised us chips for the real launch in June, but we don't like waiting and neither do most of you, so we improvised.
The Opteron x75 CPUs that AMD sent us run at 2.2GHz and have a 1MB L2 cache per core, which makes the specs basically identical to the Athlon 64 X2 4400+. Although the use of ECC memory and a workstation motherboard would inevitably mean that performance will be slower than what will be when the real Athlon 64 X2s launch, its close enough to get a good idea of the competitiveness of the Athlon 64 X2.
For these tests, we used the same workstation board that we used in the server performance tests, but in doing so, we encountered a lot of other random problems.
With only a single CPU installed in the Tyan S2985, the system would always hang upon restarting Windows. We could shut down Windows fine and we could manually restart the machine, but if we hit Start > Shut Down > Restart, our test bed would always hang at the "Windows is Shutting Down" screen. Populating the second CPU socket fixed that problem, but obviously for our desktop comparison, we only used a single CPU to simulate a single Athlon 64 X2 4400+. The problem is undoubtedly due to the dual core BIOS, but it was frustrating to say the least (note that our normal desktop benchmark suite requires over 200 reboots - and we did every last one by hitting the reset switch on that motherboard).
The next issue we had with the motherboard is that none of the four on-board SATA ports would detect a hard drive. Apparently, this is a common problem with this board and since we were using the absolute latest BIOS revision from Tyan (we had to in order to support dual core), there was no fix for the problem at the time of our testing. Because of this problem, we were forced to use a PATA hard drive, which unfortunately meant that we couldn't test with an NCQ enabled drive.
The final problem we had was that there were significant issues with regards to memory compatibility and performance on this Tyan board with the dual core BIOS. We were forced to run at much slower memory settings than we would normally run on a desktop Athlon 64 motherboard - we had to run with the bus turnaround option set to 2T in order to even get Windows to install. A side effect of some of these issues was that not all of our tests would run properly; most did, but a few didn't make it. Obviously, we'll fill in the blanks when we perform our actual tests for the Athlon 64 X2 review, but this will serve as a preview.
All in all, we were extremely disappointed with the only board that AMD would recommend us to use with their first dual core processors. The BIOS is far from ready and the board seems to have issues that extend beyond what can be attributed to the dual core BIOS. When Intel sent us a dual core setup earlier this month, we were surprised at how stable the system was. Our experience with AMD's platform was the exact opposite. While we're very confident that dual core Opteron systems from tier one OEMs won't have these sorts of issues, the fact that we were having these problems just weeks before the launch of a major CPU is worth mentioning. We've also held off on doing any sort of power consumption analysis between the Athlon 64 X2 and the Pentium 4 until we get desktop platforms in hand. That being said, AMD rates the Athlon 64 X2 as having the same thermal envelope as the current Socket-939 Athlon 64 processors. Thanks to a cool running 90nm process and slightly lower clock speeds, AMD is able to achieve just that.
With the problems out of the way, we were ready to get down to benchmarking. So, we put together a list of CPUs that made sense to compare for the desktop portion of this preview.
AMD's own marketing suggests that based on the price differences between their dual core CPUs and Intel's, the Athlon 64 X2 is in a class above the Pentium D. Instead, AMD suggests that the real competitors to the Pentium D 820, 830 and 840 are the Athlon 64 3400+, 3500+ and 3800+, respectively. To test that theory, we included an Athlon 64 3800+ as well as the fastest single core AMD processor, the Athlon 64 FX-55, in our comparisons.
The comparison that AMD makes is depicted below.
Note that this is AMD's marketing comparison, not our own.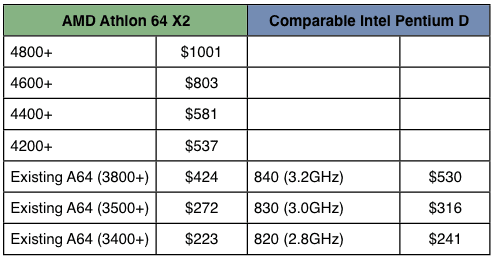 For the Athlon 64s, we used MSI's nForce4 SLI board; and for the Intel CPUs, we used Intel's own 955X board. All systems were configured with 1GB of memory and used the same Seagate 120GB PATA HDD and ATI Radeon X850 XT video card. We used the latest Catalyst 5.4 drivers.