Order Entry Results
Our Vendor test has received quite a bit of interest from certain processor vendors; rightfully so, as the workload is quite difficult to recreate.
As you can see from the results below, there are some interesting conclusions that you can draw:
The Dual Opteron 875 took the lead by 18% over the fastest Quad Intel. This should come as no surprise as we have seen in the past that the memory bandwidth limitation of the Intel FSB architecture does not allow the quads to really stretch their legs. On the other hand, the Integrated Memory Controller of the Opterons allow them to pull ahead.
The additional L3 cache of the Quad Xeon 3.3GHz allows it to outperform the Quad Xeon 3.6GHz by 16%.
The Quad Xeon 3.6GHz with the 667MHz FSB is only able to outperform the Dual Xeon 3.6GHz 800MHz FSB by 5%.
The dual Xeons are able to outpace the dual 252's by 2%, and the single 875 by 5%. The Xeons success here can be attributed to the additional L2 cache.
The Dual Opteron 875 demonstrated nice scalability by servicing 52% more requests in the same period as the single Opteron 875.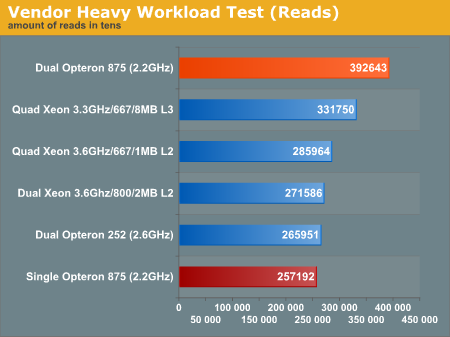 To give you an idea of the scale of this benchmark, we have graphs of stored procedures calls per second. We decided to focus on Stored Procedures / Second rather than Transactions / Second, as the definition of a Transaction can have a business context or a technical context.