NVIDIA's nForce4 SLI Intel Edition Chipset
As we've indicated in the past, NVIDIA's first Intel chipset is very similar to their nForce4 AMD chipset, with a couple of exceptions.  For starters, the Intel Edition chipset is made up of two chips, compared to the AMD chipset's one.  The reasoning is simple: with AMD's architecture, NVIDIA needn't include a memory controller in their chipset, which cuts down on overall die size quite a bit.  With the Intel Edition, we see the first new memory controller that NVIDIA has introduced since nForce2.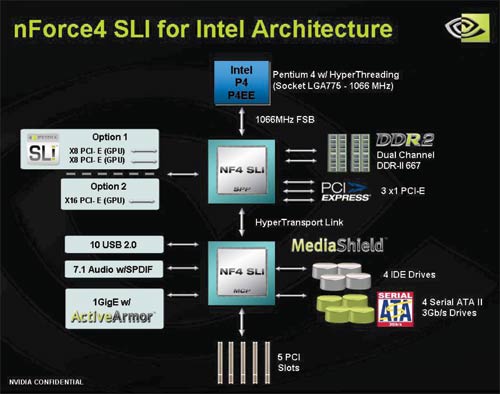 Remember DASP?  NVIDIA's Dynamic Adaptive Speculative Pre-Processor is back in nForce4 Intel Edition, but this time around, the competition is much stronger.  DASP is a hardware pre-fetch engine that resides within the memory controller and attempts to pre-fetch data into a small amount of cache on the chipset, which NVIDIA's algorithms determine will be used by the CPU in the future.  Intel has a similar technology in their 955X chipset, although it's not something they have branded or marketed.  Depending on how aggressive NVIDIA's DASP is, it could make good use of the extra memory bandwidth offered by its dual channel DDR2-533/667 memory bus.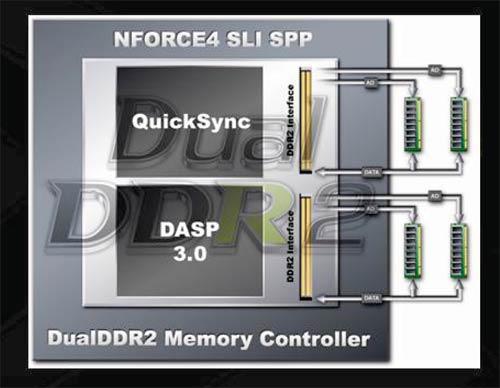 NVIDIA also boasts a dedicated address bus per DIMM slot with the nForce4; however, this seems to be a feature also supported by Intel, so there isn't much advantage over the competition here. 
In their final memory controller optimization, NVIDIA's QuickSync claims to be able to reduce memory latency when operating in multiple clock domains (e.g. 800MHz FSB, but 533MHz memory bus).  Later in this article, we'll find out exactly how aggressive NVIDIA's memory controller truly is. 
The nForce4 SLI Intel Edition chipset supports both 800 and 1066MHz FSBs, just like the 955X - however, NVIDIA also indicated that if Intel were to increase the FSB frequency, they would be ready. 
Unlike the 955X, NVIDIA only supports 3 PCI Express x1 slots.  However, NVIDIA does offer two PATA channels, compared to Intel's single PATA channel.  NVIDIA also offers more USB 2.0 ports (10 vs 8).  NVIDIA does not support Intel's HD Audio spec, so you're stuck with AC'97 on the nForce4 SLI.