Mushkin EM Series PC3200
Mushkin is admired by many computer enthusiasts for the quality of their products and the customer service that they provide. In the past, the only way to buy Mushkin memory was direct at
www.mushkin.com
. Recently, however, Mushkin has also been available through web retailers like Monarch, NewEgg, TigerDirect, and AxionTech. In Canada, Mushkin is available through NCIX.
If you do order direct from Mushkin, you will get their famous "pillow pack" that cradles their memory in an air bubble. The point is that Mushkin makes solid products, stands behind their products, and treats customers well.
Mushkin EM is their Value line product, and like other Mushkin memory, it comes in a sealed anti-static bag instead of the fancier packaging that many others use. All Mushkin memory, even this Value product, comes with heatspreaders.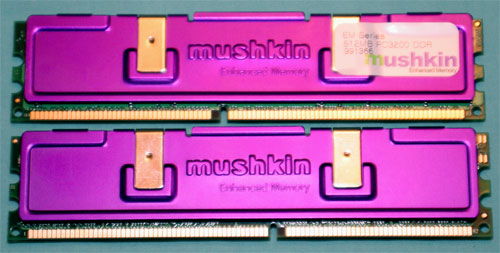 You can't miss the bright purple heatspreaders on the Mushkin PC3200 EM that we received, but the Mushkin web site says that you might actually receive other heatspreader colors with your EM purchase. We do not know the memory chips that Mushkin used in EM, as they were concealed behind the heatspreader.
Specifications
The Mushkin EM is specified at the unimpressive specs of 3-3-3-8, but keep in mind that Value RAM is normally about price and not performance.
Mushkin EM Series PC3200 (DDR400) Memory Specifications
Number of DIMMs & Banks
2 DS
DIMM Size
Total Memory
512 MB
1GB
Rated Timings
3-3-3-8 at DDR400
SPD (Auto) Timings
3-3-3-8
Rated Voltage
2.6V
The EM memory performed fine at stock DDR400, but it is another Value RAM with no overhead.
Test Results
Mushkin EM Series PC3200 (DDR400) - 2 x 512Mb Double-Bank
CPU Ratio at 2.4GHz
Memory
Speed
Memory Timings
& Voltage
Quake3
fps
Sandra UNBuffered
Sandra Standard
Buffered
Super PI 2M places
(time in sec)
Wolfenstein - Radar - Enemy Territory fps
12x200
400 DDR
3-3-3-6
2.6V 1T
524.0
INT 2600
FLT 2752
INT 6049
FLT 6005
83
111.1
12x205
(2.46GHz)
Highest CPU/Mem Performance
3-3-3-6
2.9V 1T
525.9
INT 2616
FLT 2749
INT 6153
FLT 6130
81
112.4
To be considered stable for test purposes, Quake3 benchmark, UT2003 Demo, Super PI, Aquamark 3, and Comanche 4 had to complete without incident. Any of these, and in particular Super PI, will crash a less-than stable memory configuration.
All the memory manufacturers generally have access to the same memory chips, and we can only surmise that Mushkin chose the chips in our EM sample for price. The manufacturer chose which Value RAM to send us for testing, and we can only wonder why Mushkin chose to send us EM for this roundup. We have tested other Mushkin Value RAM over the years, and we have generally been pleased with the performance and head room of Mushkin value products. Our advice would be to choose this Mushkin EM if you will only run at stock speeds. It could be that the memory is just a bad match to the AMD memory controller or the DFI, but further testing would be required to see if the EM performs better on other platforms.
Aida 32 is now available as Everest Home Edition, a free download from
www.lavalys.com
. We have found this benchmark to be very useful in examining read/write performance and memory latency.
Mushkin EM Series PC3200 (DDR400) 2x512Mb Double-Bank
Everest 1.51
CPU Ratio at 2.4GHz
Memory Speed
Memory Timings
& Voltage
Everest READ
MB/s
Everest WRITE
MB/s
Everest Latency
ns
12x200
400 DDR
3-3-3-6
2.6V 1T
5710
1873
52.8
12x205
(2.46GHz)
Highest CPU/Mem Performance
3-3-3-6
2.9V 1T
5790
1940
51.0
There's little to analyze with such a small performance range. We would suggest that you choose another Mushkin value RAM if you want to shop for a Mushkin product at low cost. The Mushkin website shows a 1GB CL2 DDR400 kit at $155 compared to $147 for the EM.