SPEC - Per-Core Performance under Load
A metric that is actually more interesting than isolated single-thread performance, is actually per-thread performance in a fully loaded system. This actually is a measurement and benchmark figure that would greatly interest enterprises and customers which are running software or workloads that are possibly licensed on a per-core basis, or simply workloads that require a certain level of per-thread service level agreement in terms of performance.
This has been a strong-point of Intel SKUs for some time now, even when the chips wouldn't be competitive in terms of total throughput. With the new Ice Lake SPs SKUs now more notably increasing total throughput, it'll be interesting to see the per-thread breakdown and resulting performance: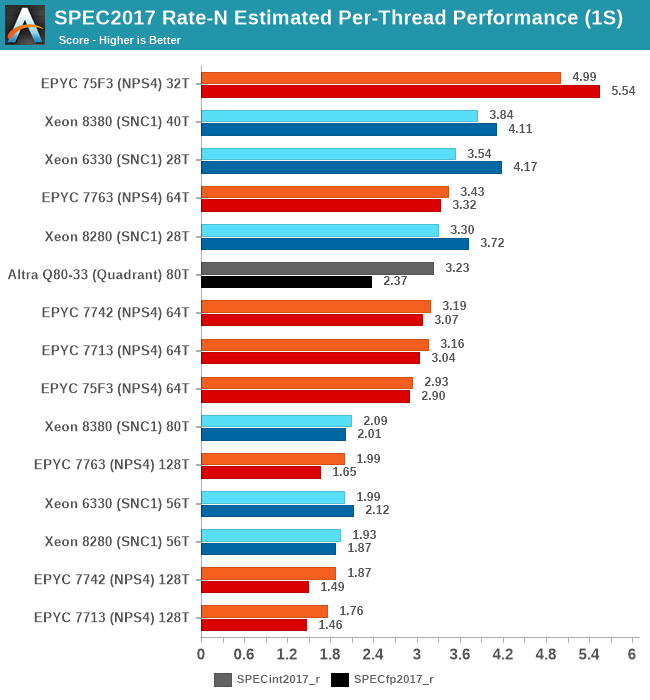 Because the total throughput generational performance increase is larger than the core count increase of the parts, this means that per-thread and per-core performance is higher with this generation. The Xeon 8380 is posting +16.3% and +10.4% per-thread performance versus the Xeon 8280 when only using one thread per core.
Interestingly, these figures are less at +8.2 and +7.4% when using both SMT threads per core. Intel has explained such an increase through the better usage of shared microarchitectural structure usage in the new Sunny Cove cores, essentially diminishing the SMT yield by improving 1/T per core performance.
Generally, Intel is extremely competitive in this benchmark metric, and while AMD easily beats them with the frequency-optimised parts, it's an advantage that should help Intel in the SLA-centric workloads.