Multitasking Scenario 3: Web Browsing
For our final benchmark, we decided to switch things up a bit and keep Firefox as our foreground application while background tasks ran.  To make things even more stressful, we had no less than 12 tabs open in Firefox, with our main tab being IGN's PSP website - which happens to be very Flash heavy. 
The iTunes and Newsleecher tasks from the first test scenario were also present in this one, plus we did the following:
Open Outlook, immediately import 130MB PST file and immediately switch app focus to Firefox.
We then recorded the total time required to import the new PST while Firefox was our foreground application.  The results were very interesting: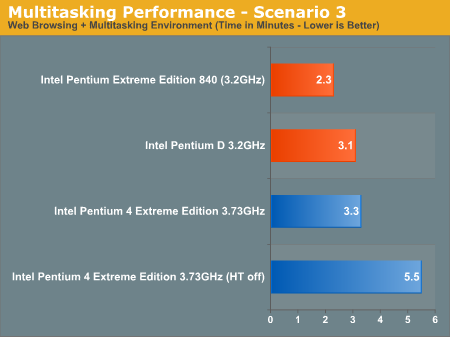 The most surprising is how poorly AMD did in this test. We actually had to exclude them from the graph as it distorted the bar lengths too much. AMD weighed in at over 27 minutes; from actually using the system, it looks like Flash takes a much bigger performance toll on AMD platforms than it does on Intel.  The end result is that the scheduler devoted very little time to the Outlook process, resulting in the import taking an extremely long time. 
Ignoring the AMD outlier, dual core offered serious performance improvements over single core within the Intel realm alone.  The 840 completed the PST import in around 70% of the time of the 3.73EE.  Again, the gap would grow if more tasks were running, or if we were actually interacting with Firefox instead of just sitting there and reading one page (we confirmed this by actually doing it, but it is a little too difficult to do in a repeatable fashion for testing purposes).