Gaming Tests: Final Fantasy XIV
Despite being one number less than Final Fantasy 15, because FF14 is a massively-multiplayer online title, there are always yearly update packages which give the opportunity for graphical updates too. In 2019, FFXIV launched its Shadowbringers expansion, and an official standalone benchmark was released at the same time for users to understand what level of performance they could expect. Much like the FF15 benchmark we've been using for a while, this test is a long 7-minute scene of simulated gameplay within the title. There are a number of interesting graphical features, and it certainly looks more like a 2019 title than a 2010 release, which is when FF14 first came out.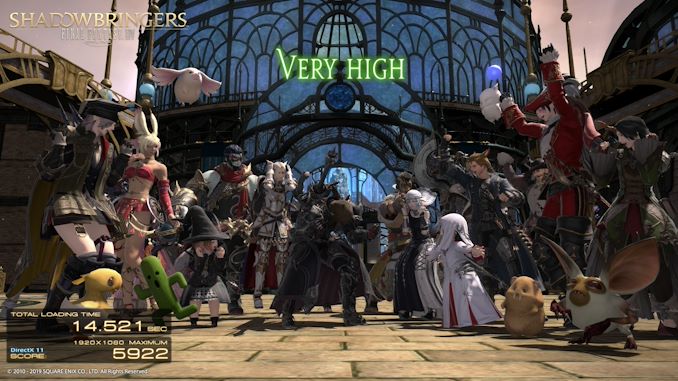 With this being a standalone benchmark, we do not have to worry about updates, and the idea for these sort of tests for end-users is to keep the code base consistent. For our testing suite, we are using the following settings:
768p Minimum, 1440p Minimum, 4K Minimum, 1080p Maximum
As with the other benchmarks, we do as many runs until 10 minutes per resolution/setting combination has passed, and then take averages. Realistically, because of the length of this test, this equates to two runs per setting.

AnandTech
Low Resolution
Low Quality
Medium Resolution
Low Quality
High Resolution
Low Quality
Medium Resolution
Max Quality
Average FPS
As the resolution increases, the 11900K seemed to get a better average frame rate, but with the quality increased, it falls back down again, coming behind the older Intel CPUs.
All of our benchmark results can also be found in our benchmark engine, Bench.