GIGABYTE B560M DS3H AC & B560M DS3H
Representing a more modest pair of micro-ATX options from GIGABYTE is the B560M DS3H AC and B560M DS3H. The only difference between both models is that the B560M DS3H AC includes a Realtek Wi-Fi 5 CNVi, whereas the regular B560M DS3H does not. Both models follow the same design, with a black, grey and deeper grey patterned PCB, withblack power delivery and chipset heatsinks. GIGABYTE is advertising a direct 6+2 phase power delivery, which is using a single 8-pin 12 V ATX CPU power input.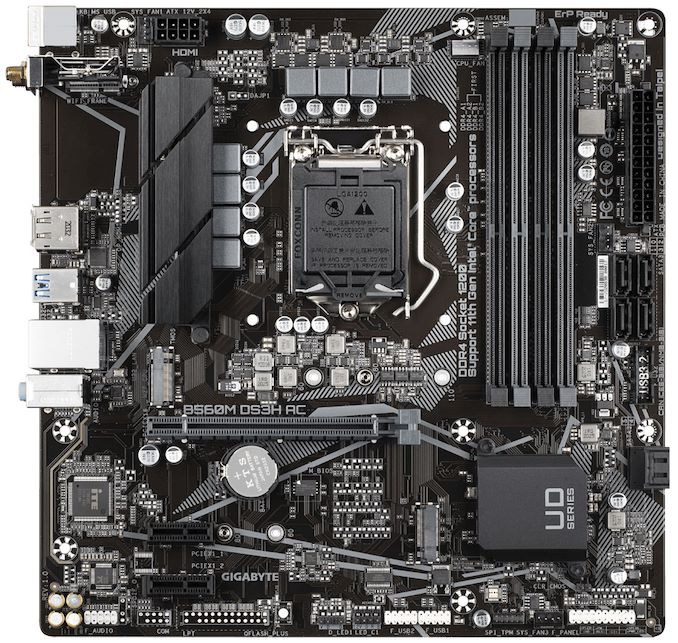 The GIGABYTE B560M DS3H AC motherboard and B560M DS3H share the same design
Located in the center of the board is one full-length PCIe 4.0 x16 slot, with two PCIe 3.0 x1 slots below it. For storage, GIGABYTE includes two M.2 slots, including one with support for PCIe 4.0 x4 drives,a second slot that can accommodate both PCIe 3.0 x4 and SATA drives, with six SATA ports; two with right-angledand four with straight-angled connectors. In the top right-hand corner is four memory slots, with support for up to 128 GB of DDR4 memory, although GIGABYTE hasn't currently given us its memory QVLlist.


GIGABYTE B560M DS3H AC rear panel (only difference is Wi-Fi)
On the rear panel, the GIGABYTE B560M DS3H AC includes an AzureWave RTL8821CE Wi-Fi 5 CNVi, which is the only difference between both models. Both models include one USB 3.2 G1 Type-C, three USB 3.2 G1 Type-A, and two USB 2.0 ports. GIGABYTE includes a pair of video outputs including a DisplayPort and HDMI, with three 3.5 mm audio jacks powered by a non-specified Realtek HD audio codec. Finishing off the rear panel is a single Realtek Gigabit Ethernet port, with a PS/2 combo port designed for use with legacy peripherals.