Conclusion
The Samsung SSD 980 is their first DRAMless SSD for the retail market, and their first entry-level NVMe drive. The fact that Samsung is getting into this market segment at all is probably the most interesting thing about the SSD 980. It's a sign that Samsung is more willing to offer affordable consumer SSDs, rather than always aiming for top-tier performance and pricing.
As with any entry-level NVMe SSD, the performance story for the Samsung SSD 980 is a bit complicated. Compromises have to be made to keep costs low while still offering good peak performance. On lighter, easier tests, peak performance can be competitive with high-end PCIe Gen 3 drives like the Samsung 970 EVO Plus, especially when the larger SLC cache can give the SSD 980 the advantage.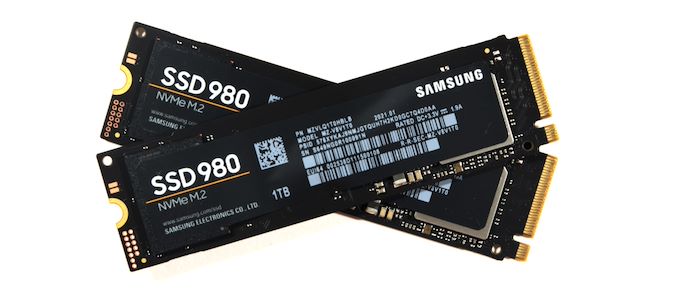 The DRAMless nature of the SSD 980 means that performance can suffer under any workload that hits a lot of data, even if it's mostly or entirely reads instead of writes. Fortunately, the threshold for "a lot of data" in this context is tens of GB, which is far more than most everyday tasks involve. Stuff like full text searching of the entire drive without an index, or some antivirus scans will be noticeably slower than on a mainstream TLC drive with DRAM. But for the most part, the DRAMless design means that the drive still has decent performance where it counts, and sacrifices performance where it probably won't be missed.
Compared to its most important competitor, the year-old WD Blue SN550, the Samsung SSD 980 clearly hits better highs but also has more serious pitfalls. Both drives are DRAMless SSDs optimized for workloads that don't handle too much data at once. When a workload strays outside those limits, the WD Blue SN550 is the clear winner that holds up better under heavier workloads. Which of the two drives is preferable will largely come down to pricing.
Samsung is trying to market the SSD 980 as something of a successor to the 970 EVO. This is definitely a stretch, even if they both reach similar peak performance on the spec sheet. The SSD 980 is clearly a lower class of drive than Samsung's recent high-end PCIe Gen 3 drives. The Samsung SSD 980 is also definitely not their answer to the SK hynix Gold P31, a mainstream TLC SSD with a 4-channel controller that can keep pace with much more power-hungry 8-channel drives (because it has a DRAM cache). For that, we'll need to hope for a potential 980 EVO to arrive, and for Samsung to get serious about improving the power efficiency of its NVMe SSDs.
The Samsung SSD 980 is launching with fairly reasonable MSRPs. It doesn't have to come down too much in price to line up with current street prices for other entry-level NVMe SSDs. It remains to be seen just how competitive Samsung wants to get with the 980. We've seen them offer very competitive street prices on their mainstream SATA SSDs, and if they do that here we could see some very interesting competition between Samsung, WD and Intel.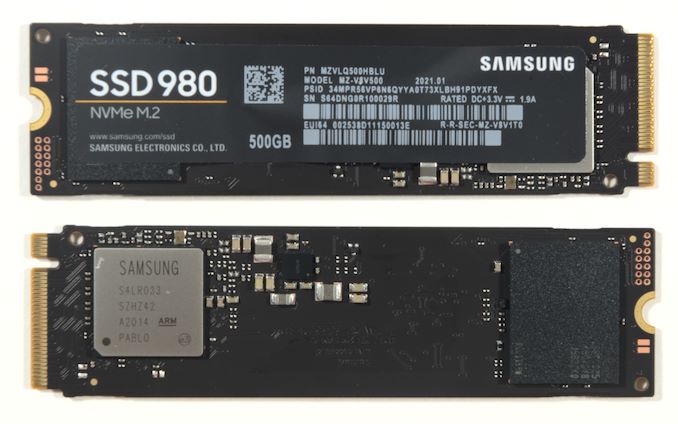 As we observed with the launch of the Intel SSD 670p, the standards for entry-level NVMe SSDs are improving. With several of the biggest players in the industry taking this market segment seriously, and entry-level NVMe SSDs are no longer just a step up from SATA SSDs with caveats. Intel and Samsung are now both offering entry-level NVMe SSDs that can saturate a PCIe 3.0 x4 interface under good conditions, and perform better-than-SATA when write caches are expired.
Intel's QLC-based solution offers higher capacities, but Samsung's DRAMless TLC solution should have the clear advantage in performance below 1TB. Entry level NVMe drives that top out at 2.5 GB/s are starting to look inadequate even if their real-world performance still holds up well. Western Digital's WD Blue SN550 isn't quite out of the running yet, but it could use an update. Most of the other entry-level NVMe SSDs will have to keep their pricing well under those drives to stay competitive.
End of review questionnaire: Samsung's recent controller names have us confused. Is there a pattern? Polaris, Phoenix, Photon, Elpis, Maru... and now Pablo. What's the connection? Anyone have any ideas?