Conclusion
The Intel SSD 670p is a great update to their consumer QLC product line. Intel hasn't eliminated the downsides of QLC NAND compared to TLC NAND, but they are continuing to reduce those downsides. With the 670p, peak performance has caught up to and in some cases clearly surpassed the performance of the QLC SSDs using the Phison E12 SSD controller. Worst-case performance has improved to the point that the larger models of 670p will no longer end up slower than hard drives during a torture test. Write endurance has increased again, and is now high enough that most consumers can stop worrying about whether QLC NAND will last long enough.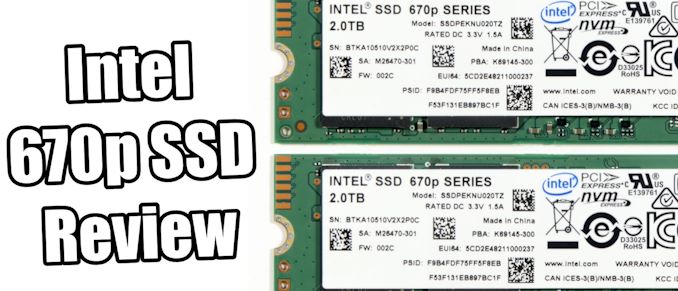 During ordinary consumer use and even some fairly heavy workloads, there won't be any of the performance problems that used to be a dead giveaway that a drive was using QLC NAND. The corner cases where performance plummets still exist, but they are getting harder to trigger with each generation. The most significant remaining performance downside to QLC is that random reads that cannot be served from the SLC cache, and in this instance they will be slower than a good DRAMless TLC drive. But even that weakness has to be put in context: the read latency outside of the SLC cache is still almost as fast as random reads from a TLC SATA SSD.
The big caveat to our conclusions is that we only tested the largest and fastest 670p model. The 512 GB model is doubtless faster than the 512 GB Intel 660p, but we still don't recommend any QLC drive smaller than 1TB. We're also not sure how compelling the performance improvements with the 1TB 670p will be: on paper it's slower than the 2TB model we tested, but not by much—especially for the benchmarks that are more likely to matter in real life.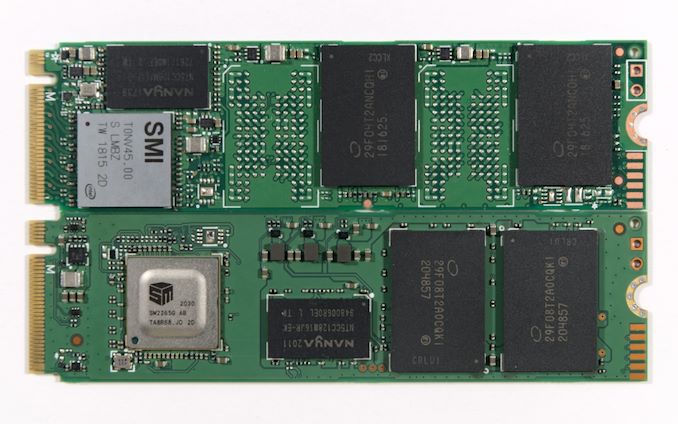 The new 3D QLC NAND and new SSD controller introduced in the Intel 670p are both interesting from a technical standpoint. The combination works well, but both NAND and controller face an uncertain future - Intel is selling its NAND flash and SSD business to SK hynix. Intel is the last remaining NAND flash memory manufacturer using a floating gate memory cell design, which makes this 144L QLC unique within the industry. That also means SK hynix might easily decide to abandon this line of R&D and focus on the more popular charge trap flash the next time money gets tight.
The new Silicon Motion SM2265 controller provides greatly improved performance than the 660p/665p badly needed, but the SM2265 appears to be an awkward product that straddles two generations. Without even token PCIe 4.0 support, the SM2265's days are numbered. The advertising advantages of PCIe 4.0 make it very tempting to upgrade to the SM2267 controller when suitable drives are available. The SM2265 as used in the Intel 670p also fails to deliver anything like the impressive power efficiency advantages we saw with the SK hynix Gold P31 and its high-speed 4-channel controller.
NVMe SSD Price Comparison
March 1, 2021
240-256 GB
480-512 GB
960 GB-1 TB
2 TB
Intel 670p
QLC
Launch
MSRP
$89.99 (18¢/GB)
$154.99 (15¢/GB)
$329.99 (16¢/GB)
Updated
March 2
$69.99 (14¢/GB)
$129.99 (13¢/GB)
$249.99 (12¢/GB)
Intel 660p
QLC
$109.99 (11¢/GB)
$224.99 (11¢/GB)
ADATA Falcon
TLC, DRAMless, 8ch
$37.99 (15¢/GB)
$57.99 (11¢/GB)
$99.99 (10¢/GB)
$209.99 (10¢/GB)
Crucial P2
TLC, DRAMless
$49.99 (20¢/GB)
$59.99 (12¢/GB)
$104.99 (10¢/GB)
Kingston A2000
TLC
$44.99 (18¢/GB)
$60.54 (12¢/GB)
$116.24 (12¢/GB)
WD Blue SN550
TLC, DRAMless
$46.40 (19¢/GB)
$59.99 (12¢/GB)
$104.99 (10¢/GB)
$224.99 (11¢/GB)
Inland Platinum
QLC, 8ch
$96.99 (10¢/GB)
$181.99 (9¢/GB)
Crucial P1
QLC
$55.99 (11¢/GB)
$104.99 (10¢/GB)
$224.99 (11¢/GB)
Sabrent Rocket Q
QLC, 8ch
$62.42 (12¢/GB)
$109.98 (11¢/GB)
$219.98 (11¢/GB)
ADATA S50 Lite
TLC, PCIe 4.0, 4ch
$119.99 (12¢/GB)
$229.99 (11¢/GB)
ADATA SX8200 Pro
TLC, 8ch
$44.95 (18¢/GB)
$59.99 (12¢/GB)
$119.99 (12¢/GB)
$239.99 (12¢/GB)
HP EX950
TLC, 8ch
$79.99 (16¢/GB)
$124.99 (12¢/GB)
$234.99 (12¢/GB)
SK hynix Gold P31
TLC, 4ch
$74.99 (15¢/GB)
$134.99 (13¢/GB)
WD Black SN750
TLC, 8ch
$49.99 (20¢/GB)
$62.99 (13¢/GB)
$129.99 (13¢/GB)
$293.73 (15¢/GB)
The retail consumer SSD market is a bit of a mess right now: the semiconductor shortages are being felt here as well, and much of what is in stock is starting to creep up in price. Even so, the recommended customer prices Intel is launching the 670p with are way out of touch.
They're positioning the 670p in a higher price bracket than the QLC SSDs with the Phison E16 PCIe 4.0 controller. That also leaves a lot of room for reasonably-priced TLC SSDs to undercut the 670p - and not just the budget models. Basically anything significantly cheaper than a Samsung 970 EVO Plus is also cheaper than the 670p's recommended customer pricing.
Once the Intel 670p comes down to sane price ranges, it certainly has the potential to be a good product. It helps raise the bar for QLC SSDs and entry-level NVMe SSDs in general. The 670p probably can't quite come down in price far enough to match the 660p, but if it got close then it could be a very compelling bargain.
Update March 2, 2021: That didn't take long. Retail prices for all three capacities of the Intel SSD 670p have dropped considerably. It's still a bit expensive for a QLC SSD, but the 670p delivers better real-world performance than any previous QLC SSD. The updated prices are a lot more reasonable, especially for a just-launched product. The 670p is now priced to match most mainstream TLC SSDs with 8-channel PCIe gen3 controllers, which is the performance class the 670p competes in for most real-world workloads.