Cell's On-Die Memory Controller
For years, we've known that Rambus' memory and interface technology is well ahead of the competition. The problem is that it has never been implemented well on a PC before. The Rambus brand received a fairly negative connotation during the early days of RDRAM on the PC, and things worsened even more for the company's brand with the Rambus vs. the DDR world lawsuits.
Rambus has had success in a lot of consumer electronics devices, such as HDTVs and the Playstation 2, so when Cell was announced to make heavy use of Rambus technologies, it wasn't too surprising. As we've reported before, Rambus technology is used in about 90% of the signaling pins on Cell. The remaining 10% are mostly test pins, so basically, Rambus handles all data going in and out of the Cell processor. They do so in two ways:
First off, Cell includes an on-die dual channel XDR memory controller, each channel being 36-bits wide (32-bits with ECC). Cell's XDR memory bus runs at 400MHz, but XDR memory transfers data at 8 times the memory bus clock - meaning that you get 3.2GHz data signaling rates. The end result is GPU-like memory bandwidth of 25.6GB/s. As we've mentioned in our coverage of this year's Spring IDF, memory bandwidth requirements increase tremendously as you increase the number of processor cores - with 9 total in Cell, XDR is the perfect fit. Note that the GeForce 6800GT offers 32GB/s of memory bandwidth just to its GPU, so it would not be too surprising to see the Playstation 3's GPU paired up with its own local memory as well as being able to share system memory and bandwidth.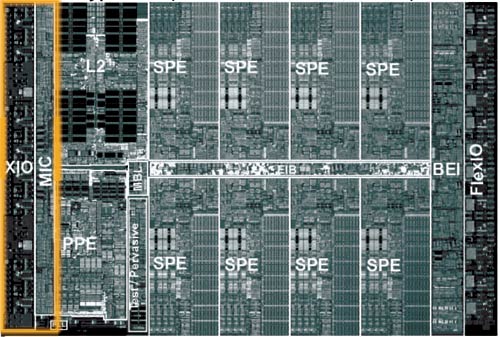 The block labeled MIC is the XDR memory controller, and the XIO block is the physical layer - all of the input receivers and output drivers are in the XIO block. Data pipelines are also present in the XIO block.
As we've seen from AMD's Athlon 64, having a memory controller on-die significantly reduces memory latencies, which applies to Cell as well.
Cell's On-Die FlexIO Interface
The other important I/O aspect of Cell is also controlled by Rambus - the FlexIO interface. Cell features two configurable FlexIO interfaces, each being 48-bits wide with 6.4GHz data signaling rates.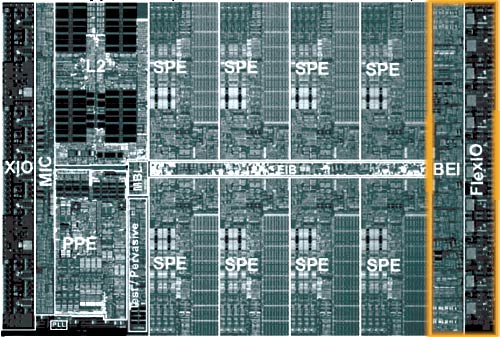 The BEI block is effectively the North Bridge interface, while the FlexIO block is the physical FlexIO layer.
The word "configurable" is particularly important as it means that you don't need to connect every wire. Taking this notion one step further, don't look at the FlexIO interfaces as being able to connect to one chip, but rather multiple chips with different width FlexIO interfaces.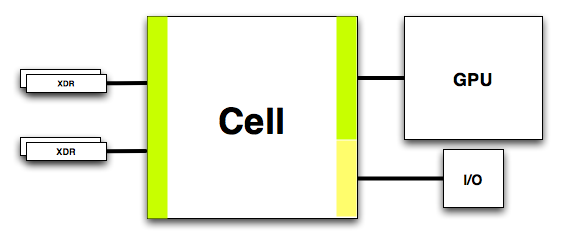 One potential implementation of Cell's configurable FlexIO interface.
While Cell's XDR interface offers over 2x the memory bandwidth of any PC-based microprocsesor, Cell's FlexIO interface weighs in at 76.8GB/s - almost 10x the chip-to-chip bandwidth of AMD's Athlon 64.
In Playstation 3, you can pretty much expect a good hunk of this bandwidth to be between NVIDIA's GPU and the Cell processor, but it also can be used for some pretty heavy I/O interfaces.
One of the major requirements in any high performance game console is bandwidth, and thanks to Rambus, Cell has plenty of it.