Blueprint for a High Performance per Transistor CPU
Given that Cell was designed with a high performance per transistor metric in mind, its architecture does serve as somewhat of a blueprint for the technologies that result in the biggest performance gains, at the lowest transistor counts. Now that we've gone through a lot of the Cell architecture, let's take a look back at what some of those architectural decisions are:
1. On-die memory controller
We've seen this with the Athlon 64, but an on-die memory controller appears to be one of the best ways to improve overall performance, at minimal transistor expenditure. Furthermore, we also see the use of Rambus' XDR memory instead of conventional DDR, as the memory of choice for Cell. High frequencies and high bandwidth are what Cell thrives on, and for that, there's no substitute but Rambus' technology.
2. SMT
On-die multithreading has also been proven to be a good way of extracting performance at minimal transistor impact. Introducing Hyper Threading to the Pentium 4's core required a die increase of less than 5%, just to give you an idea of the scale of things. The performance benefits to SMT will obviously vary depending on the architecture of the CPU. In the case of the Pentium 4, performance gains ranged from 0 - 20%. In the case of the in-order PPE core of Cell, the performance gains could be even more. Needless to say, if implemented well, and if proper OS/software support is there, SMT is a feature that makes sense and doesn't strain the transistor budget.
3. Simpler, in-order, narrow-issue core - but lots of them
This next design decision is more controversial than the first two, simply because it goes against the design strategies of most current generation desktop microprocessors that we're familiar with. By making the PPE and SPEs 2-issue only, each individual core still remains a manageable size. Narrower cores obviously sacrifice the ability to extract ILP, but doing so allows you to cram more cores onto a single die - highlighting the ILP for TLP sacrifice that the Cell architects have made.
Getting rid of the additional logic and windows needed for an out-of-order core helps further reduce transistor count, but at the expense of making sure that you have a solid compiler and/or developers that are willing to deal with more of the architecture's intricacies to achieve good performance.
Looking at Intel's roadmap for Platform 2015, the type of microprocessors that they're talking about are eerily Cell-like - a handful of strong general purpose cores surrounded by smaller cores, some of which are more specialized hardware.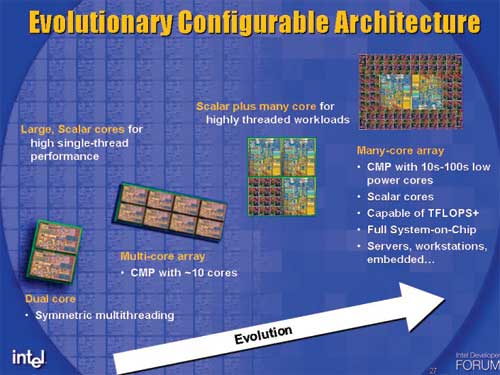 However, the time frame that Intel is talking about to introduce those Cell-like architectures is much further away than today; the first Cell-like architectures don't appear on roadmaps until the 2009 - 2015 range.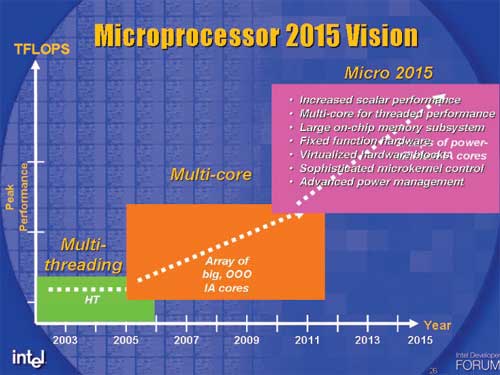 In the past, when Intel dictated a major architectural shift, it didn't happen until they said so. It is yet to be seen if Cell is an exception to the rule or if it will be another architecture well before its time.