OCZ EL PC4000 VX Gold
OCZ has developed quite a reputation in the past year with the introduction of many leading-edge memory products. As you will see in a look at our ongoing memory benchmarks, the results have been that OCZ owns many of the top performance spots in our memory tests. Even with that kind of reputation, OCZ VX must be counted a unique product. The EL label is used by OCZ for Extreme Latency, but VX is a new label used to refer to Voltage eXtreme memory. VX means that the memory is designed for and can handle very high memory voltages for expanded performance.
The first OCZ VX memory was rated at a very conservative PC3200 2-3-3-8 at a standard 2.6V. While it met these specifications, the specs hardly described a memory that was widely recognized as capable of DDR500 and higher at 2-2-2 timings using voltages of 3.0V and higher. As yields and binning improved, OCZ decided in late February to introduce an updated VX memory - now rated at DDR500 2-2-2 at 3.3V.
The new DDR500 2-2-2 uses the same chips as the earlier VX, but it is binned for higher speed and verified at the new DDR500 specifications. OCZ tells us that everything about the new VX memory is basically the same as earlier PC3200VX, but with even better chips becoming available for VX, it was time for the higher speed rating. OCZ will also be introducing a VX value memory in the future for those enthusiasts that want 2-2-2 timings, but do not demand DDR500+ timings for 2-2-2. Gold VX modules are optimized for use on Athlon 64 based motherboards. In addition, OCZ EL PC-4000 Gold VX is rated to handle up to 3.5V without invalidating the OCZ lifetime warranty.

The new VX DDR500 uses the familiar OCZ Gold heatspreaders. OCZ describes the heatspreaders as gold-mirrored copper, and DDR500 VX is only available as a 1GB kit with two 512MB double-sided memory modules. We removed the heatspreader and found the memory chips were labeled OCZ. OCZ apparently buys memory chip blanks and relabels them for VX. OCZ is usually very open about chip sources, but in this case, they would only comment that the memory chips were made to their specifications and went through extensive binning at OCZ. Forums are claiming that the blank is a new Winbond memory chip.
The recently tested
DFI LANParty nForce4
boards are the only current production boards to fully support the voltages required by VX memory. It is fortunate that the DFI are also excellent performers and the
DFI LANParty nF4 SLI-DR
was the recent winner of our Gold Editors Choice in the nForce4 SLI roundup. The DFI boards are only recently available, however, and prior to the DFIs, there were two ways to use VX memory. First, some enthusiasts modified their boards to supply higher memory voltage.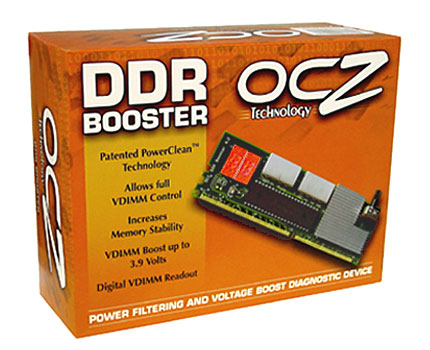 Second, you could use VX with an OCZ DDR Booster, which is a device designed to fit into the DIMM slot of most motherboards.

The DDR Booster is a little $40 device that allows the user to select voltages up to 3.9V regardless of what voltages the motherboard supports. This neatly gets around the fact that most motherboards supply only 2.7V to 2.85V to the memory slots. For motherboards other than the DFI, you can even buy a bundle of VX memory with the DDR booster.
OCZ EL PC4000 VX Gold Specifications
 OCZ EL PC4000 VX Gold Memory Specifications
Number of DIMMs & Banks
2 DS
DIMM Size
Total Memory
512 MB
Rated Timings
2-2-2-8 at DDR500 at 3.3V
2-3-3-8 at DDR400 at 2.6V
(Typically 2-2-2-8 at DDR400 at 3.0V)
SPD (Auto) Timings
3-3-3-8
Rated Voltage
3.3V
With Intel's introduction last summer of the Intel 915/925X chipsets with support for DDR2 memory, the primary market for DDR memory has become the excellent AMD Athlon 64 platform. However, some 915 boards also support DDR, and the continuing Intel Socket 478 also supports DDR memory. It is worth noting that OCZ designed PC4000VX for the AMD platform and it is optimized for the Athlon 64 platform. In addition, the only unmodified motherboard for VX is the DFI nForce4 motherboards. For these reasons, OCZ EL PC4000 VX Gold was only tested on the DFI LANParty nF4 SLI-DR Athlon 64 Socket 939 test bed.