Conclusion
Looking beyond AMD's AM4 socket, the future is currently unknown. There has been plenty of speculation (some of which I may or may not agree with) that Ryzen 5000 won't be the last processors to be grace the platform, but should AMD launch another generation of hardware on AM4, these won't be expected until at least late 2021. Until such time as AMD pulls the trigger on new desktop CPUs, it'll likely focus on another generation of Threadripper first at any rate. This means that boards such as the ASUS ROG Strix X570-E Gaming have some good longevity for the future.
The X570 Strix sits just below the ROG Crosshair series of models, and the ASUS ROG Strix X570-E Gaming is the premier board of its Strix series. This is shown with its feature set that includes two PCIe 4.0 x4/SATA M.2 slots, with eight SATA ports with no bandwidth shared between any of them. This allows users to install the highest level of consumer-level NVMe SSDs, as well as high-capacity SSD/HDD arrays for mass data storage. For expansion cards, ASUS includes three-full length PCIe 4.0 slots that operate at x16, and x8/x8/+x4, with two additional PCIe 4.0 x1 slots.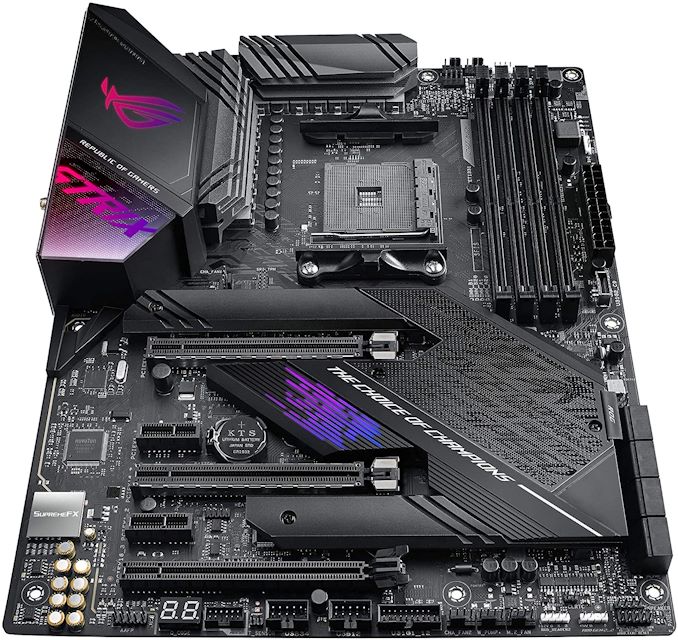 The board also includes a solid array of networking, with a Realtek RTL8125-CG 2.5 GbE and Intel I211-AT Gigabit controller pairing, including an Intel AX200 Wi-Fi 6 interface for wireless and BT 5.0 connectivity. Perhaps the most impressive feature on the ASUS board is its level of out of the box USB support. It includes seven USB 3.2 G2 Type-A and one USB 3.2 G2 Type-C port on the rear panel, which is impressive for a mid-range model. There is also one USB 3.2 G2 Type-C header (one port), one USB 3.2 G1 Type-A header (two ports), and two USB 2.0 headers (four ports) offering extra USB connectivity if users require additional ports.
Other important features include the SupremeFX S1220A HD audio codec which includes EMI shielding, with two OP Amps designed to boost the overall output, which allows for compatibility with up to 7.1 surround sound via five 3.5 mm audio jacks and its single S/PDIF optical output. ASUS includes the Sonic Studio III software which works well with the audio solution. Many vendors rely on the basic Realtek Control Panel, so it's nice to see ASUS has put some effort into this as auditory experience can be just as important as visuals to users.
Turning to the performance, the ASUS delivers in our system tests, with solid power consumption figures, very fast POST times, and extraordinary DPC latency performance out of the box. It is also competitive in our CPU and gaming tests. When we put it to the test in our overclock testing, the large 12+4 power delivery operating at 6+2 with teamed power stages works effectively and efficiently. We noted solid VDroop control with the default LLC profile, as well as highly competitive performance when it comes to VRM thermals. This shows the power delivery is efficient, with a good heatsink capable of handling large overclocks.
Final Words
ASUS isn't without stern competition at the sub $300-350 price point with GIGABYTE, and ASRock both competing with models that similar feature sets. This includes models with three PCIe 4.0 x4 M.2 slots, but none of them include as much USB 3.2 G2 on the rear panel, and this is where the ASUS shines. ASUS does include a solid software package that makes subtle, but effective enhancements in users' experience, it only bolsters the overall package. It performs well in our testing, looks good while doing it, and offers users plenty of overhead for users looking to push the performance of Ryzen 5000 and Ryzen 3000.