TiVo on the Go
Maloney had a TiVo on the Go demonstration, TiVo on the Go is the ability for you to transfer your TiVo recordings to your notebook.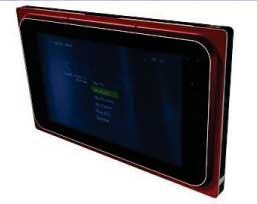 The demo used a prototype On-the-Go media PC based on a Dothan Ultra Low Volt processor. The DVD player on the back of the tablet behind the red cover seen below.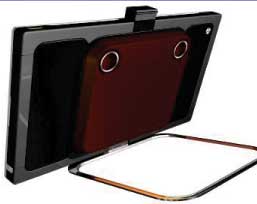 Maloney suggested that with such a small form factor (8.9" wide screen, 2.5 lbs, fanless design) popping one of the tablets into your car to use as a removable entertainment option should be a good option. Or, as an in-car device you'd be able to wirelessly synchronize your movies and recorded content directly to your car.
What's Next?
Maloney's keynote concluded with some more talk about WiFi and WiMAX.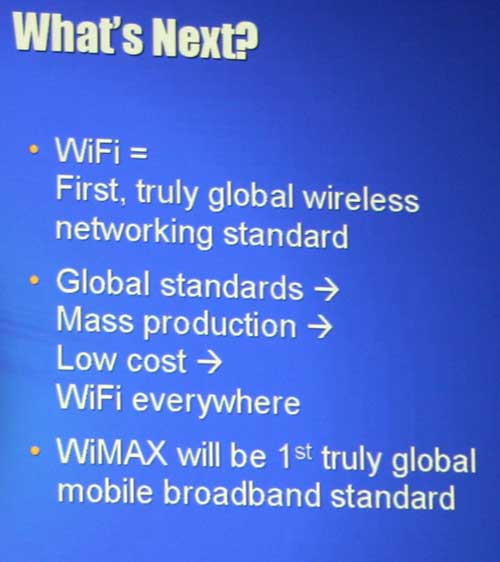 The premise is this: WiFi is the first truly global wireless network standard, which is impressive given the sharp contrast between it and cellular wireless network standards. Imagine how useless WiFi would have been had you not been able to jump on WiFi networks in different countries because of differences in specifications.
Intel wants to make WiMAX the first truly global mobile broadband standard, similar to what has happened with WiFi. Given the history with WiFi, the outlook for WiMAX looks pretty positive.
All network demonstrations during the keynote were done over a WiMAX network.
Final Words
Day 2 has gotten off to a slow start thus far, but we've got tons of meetings and lots of technical tracks to attend, so hopefully we'll have some more interesting tidbits as the day goes on. If you've missed them, here is a recap of our past articles:
IDF Spring 2005 Day 1 - Craig Barrett's Keynote
Updated! IDF Spring 2005 Day 1 - 65nm Multi-Core Demos and more
IDF Spring 2005 - New Pentium D, No More 4
IDF Spring 2005 Day 1 - Gelsinger Speaks, nForce4 Intel and more