SPEC2017 - Multi-Core Performance
While we knew that the Apple M1 would do extremely well in single-threaded performance, the design's strengths are also in its power-efficiency which should directly translate to exceptionally good multi-threaded performance in power limited designs. We noted that although Apple doesn't really publish any TDP figure, we estimate that the M1 here in the Mac mini behaves like a 20-24W TDP chip.
We're including Intel's newest Tiger Lake system with an i7-1185G7 at 28W, an AMD Ryzen 7 4800U at 15W, and a Ryzen 9 4900HS at 35W as comparison points. It's to be noted that the actual power consumption of these devices should exceed that of their advertised TDPs, as it doesn't account for DRAM or VRMs.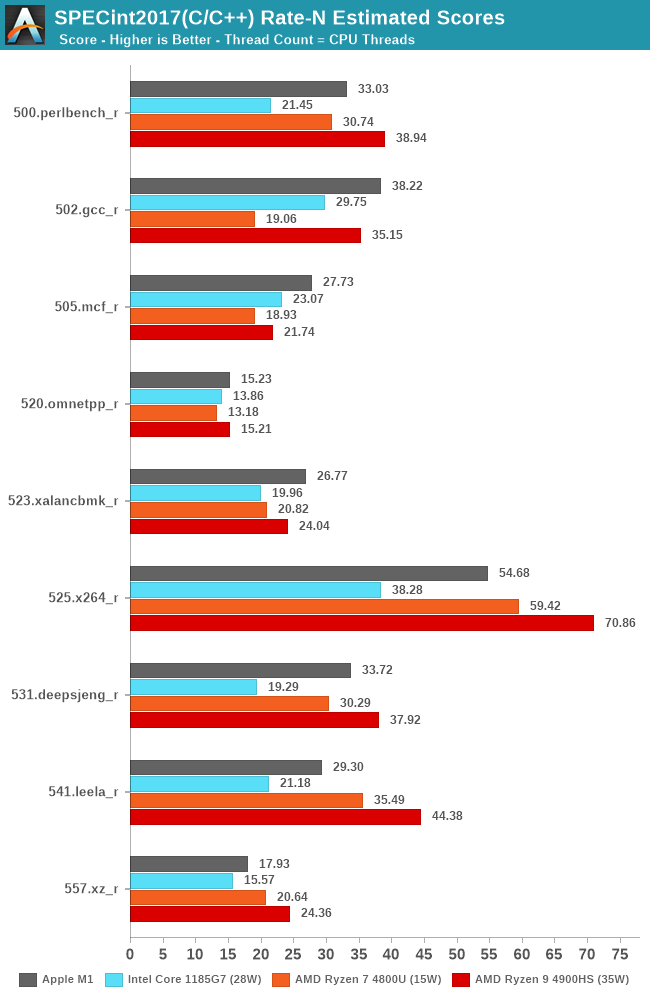 In SPECint2017 rate, the Apple M1 battles with AMD's chipsets, with the results differing depending on the workload, sometimes winning, sometimes losing.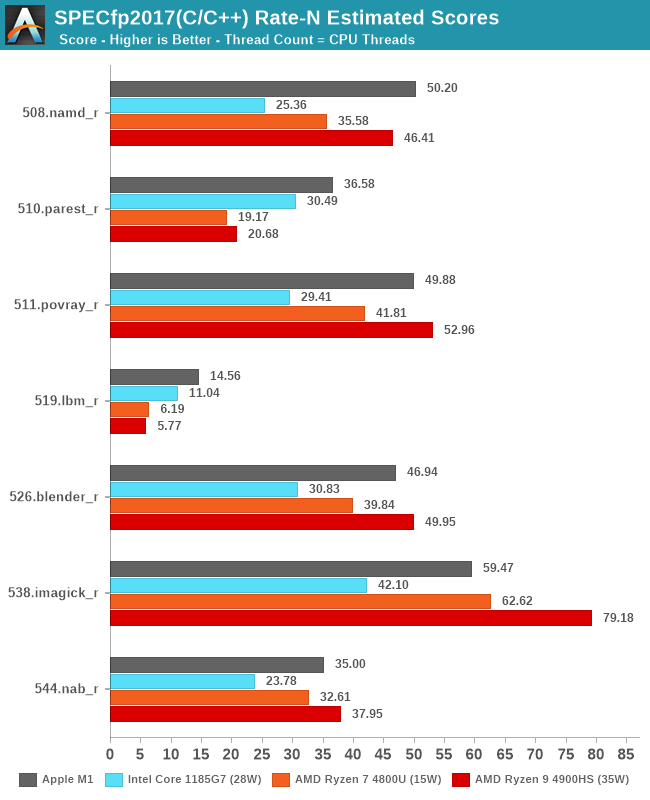 In the fp2017 rate results, we see similar results, with the Apple M1 battling it out with AMD's higher-end laptop chip, able to beat the lower TDP part and clearly stay ahead of Intel's design.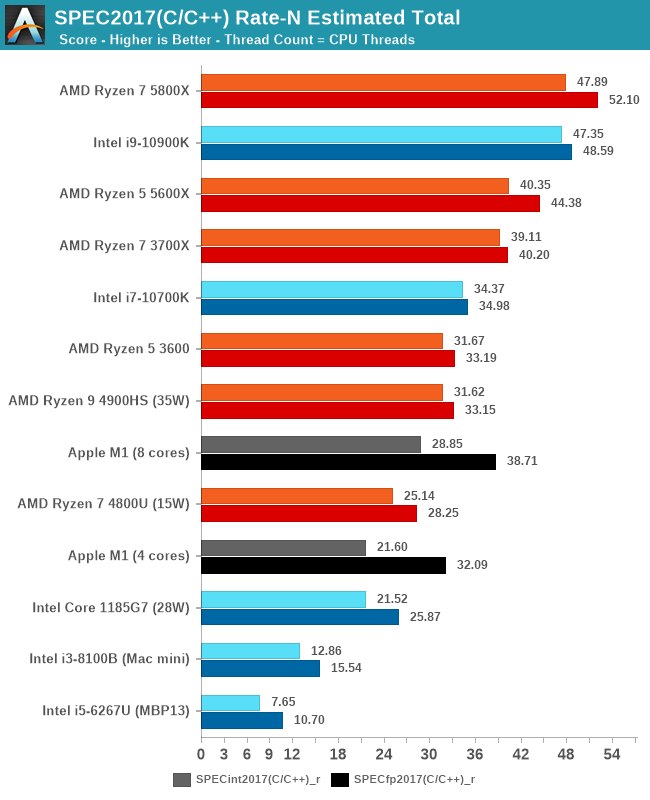 In the overall multi-core scores, the Apple M1 is extremely impressive. On integer workloads, it still seems that AMD's more recent Renoir-based designs beat the M1 in performance, but only in the integer workloads and at a notably higher TDP and power consumption.
Apple's lead against Intel's Tiger Lake SoC at 28W here is indisputable, and shows the reason as to why Apple chose to abandon their long-term silicon partner of 15 years. The M1 not only beats the best Intel has to offer in this market-segment, but does so at less power.
I also included multi-threaded scores of the M1 when ignoring the 4 efficiency cores of the system. Here although it's an "8-core" design, the heterogeneous nature of the CPUs means that performance is lop-sided towards the big cores. That doesn't mean that the efficiency cores are absolutely weak: Using them still increases total throughput by 20-33%, depending on the workload, favouring compute-heavy tasks.
Overall, Apple doesn't just deliver a viable silicon alternative to AMD and Intel, but actually something that's well outperforms them both in absolute performance as well as power efficiency. Naturally, in higher power-level, higher-core count systems, the M1 can't keep up to AMD and Intel designs, but that's something Apple likely will want to address with subsequent designs in that category over the next 2 years.