Power Consumption and Thermal Performance
The power consumption at the wall was measured with a 4K display being driven through the HDMI port. In the graphs below, we compare the idle and load power of the ASRock 4X4 BOX-4800U with other low power PCs evaluated before. For load power consumption, we ran the AIDA64 System Stability Test with various stress components, and noted the maximum sustained power consumption at the wall.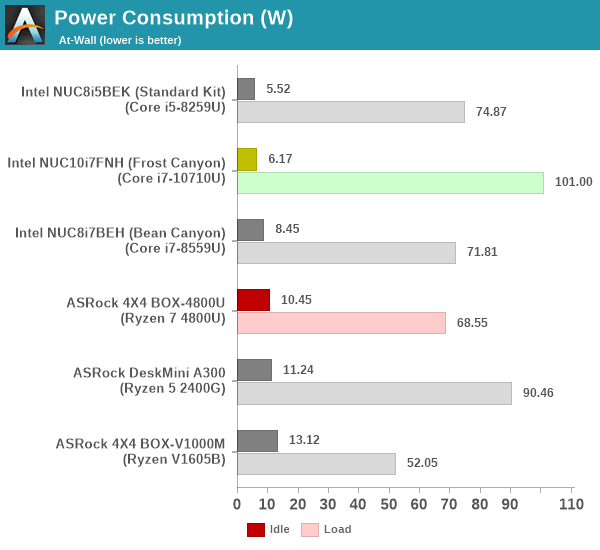 The idle power of 10.45W is a tad too high compared to the Intel NUCs. The peak power consumption is also low, compared to other systems.
Our thermal stress routine starts with the system at idle, followed by four stages of different system loading profiles using the AIDA64 System Stability Test (each of 30 minutes duration). In the first stage, we stress the CPU, caches and RAM. In the second stage, we add the GPU to the above list. In the third stage, we stress the GPU standalone. In the final stage, we stress all the system components (including the disks). Beyond this, we leave the unit idle in order to determine how quickly the various temperatures in the system can come back to normal idling range. The various clocks, temperatures and power consumption numbers for the system during the above routine are presented in the graphs below.
ASRock 4X4 BOX-4800U System Loading with the AIDA64 System Stability Test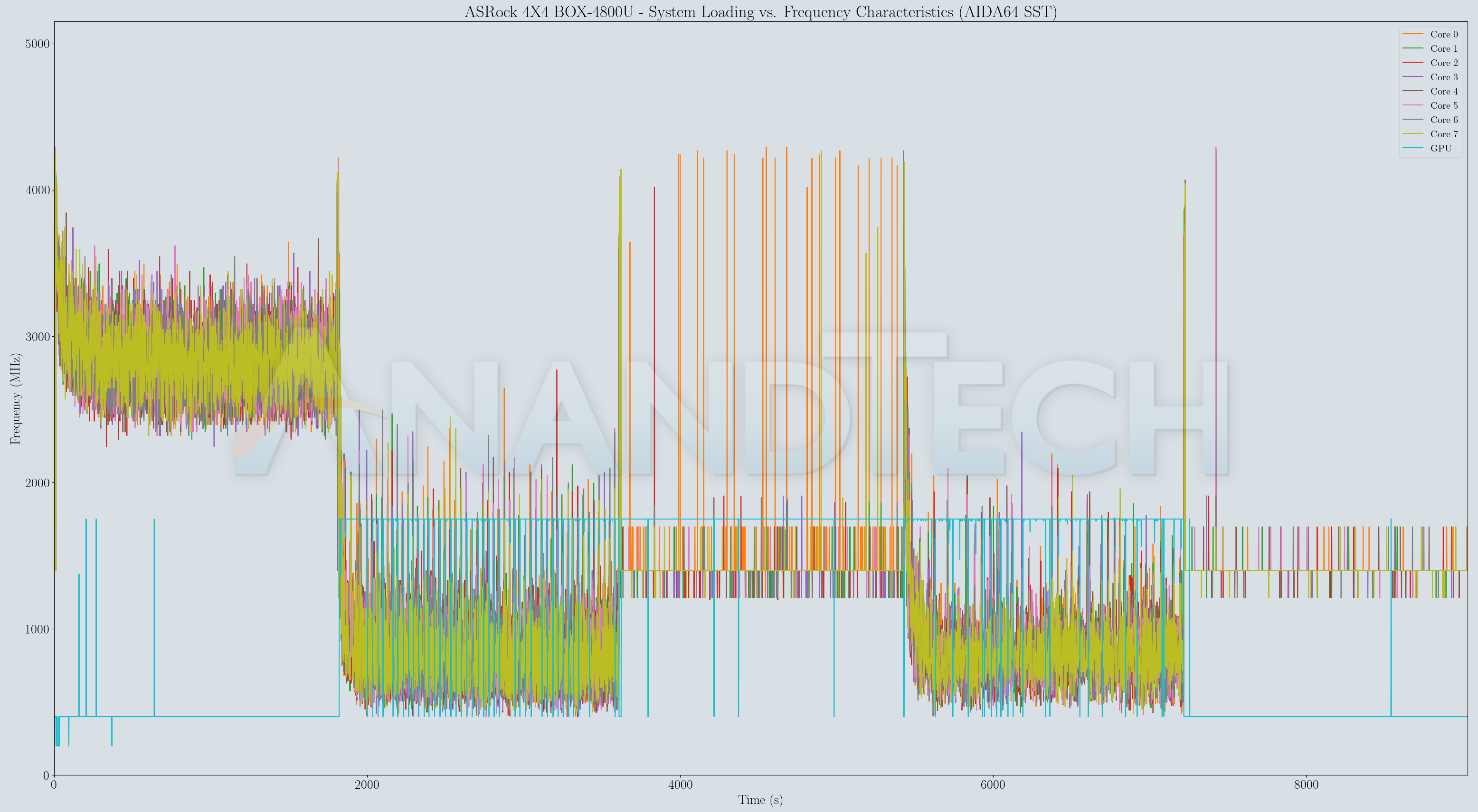 The frequencies stay above the base value (1.8 GHz) advertised. Being actively cooled, the temperature of the package doesn't exceed 95C. The key is the package power - for CPU alone, the steady state is around 15W. With the GPU in the mix, it goes up to around 20W (though instantaneous values go as high as 30W for very short bursts).
ASRock 4X4 BOX-4800U System Loading with Prime95 and Furmark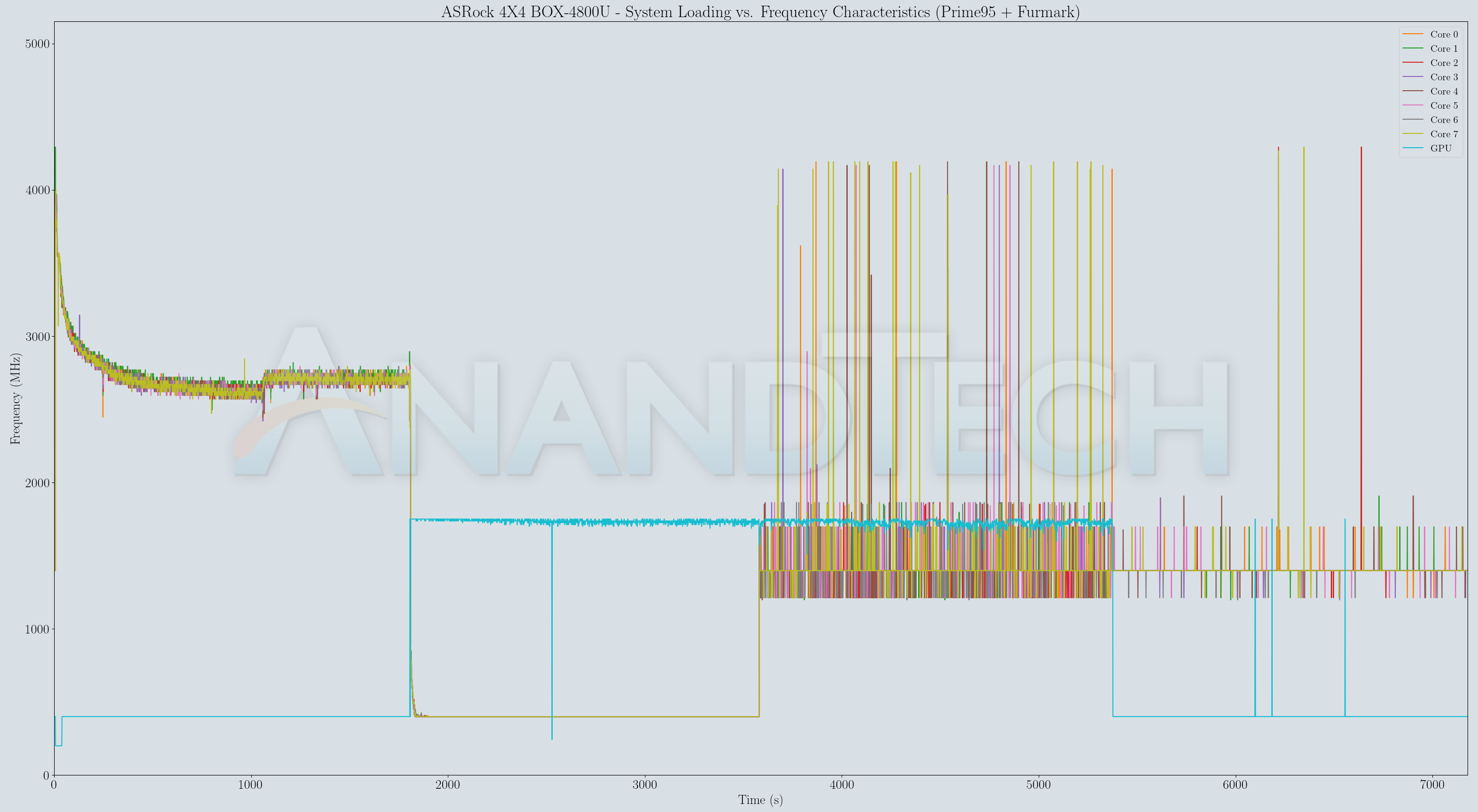 The artificial power virus test of both Prime95 and Furmark results in the package temperature going as high as 100C. According to the official specifications, the maximum permitted temperature of the Ryzen 7 4800U is 105C. The thermal solution is able to keep it below that number, allowing the processor to deliver its advertised performance in a sustained manner.