Gameplay Analysis: The Wolf Among Us
Although a cell-shaded game like The Wolf Among Us, created by Telltale games, may not seem like a particularly taxing game to test on the Xbox One X and the Xbox Series X, this PC port is actually quite demanding on the consoles, with the Xbox One and Xbox One X both exhibiting stuttering and framerate drops. So, why not see how the more powerful Series X can handle it?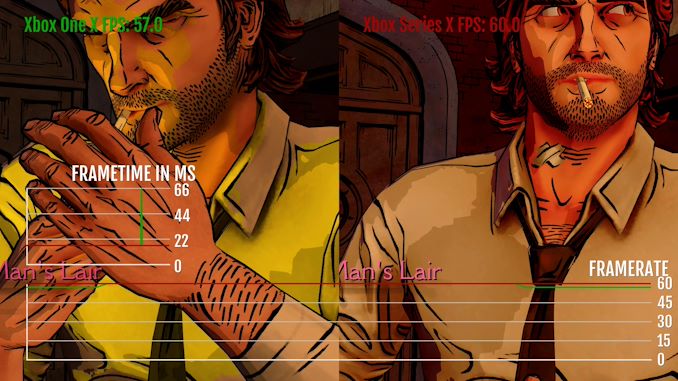 Although both consoles were not able to maintain 60 FPS 100% of the time, the Xbox One X most definitely had more frame time jumps, and lowered framerate more often.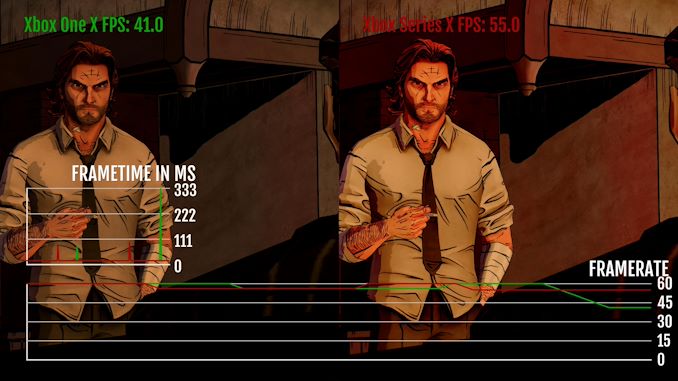 Looking at this scene, the Xbox Series X does drop the framerate slightly, but far less than the Xbox One X, and without quite as large of a frame time spike either.
This happens quite often, with the Xbox One X running into a wall much more often and with more of an impact than the more powerful Series X.
Although the framerate of The Wolf Among Us is not a key to the gameplay, it does keep you immersed, and frame time spikes can really jar the eye as a sudden hitch in the game. Telltale games clearly did not do a great job porting this to the console, but it does give is a good chance to see where the new console can improve the gameplay of an older title.