Section by Andrei Frumusanu
CPU MT Performance: SPEC 2017
Whilst single-threaded performance of Zen3 seems to be an absolute win for the new Ryzen 5000 series CPUs, multi-threaded performance is also the other important aspect of a design. Generally, what comes into play much more for multi-threaded performance is the power efficiency of the design. As none of the current x86 consumer or enterprise parts are able to actually run all their cores at maximum frequency for peak performance due to platform power limitations, any resulting performance boost we might see between generations with a similar power cap will be due to power and energy efficiency gains between the designs.
For AMD, we're limiting the detailed comparisons here to the 3950X and the 5950X which both have a PPT of 142W, which means that's the maximum peak power for the platform, and observed 120-125W sustained figures in actual workloads. We're also throwing in a 10900K for context, but given the very different core count numbers it doesn't serve an exact apples-to-apples comparison.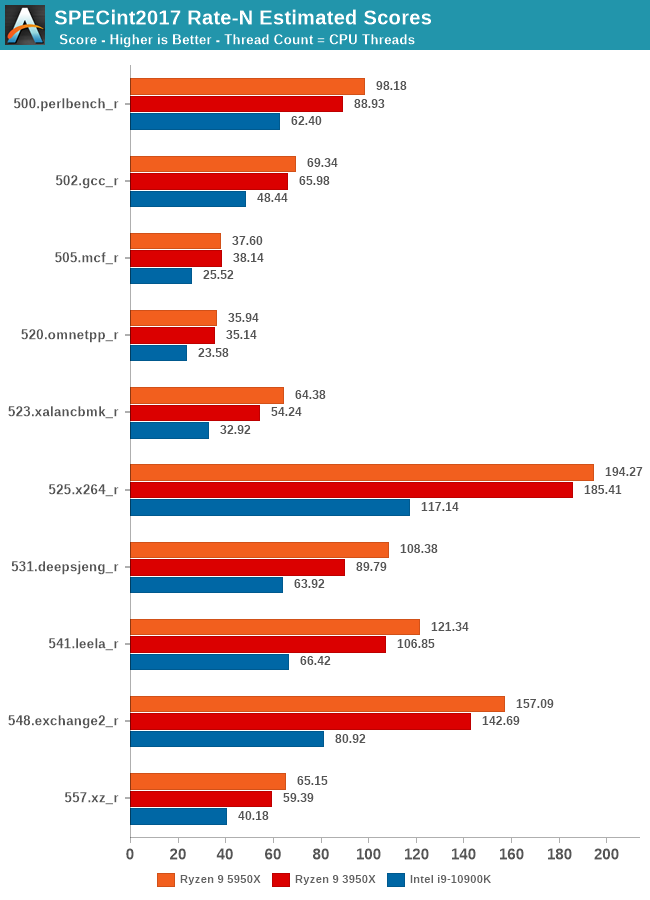 Starting off with SPECint2006, the performance uplifts for the new Ryzen 5000 series here doesn't seem to be all that significant in most tests, with uplifts well below those of the single-thread benchmarks.
Most of the tests are showing a 10% performance uplift, with the more memory heavy test showing no improvement. Some of the minor uplifts such as a 5% boost in 502.gcc seem quite disappointing and showcase that the new platform isn't all that big of a boost for productivity workloads.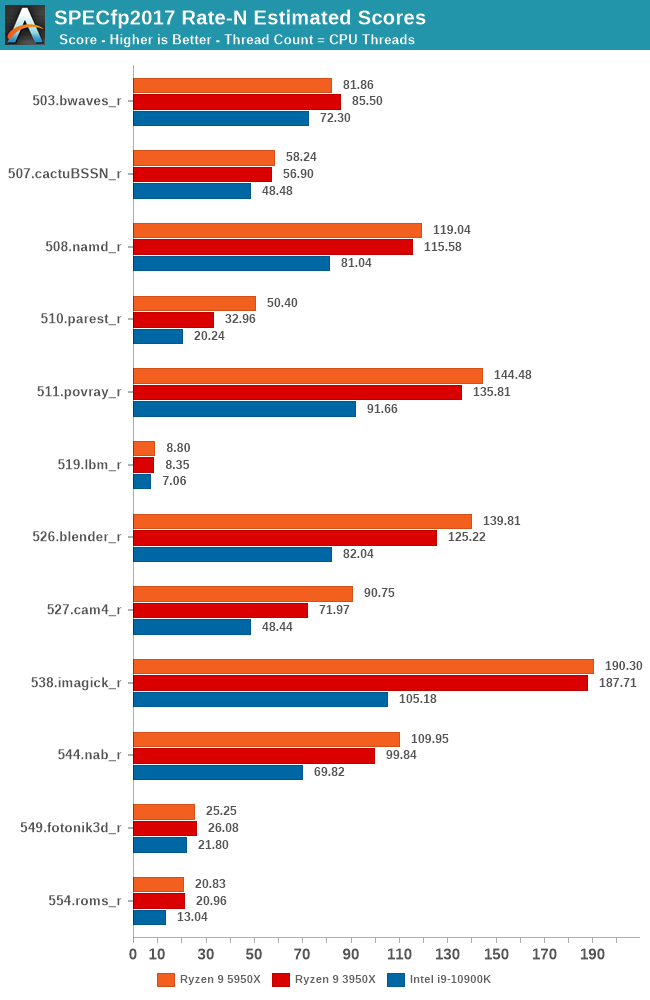 In SPECfp2017, 510.parest and 527.cam4 stand out as the two workloads with the biggest improvements, with the rest of the workloads all either having sub-5% improvements, or even just flat or slower performance than the 3950X.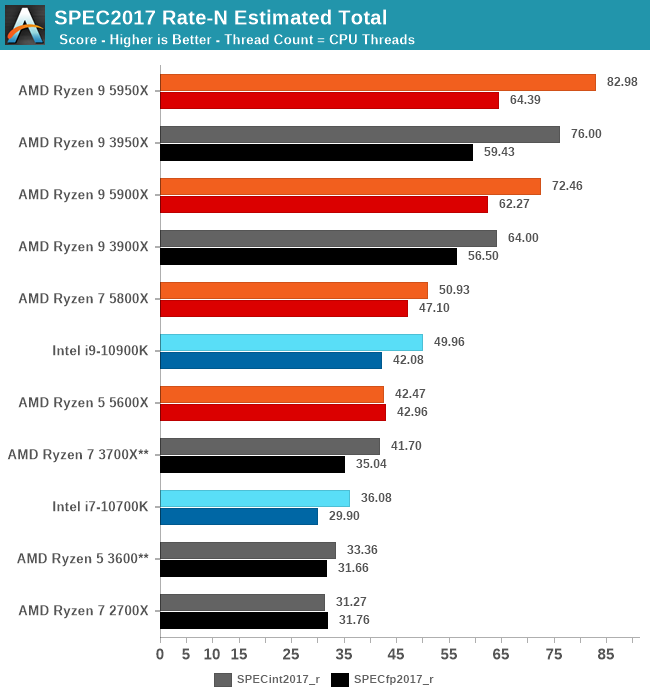 ** Preliminary figures to be re-tested due to 2x16GB SR vs 4x8GB SR memory DIMM configuration, scores will improve.
Overall, the new Ryzen 5000 series are showcasing a quite conservative 8-9% performance improvement over their predecessor generation SKUs. The 12-core variant here is showing a little bigger boost of 10-13%.
In this regard, the new chips seem to have missed the mark in terms of AMD's claims for 12% better performance per watt for the new 5950X, and 26% better performance per watt for the 5900X – their marketing should have done better in explaining those figures, or just be more conservative with their numbers. This also doesn't bode too well for the eventual EPYC-based Zen3 Milan chips.