SSE3 Performance Analysis
Before running these tests, we confirmed that SSE3 was enabled with the Opteron 252 through CPU-Z.
The first test that we will look at is DivX encoding. We used DivX 5.2.1 with AutoGK 1.91 as a front end. Chapters 19, 20 and 21 of The Chronicles of Riddick were used as the test material for this analysis. We turned off audio and used the 75% quality setting.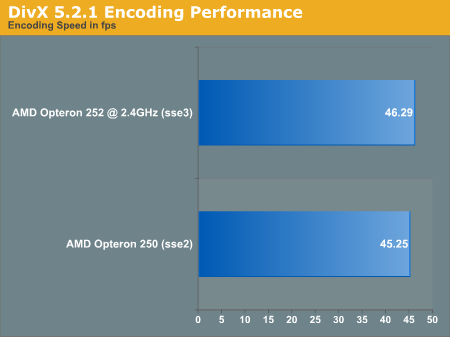 As these results are within 3% of eachother, we can see that there is not much performance advantage clock for clock under DivX 5.2.1 using SSE3.
The second test that we looked at was purely synthetic. CPU RightMark uses the processor to manage the physics and rendering of a 3D scene. There are lots of configuration options, but we went with the default for each CPU that we tested (just start up the program and hit run). The highest level of floating point support is chosen automatically in each case (SSE2 for Opteron 250, and SSE3 for Opteron 252 @ 2.4GHz).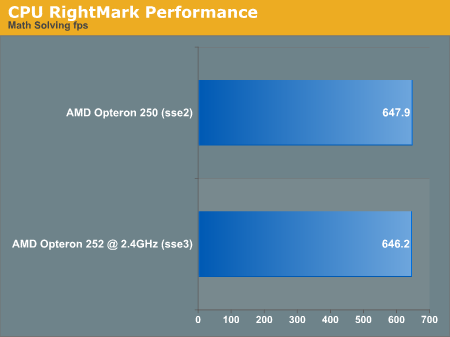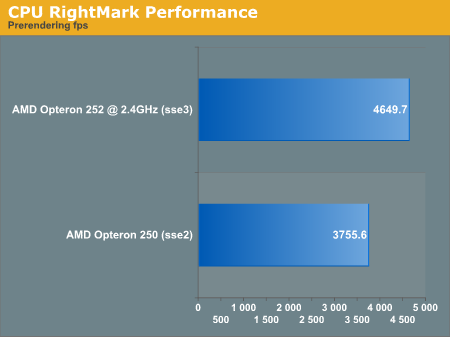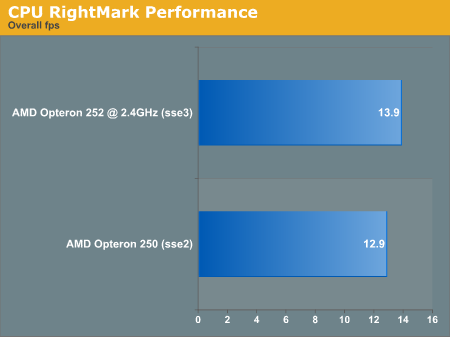 Straight math performance on these parts is essentially the same. When we look at prerendering and rendering performance, we see differences. It's clear that the SSE3 codepath shows an advantage over the SSE2 codepath in CPU RightMark. Even though this is a synthetic test, we can definitely see that doing the same thing with SSE3 over SSE2 offers an advantage.