Samsung 980 Pro: Top Shelf, No Drama
With the release this month of the Samsung 980 PRO, a new round of competition in the high-end SSD market is beginning. The 980 PRO boasts higher performance than any other consumer SSD currently available, including sequential reads at 7GB/s and random reads at up to a million IOs per second. Samsung is continuing their habit of retaking the SSD performance crown, and almost making it look easy. At the same time, the 980 PRO will be priced a bit more reasonably than previous Samsung PRO models thanks to the switch to more affordable TLC NAND. But focusing only on the raw performance capabilities of the 980 PRO can distract from its true purpose, and the real impact of the 980 PRO won't be as dramatic as those top line performance numbers would suggest.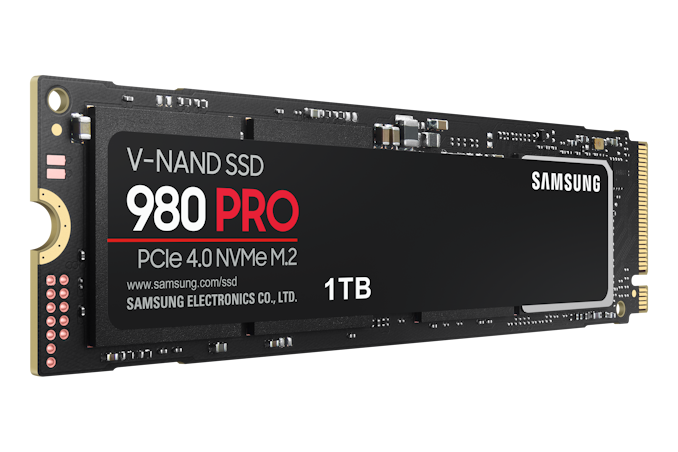 The fundamental problem facing the 980 PRO and other high-end NVMe drives is that the rest of the system can't keep up. Very few real-world consumer workloads can keep this SSD busy enough to make good use of its full performance potential. Hitting 5-7GB/s or 1M IOPS certainly sounds impressive, but that's only possible in fairly unrealistic conditions. The high sequential transfer speeds can be of some use when transferring data between the 980 PRO and RAM or an equally fast SSD, but the peak random IO performance of the drive simply does not matter to consumers today.
PCIe 4.0 Testing Wasn't Easy: Watch This Space
Our soon-to-be-retired synthetic benchmark suite is single-threaded, and the new Ryzen-based testbed highlights the places where the old Skylake CPU has been the bottleneck for random IO. I don't consider this to be a serious problem with the results we've been reporting, because real-world applications need a lot more CPU time for processing data than they do for managing IO transfers. Hype for the upcoming generation of game consoles has suggested that future video games may reach the point of needing the equivalent of an entire CPU core to manage IO, but that's only after using the equivalent of several more cores to decompress data and feed it to a powerful GPU running the kind of game engine that doesn't exist yet. Our new benchmark suite will be designed with such workloads in mind, but current consumer workloads aren't there yet and won't be for at least a few years.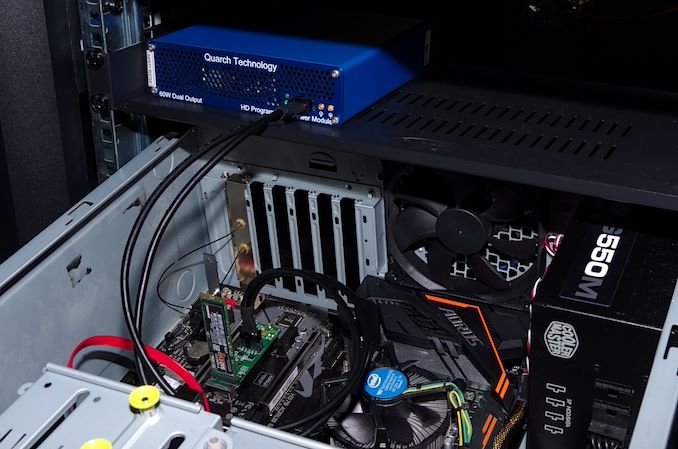 This is our PCIe 3.0 Intel Testing System.
We're building something similar for AMD Ryzen PCIe 4.0
Setting aside the issue of what the 980 PRO can do in contrived circumstances, it still offers improvements over Samsung's earlier TLC SSDs, but these are incremental changes rather than revolutionary. The 980 PRO is still constrained by the latency of NAND flash memory, even though Samsung's 128L TLC is a bit faster than their 92L and 64L generations. The switch to offering much larger SLC cache sizes probably matters a lot more than the addition of PCIe Gen4 support, and the modest power efficiency improvements are overdue.
With Enough Performance, Efficiency Should Be A Target
Moving to the latest NAND and using an 8nm process for the controller helps with power efficiency, but has nowhere near the impact of SK hynix's decision to build a high-end PCIe Gen3 SSD with a four-channel controller. For most consumer workloads that SK hynix Gold P31 is just as fast as the 980 PRO with its eight channel controller and twice the PCIe bandwidth.
Samsung's decision to use TLC NAND in the 980 PRO instead of the traditional MLC NAND for their PRO SSDs has raised some eyebrows, to say the least. Their PRO product line has long stood as one of the most premium options in the SSD market, and this change raises the question of whether the 980 PRO actually deserves that "PRO" moniker. This drive could easily have been labeled the 980 EVO instead, and it would have been a great successor to that product line.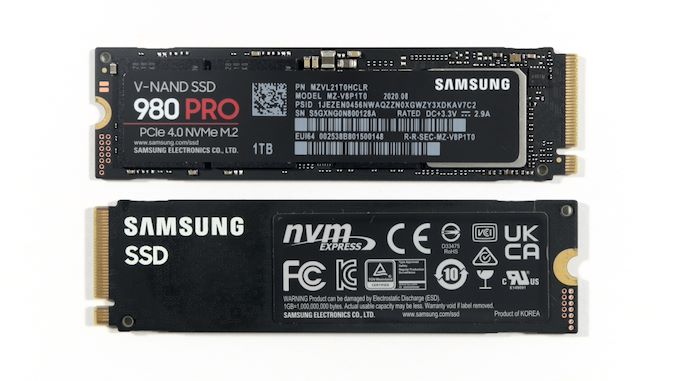 By most measures and for most use cases, the 980 PRO is actually superior to the MLC-based 970 PRO. The addition of PCIe 4 support helps the 980 PRO deliver higher speeds than its predecessors, even though that's more forward-looking than an immediate benefit. The shortcomings relative to a hypothetical MLC-based PCIe 4 drive are also mostly hypothetical; workloads that truly require more write endurance than the TLC-based 980 PRO can provide should probably be handled by an enterprise SSD rather than any consumer/prosumer product. Even with TLC NAND, the 980 PRO offers buyers the security of knowing that the drive is more than capable of handling whatever they will throw at it, and that's reason enough for it to deserve the PRO label.
Samsung's Dilemma: What Goes Into A Mainstream 980 Evo?
But that does leave a gaping hole in Samsung's lineup where a more mainstream 980 EVO might go. Samsung probably wouldn't release a QLC-based NVMe drive using the EVO suffix while they are still trying to establish their QVO branding in the SATA SSD market. But using QLC NAND isn't the only way to make a more affordable mainstream alternative to the overkill that is the 980 EVO.
My bet is that Samsung is considering releasing another PCIe Gen3 drive, or a PCIe Gen4 drive that is significantly slower, cheaper and more power efficient. They've produced low-end client NVMe SSDs for the OEM market before, but never made a retail product out of them. Now might be the time for a successor to the PM971 and PM991 to find its way to the retail SSD market. Watch this space.