Xe-LP GPU Performance: Civilization VI
Originally penned by Sid Meier and his team, the Civilization series of turn-based strategy games are a cult classic, and many an excuse for an all-nighter trying to get Gandhi to declare war on you due to an integer underflow. Truth be told I never actually played the first version, but I have played every edition from the second to the sixth, including the fourth as voiced by the late Leonard Nimoy, and it a game that is easy to pick up, but hard to master.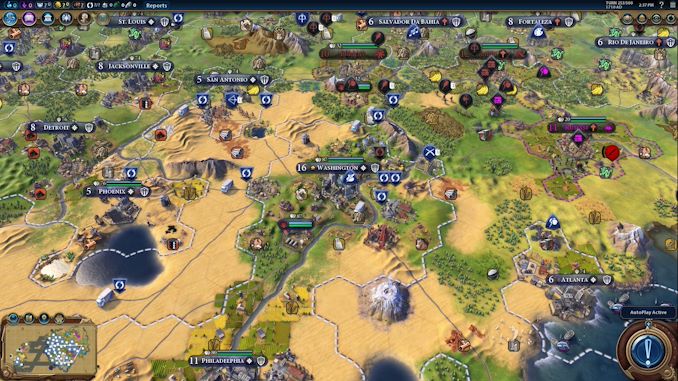 Benchmarking Civilization has always been somewhat of an oxymoron – for a turn based strategy game, the frame rate is not necessarily the important thing here and even in the right mood, something as low as 5 frames per second can be enough. With Civilization 6 however, Firaxis went hardcore on visual fidelity, trying to pull you into the game. As a result, Civilization can taxing on graphics and CPUs as we crank up the details, especially in DirectX 12.


Civ6 is a game that enjoys lots of CPU performance, so we can see the desktop APU out front here. The eight cores of the 4800U get ahead of the 15 W version of Tiger Lake in both of our tests, although the 28 W power mode gets an 8% lead in the CPU-limited test.