External Design
There are quite a few similarities between both flavors of the Nemesis. The first thing that sticks out is the metal shield bolted onto the bezel of each model. On the steel version, the shield is a brushed aluminum one whereas the Elite aluminum model's shield looks like it has a dark chrome coating. On the left side of the shield of both models is the "Nemesis" name in all uppercase lettering, which lights up when the system is powered on - subtle, yet innovative.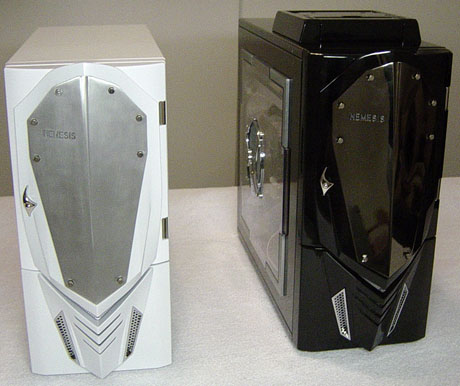 Nemesis (white, steel), Nemesis Elite (black, aluminum)
On the Elite mode, there is a small silver piece, which seems to be there just for show, but it is really an extension to the power button behind the door. This way it is not necessary to open the door to turn the power on. This is not the same for the steel version of the Nemesis, though. The door must be opened in order to access the power and reset buttons.
At the bottom of the bezel, we see four V-shaped vents, which allow air to be taken in. Above those vents, on the Elite model, is a V-shaped LED, which lights when the system is powered on. The color of the LED can be changed between red, blue, aqua, green and purple as well as a combination of blue/aqua, blue/purple, and red/green. The steel model does not have this feature along with many others that the Elite model has as we will see later.