Codegen 6209
Like Chenming, Codegen also has years of experience under its belt, over 10 years to be exact. They take care of all of the processes in-house from R&D to the final packaging of a product, which means that they keep in mind every little detail. It's no wonder why they are one of the biggest OEM companies in the world.
External Design
The bezel is a combination of silver plastic surrounded by a black frame. The top half is occupied by four 5-1/4"; drive bays, the first one being the included optical drive bezel to match the rest of the façade. Below this is a black section, which has a built-in floppy drive bezel and a second 3-1/2"; drive bay cover.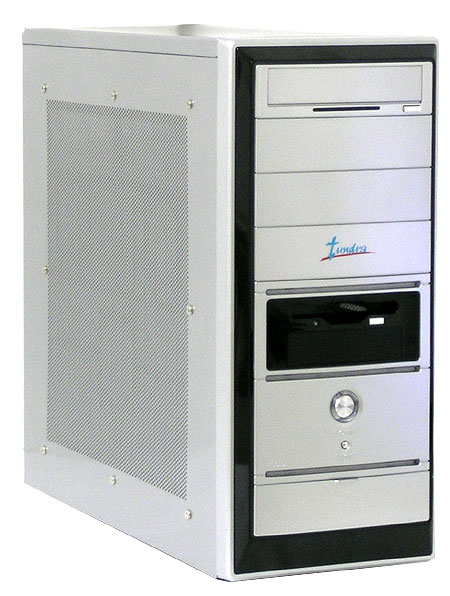 Below the drive bay covers are the power and reset button. The power button is large and easy to press unlike the reset button. The reset button is just as small as the one on Foxconn's TK-09, but can be pressed without going too deep. The HDD activity light makes up the strip of plastic under the buttons.
At the bottom of the case, there is a door that slides down to expose the auxiliary ports, which include FireWire, dual USB, and audio in/out. This slide-down door is the best design so far because it is sturdy and also does not take up more space than if it were closed.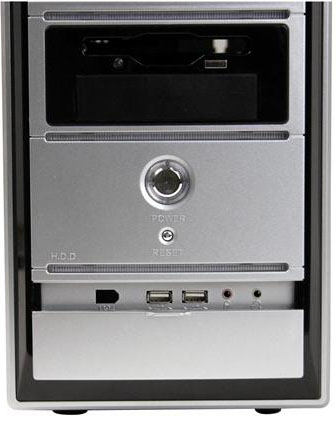 Both side panels are filled with a large square array of ventilation holes. To remove the panels, we need to first remove a single thumbscrew on the back of the case, remove the top cover, and then pull each panel up instead of back. Something different! But is it such a necessary feature? It reduces the number of screws to remove, but then it also increases the number of panels to remove also.
Internal Design
The internal design is much like that of the 268WSP, especially the drive bays. There are four 5-1/2"; drive bays and a total of six 3-1/2"; bays, with two exposed.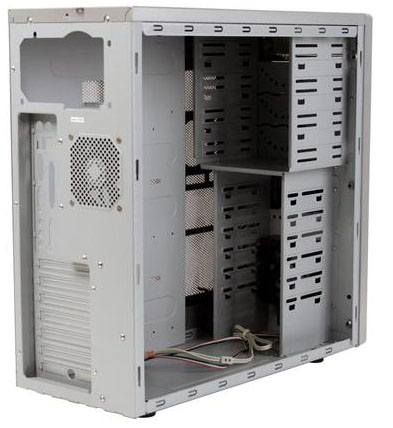 The motherboard tray has plenty of holes to install stand-offs, which will help support a variety of boards from the small microATX to the largest of ATX boards.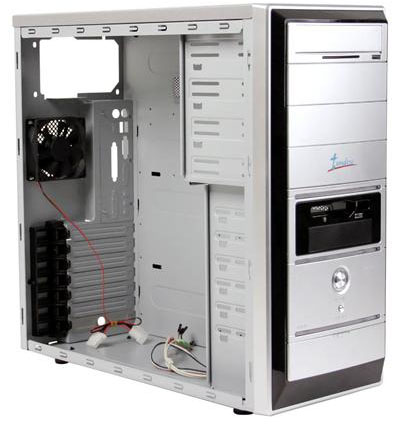 We noticed when we first opened the case that there was a single tool-less feature apart from the thumbscrew that held on the panels. The expansion slots have sliding clips, similar to those used in Thermaltake's VM3000A case that we reviewed almost a year ago. We didn't expect any of these value-priced cases to carry such a feature, but we are glad that the 6209 does.