Overclocking
Experience with the NZXT N7 Z490
One of the best ways to benefit from Intel's 10th generation Comet Lake desktop processors at stock is to keep them cooled effectively and efficiently. This is due to the inner workings of how Intel's Thermal Velocity Boost work which when kept below 70°C, allows the fastest two cores to achieve faster speeds than Turbo Boost Max 3.0 does. This can be a very nice burst of 'free' performance, with Intel recommending premium cooling for the most efficient performance; this includes at least a 240 mm AIO for the Core i7-10700K, and at least a 280 mm for the top SKU, the Core i9-10900K. By default, the Comet Lake desktop processors run warm, and many vendors are using very aggressive profiles within the firmware to give them the edge over the competition, some more aggressive than others.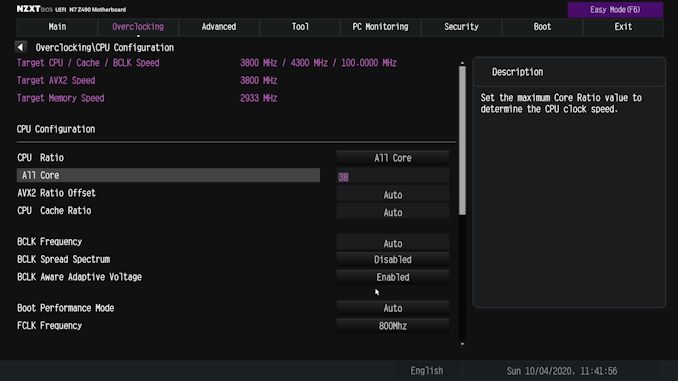 Focusing on the NZXT N7 Z490, the firmware is OEM ASRock, along with the rest of the PCB. NZXT in this scenario is the vendor, which in previous iterations of the N7, has gone with ECS as its OEM of choice. Using a more favored OEM such as ASRock has a variety of benefits, but from personal experience, overclocking on an NZXT motherboard is as good as it has ever been. All of the board's overclocking settings can be found in the Overclocking menu, with each of the main sections divided into three sub-menus, CPU, DRAM, and Voltages.
The NZXT GUI is nice, but it's clear to users familiar with ASRock's UEFI firmware that they share near-identical layouts, which offers easy access to all of the board's available settings. Although this can make specific settings easier to find due to all of the relevant settings in each sub-menu, I feel for novice users, having all of them in a list can be more beneficial. Switching constantly between three different sub-menus tweaking the same two components could lead to confusion, and as a matter to make a point, users struggling with remembering settings could write variables such as CPU ratio, CPU VCore voltage, and other related power settings down on a piece of paper to use as a reference point.
Overall the NZXT firmware doesn't feel like a finished product (check our overclocking results below to see why), with some very odd behavior, which is likely due to bad settings from the factory. Outside of the overclocking fiasco that's going on with this board, the firmware is relatively stable and easy to navigate, which is reminiscent of the fact NZXT has chosen ASRock for its OEM.
Overclocking Methodology
Our standard overclocking methodology is as follows. We select the automatic overclock options and test for stability with POV-Ray and Prime95 to simulate high-end workloads. These stability tests aim to catch any immediate causes for memory or CPU errors.
For manual overclocks, based on the information gathered from the previous testing, starts off at a nominal voltage and CPU multiplier, and the multiplier is increased until the stability tests are failed. The CPU voltage is increased gradually until the stability tests are passed, and the process repeated until the motherboard reduces the multiplier automatically (due to safety protocol) or the CPU temperature reaches a stupidly high level (105ºC+). Our testbed is not in a case, which should push overclocks higher with fresher (cooler) air.
Overclocking Results

When it comes to overclocking performance on the NZXT N7 Z490, the firmware is heavily overcompensating for voltage, with very lackluster VDroop control under load. It feels as if there is an underlying problem with the firmware, especially in regards to the level of power throttling, especially at an easily achievable overclock of 5.1 GHz. Normally our board can achieve 5.2 GHz all core in all of the Z490 boards we've tested, but this system has throttling above 5.0 GHz. With our 5.1 GHz overclock at 1.375 V in the firmware translating to a whopping 1.432V CPU VCore under load; this is a serious problem for users looking to manually overclock their CPU in this motherboard.
The effect of the throttling at 5.1 GHz shows in our POV-Ray benchmark performance. This is despite the CPU temperature still well within the thermal limitations, even with this setting disabled within the firmware. One possibility is that there could be a power limitation issue on this board within the firmware itself.
It is likely that NZXT will patch the firmware with a new revision, All of our testing was done on BIOS P1.10. We have reached out to NZXT about this issue, and they are aware. Should they fix the issue, the BIOS will be available to download at their website. For a board targeted at the K processors, it has to be able to at least push them to a good all-core turbo in line with the other offerings on the market.