Introduction
We recently ran a piece that covered hardware from the three major workstation graphics add-in card vendors (NVIDIA, ATI, and 3DLabs).
For background on the hardware we will be testing, please take a look at that article
. This piece will focus on the merits of the FireGL V5000 as an addition to ATI's lineup of workstation parts.
That having been said, let us introduce you to the new ATI FireGL V5000: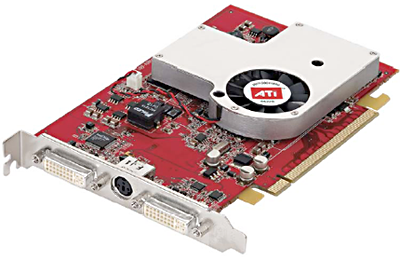 This midrange workstation card is based around a much trimmed down R423 core. The fundamental technology hasn't really changed for a few generations, especially not in terms of workstation feature set. The idea has really been smaller, faster, more. To that end, we've seen ATI focus very much on pushing the hardware and technology they had as hard as possible. To be fair, they did introduce a couple new features with R423 (3Dc being the most interesting), but nothing on the level of the Shader Model 3.0 support NVIDIA had. And the issue here is that the workstation market isn't really going to benefit from a normal map compression scheme. Even 3DLabs supports Pixel Shader 3.0 these days.
ATI can make up ground if they are able to take what they do and do it well. And we've seen them come through here in the consumer space and deliver. Figuratively, not literally: there has been low availability on the most interesting parts. Hopefully for ATI, we'll be to see the same tenacity in the workstation market when it comes to performance with better success on getting product out the door and into the customers' hands.
In talking to ATI about the FireGL V5000, we learned that ATI has recently started trying to push harder into the workstation market and make some headway against the rest of the market. They feel they have started to do so, and we hope that if they actually want the responsibility of a market leader in the workstation segment that they will take on the responsibility of one before they acquire the position. To us, that means we need to see some real hard hitting workstation only features in the next FireGL revision. Overlay planes, quad buffered stereo, and dual-link DVI are great, but there are plenty of professional level OpenGL features that ATI could choose to implement (or to implement better) in the next revision of FireGL.
If ATI really wants to separate themselves and lead the workstation world they can. We would love to see the FireGL team take a stand and demand higher quality for their core. We would love to see IEEE 754 floating point, better anisotropic filtering (and image quality in general), and true virtual memory support from the graphics card to the hard drive that's transparent to software. Of course we're going to want to see at least SM3.0 if not DX10 support coming up soon. Run separate silicon if necessary.
We understand that workstation software sometimes lag the times in terms of technology used. We're not going to see CAD software that pushes pixels like Half-Life 2 anytime soon. But workstation hardware is fundamentally different than consumer level hardware, and a different way of thinking needs to be applied.
Does the FireGL V5000 hint that ATI has what it takes to think about workstation in a way worthy of the leadership position they wish to obtain? Let's take a look and find out.