Conclusion
I've rolled my eyes every time SK hynix uses their "4D NAND" moniker to describe their combination of a peripheral under cell layout and charge trap flash. It seemed like a silly exaggeration of a minor advance over other 3D NAND, especially since Intel and Micron have been doing "CMOS under the Array" since their first generation of 3D NAND. But now that I've tested a SSD using this "4D NAND" for the first time, I'll admit it's not purely marketing fluff. This is a genuinely impressive product, and the new 3D NAND seems to be a very important factor. In some very important ways, SK hynix has taken the technological lead, even if this position may not last long.

The SK hynix Gold P31 at first glance seems to be a fairly ordinary high-end NVMe drive, albeit still limited to PCIe 3.0 speeds. It offers well-rounded performance but sets few performance records for this market segment. The write endurance ratings are good and it hit the market with competitive pricing from day one. Taken together with last year's release of the decent Gold S31 SATA SSDs, this is enough to establish SK hynix as an important player in the retail consumer SSD market.
But that's not the whole story when it comes to the Gold P31. The drive's power efficiency is far above the competition; it uses less power than many SATA SSDs while delivering high-end NVMe performance. Thanks to good co-design of their 128L 3D NAND and their in-house NVMe SSD controller, SK hynix has completely redefined our standards for NVMe SSD power efficiency and turned in the most surprising benchmark results in my five years of working for AnandTech.
Surprises like this are why I wish more SSD vendors would sample their OEM drives for review. The P31 is far from SK hynix's first NVMe SSD. It's just the first consumer NVMe SSD they're selling directly as a retail product. They have been manufacturing client NVMe SSDs for years for PC OEMs, but those never find their way onto our SSD testbed.
Some of the first M.2 PCIe SSDs (Samsung XP941 and SM951) were OEM-only products, shipping well before the launch of the retail 950 PRO. We've now seen about six iterations of Samsung's M.2 PCIe SSDs go across our testbeds (in part thanks to help from third-party suppliers who provided some of those OEM-only models for us to review), and because of that we can chart the evolution of their storage technology. But this SK hynix drive comes more or less out of the blue.
Western Digital's first in-house NVMe controllers were announced alongside a pair of OEM drives. The high-end one (SN720) was followed up by a retail counterpart (WD Black gen2) a few months later. I asked Western Digital for a sample of the entry-level OEM SN520 when they introduced that second-generation WD Black, but they couldn't sample it to me. Much later, the retail SN500 arrived and raised the bar for DRAMless SSD performance. More recently, Micron's 2200 series client SSD with their in-house NVMe controller was announced over a year before the Crucial P5 arrived.
Toshiba (now Kioxia) has been the exception; in the past few years they have sampled the XG5, XG6 and BG4 to show off new SSD tech before it makes it into retail drives. OEM SSD products are often managed by separate departments that don't have any PR budget beyond one or two press releases a year. These drives don't need aggressive marketing, but without any review sampling whatsoever we're clearly missing important parts of the picture of the overall SSD market. It's also nice when we can confirm that the drives being used by eg. Dell aren't crap badly in need of an aftermarket replacement.
Even though a close look at recent OEM NVMe SSDs from SK hynix may have tempered the surprise of the Gold P31, it's still an impressive product. It shoots right to the top of my list of recommended SSDs for laptops and finally erases the lingering power efficiency advantage of SATA SSDs, and as a result of that we're giving it one of our coveted Recommended By AnandTech awards.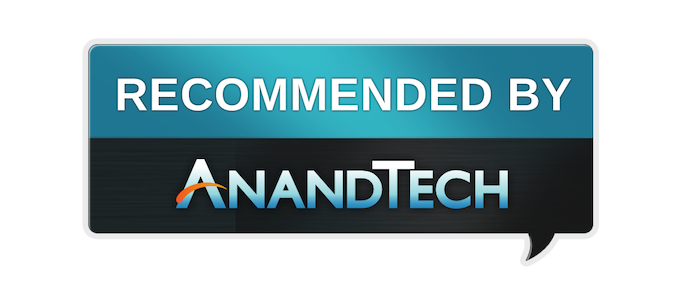 SK hynix Gold P31: The New Standard for NVMe Laptop SSDs
The SK hynix Gold P31 provides a preview of what how the entry-level NVMe SSD market segment will advance over the next few years, especially as the high-end moves on to PCIe gen4. The Gold P31 still retains plenty of performance for almost all consumer use cases, and will be excellently comfortable sitting in a laptop.