AMD vs. Intel Performance
At this point it's not too big of a surprise that AMD is the stronger performer when it comes to gaming performance.  It's actually at the point where even insiders at Intel will admit and recognize that Intel is no longer the king of gaming performance as they once were long ago.  But how bad is it under Half Life 2?  Let's take a look at our five custom demos to find out.
We used the current king of Half Life 2 performance for all of our CPU tests - the ATI Radeon X850 XT Platinum Edition running at 1280 x 1024, to give a good balance between CPU and GPU limitations while providing realistic performance figures.  Note that all of the Intel CPUs tested here are LGA-775 and all of the AMD CPUs are Socket-939.
First we have at_canals_08, generally a good GPU test, meaning that its CPU dependency is minimized.  The benchmark includes a decent number of NPCs and firefights but is severely offset by things like water and flashlight usage, both of which are more GPU intensive elements of the benchmark.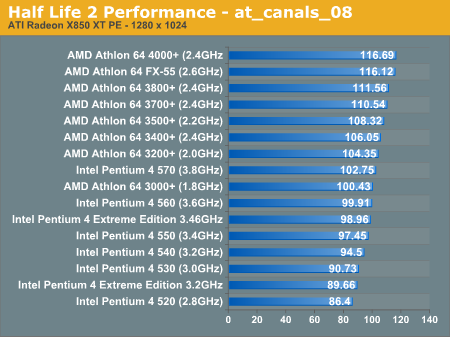 Things don't look so good for Intel here, the Pentium 4 570J is the only Intel CPU capable of outperforming the Athlon 64 3000+.  Unfortunately for Intel, AMD's Athlon 64 4000+ is about 14% faster at 1280 x 1024.
The Extreme Edition CPUs don't do much for Intel, as Prescott does appear to perform equal or better clock for clock than the older Northwood core. 
Next let's take a look at at_coast_05, another very GPU limited test that has a good deal of NPC interaction as well as GPU limiting elements: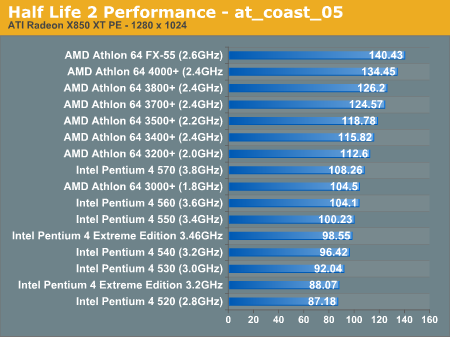 The results here are very similar to what we saw under at_canals_08, with the Pentium 4 570J offering performance slightly higher than the Athlon 64 3000+ but that's about it for Intel.  The Athlon 64 4000+ is an impressive 24% faster than Intel here which honestly is nothing to scoff at. 
Our next demo, at_coast_12, doesn't change much either: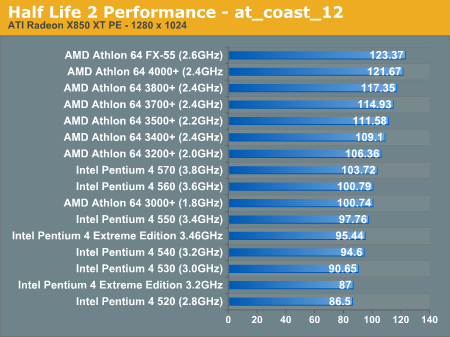 The performance under at_prison_05 is a little closer: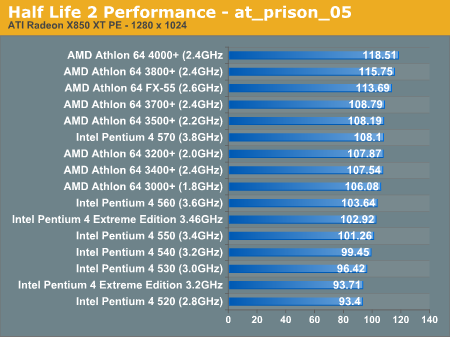 Finally we have an excellent CPU benchmark, at_c17_12.  The test is extremely CPU bound, and thus makes the perfect conclusion to this section: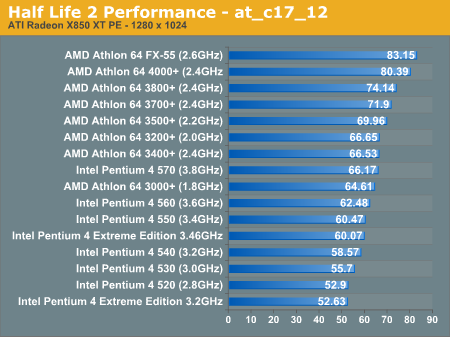 While you can argue that AMD's performance advantages in the other tests aren't noticeable on a price-for-price basis, you can't argue with the results here.  At the $280 - $290 price point, AMD's Athlon 64 3500+ delivers about 15% more performance than Intel's Pentium 4 550. 
The margin is even greater at the low end, AMD's Athlon 64 3000+ is 23% faster than Intel's similarly priced Pentium 4 520. 
At the high end the advantage is equally in AMD's favor, with the Athlon 64 4000+ holding a 22% advantage over Intel's fastest Pentium 4. 
Conclusion?  Don't look any further than AMD for the best gaming CPU, and Half Life 2 further cements AMD's reputation as the gamer's CPU.