Battery Life
One area that the XPS line has historically done very well was in battery life. This has been a combination of Dell building very efficient devices, as well as providing above-average battery capacities. For the 2020 XPS 13, Dell is offering a 52 Wh battery, which is somewhat smaller than they have in previous models. We shall see what kind of an impact that has on the overall runtime of this notebook. To fairly compare models, all devices are tested with the display brightness set to 200 nits.
Web Battery Life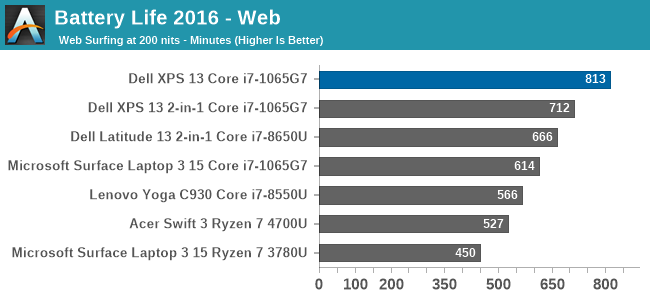 Dell starts out strong with an excellent result on our web battery life test. It managed to achieve over 13.5 hours of runtime on this fairly demanding web workload.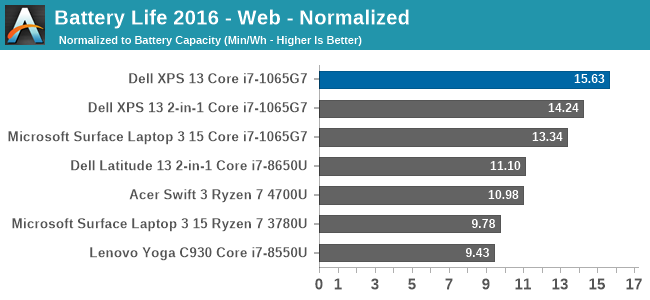 The normalized result removes the battery size from the equation so we can get a clearer picture on overall device efficiency, and we can see why the XPS 13 has lost none of its amazing battery life despite Dell shrinking the battery capacity. Dell continues to lead the field here, at least with the 1920x1200 display that we reviewed. Certainly the higher-resolution, wide-gamut 3840x2400 panel would impact this result significantly.
PCMark 10 Modern Office Battery

A new benchmark added to the stable is the PCMark 10 Modern Office Battery test, which runs through several common office scenarios on a ten-minute loop. If a device is able to finish the tasks quicker, it gets to idle for a higher percentage of the ten-minute test loop, so efficiency is important, but performance also plays a factor. The XPS 13 once again achieved a very strong result, almost matching the web runtime.
Movie Playback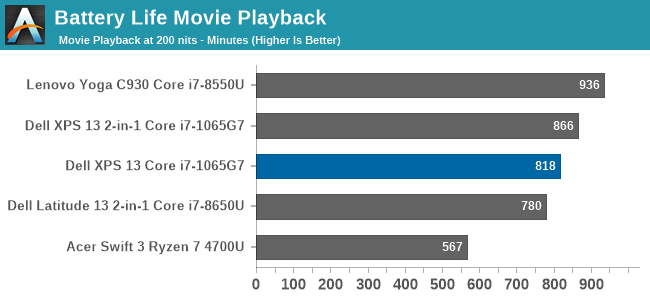 On the movie playback we generally see devices offer even more battery life than the other tests, but the XPS 13 showed such platform efficiency in the previous results that it was not able to extend that much here, but it is still a very strong result.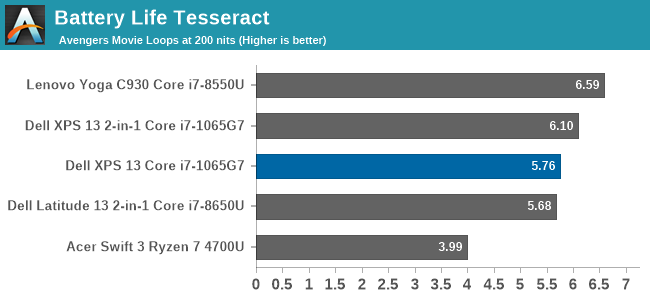 Breaking the movie playback into number of times you can play a very long movie, the XPS 13 almost achieves six complete playbacks of The Avengers before shutting down.
Charge Time
Dell ships a 45-Watt AC adapter with the XPS 13, which charges over a USB-C connector. Since there are Thunderbolt 3 ports on both sides of the notebook, it allows you to charge from whatever side is most convenient, which can help with cable management and is always a nice bonus.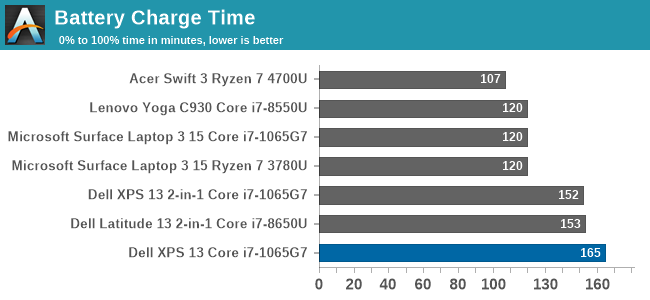 The small charger is plenty to run the notebook, but the charge rate is not spectacular. Luckily, the excellent battery life does mitigate this. Dell does offer an ExpressCharge option which will charge the battery to 80% in one hour and fully charge in two hours, however the user has to specifically choose this if they desire it using the Dell Power Manager software.