Battery Life - Outstanding
Battery life has been an aspect where LG has had tons of issue in past generation devices. The root cause here was the company's usage of LG Display manufactured displays, which all shared the same common issue of having extraordinarily bad base power consumption. This had always handicapped phones from achieving better results, more accurately tracking the SoC's efficiency and the battery capacity.
The V60's downgrade from 1440p to 1080p screen might help in that regard, and the manufacturer also opted to include a large 5000mAh battery. The Velvet's 4300mAh battery should also fare adequately – here's more of a question on whether the Snapdragon 765 is as efficient as its bigger brother.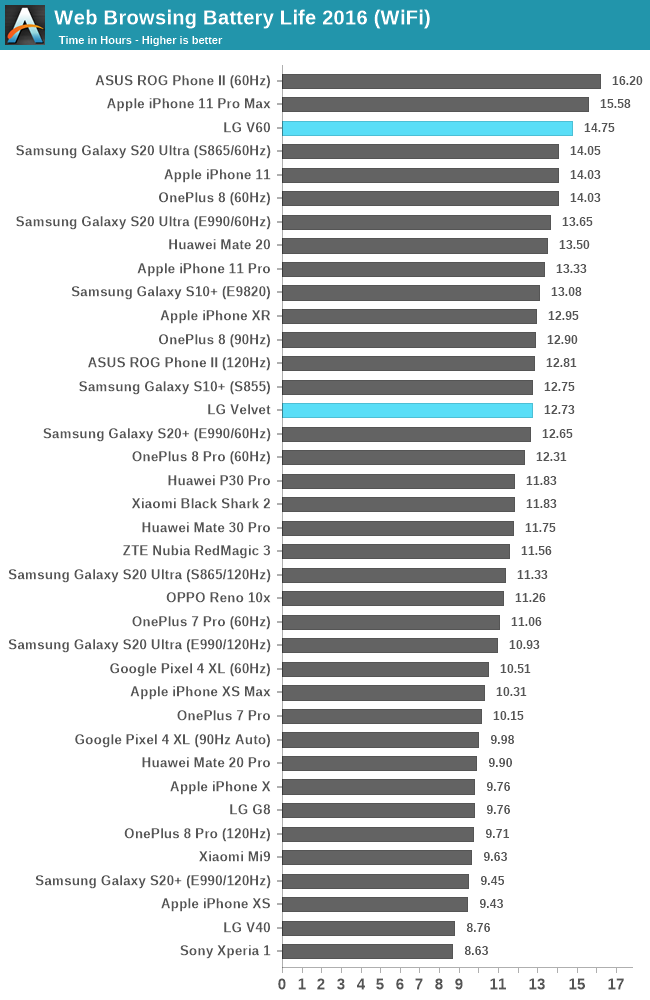 In our web-browsing test, we see the LG V60 do outstandingly good, coming in at 14.75H runtime. This vastly exceeds the results of any LG phone we've come to test in the past, and competes amongst the longest lasting devices in the market right now. LG still seems to have not quite as an efficient display panel as Samsung, as the S20 Ultra's 1440p unit is only margins behind the V60, but the gap has considerably narrowed.
The LG Velvet surprised us with equally impressive results. At 12.73 hours runtime, it's also a great result given the phone's battery capacity, and nearly scales in line with the 700mAh difference to the V60. This bodes well for the Snapdragon 765 overall, although we've seen that the CPU cores themselves aren't as efficient as on the Snapdragon 865.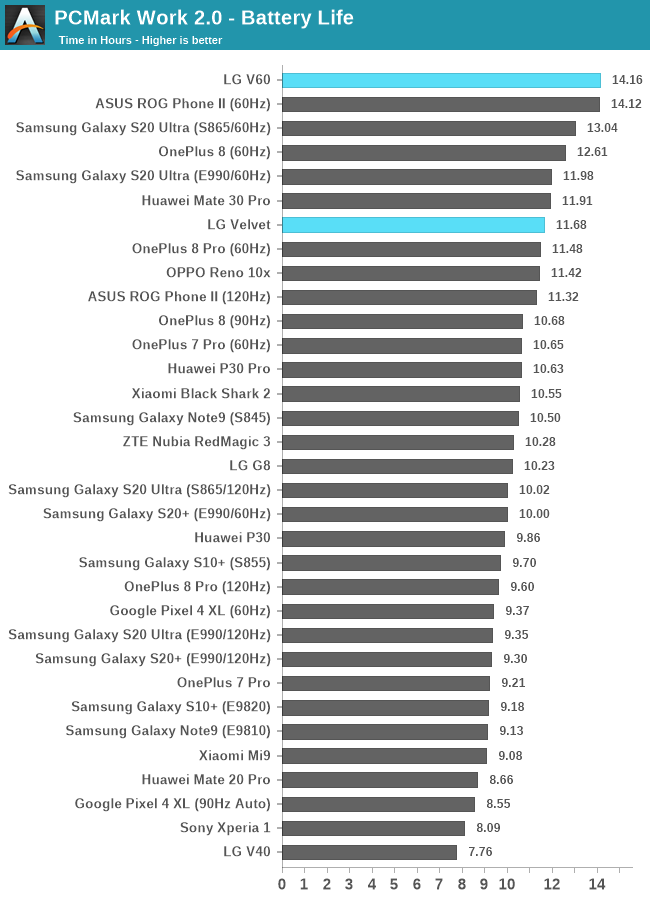 In PCMark, the V60 even manages to get the top spot in our charts by a few minutes against the 6000mAh ROG Phone II, and the Velvet also fares extremely well against the competition.
Overall, battery life of both the V60 and Velvet is outstandingly good. In a year where most other competitors have opted for higher refresh-rate displays, LG's decision to keep things simple is rewarded by being able to take advantage of the new silicon's power efficiency in order to notably increase battery life.