Conclusion
QLC NAND flash memory is still something of a novelty, even for entry-level consumer SSDs. It provides cheaper, denser storage than mainstream TLC NAND, but building a well-rounded QLC SSD is a tougher challenge. In the same way that Samsung's EVO SSDs are usually the TLC drives to beat, the 870 QVO is the QLC SATA drive to beat. But most manufacturers aren't even trying, preferring to cut different corners when designing entry-level SSDs. Far more popular than using the relatively recent development of QLC NAND is the technique of using a DRAMless SSD architecture, eliminating the RAM buffer that Samsung instead splurges on to implement with the latest and greatest LPDDR versions.
So it should come as no surprise that the strengths and weaknesses of the 870 QVO fall in different areas that are typical for entry-level drives. The most acute performance problems occur when the drive is asked to write more data than can fit in its SLC cache, and then the abysmal write performance of QLC NAND is laid bare. By contrast, many entry-level DRAMless SSDs that use TLC NAND have decent sustained write performance, and most tend to suffer worst on random IO workloads.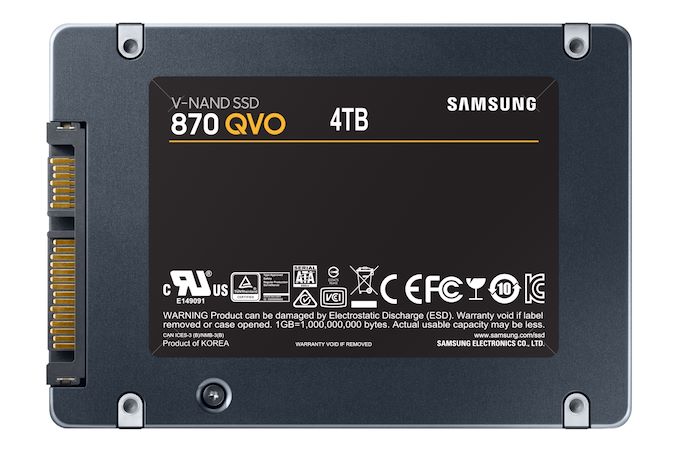 Overall, it's hard to say whether the 870 QVO offers a better performance profile than other typical entry-level SATA SSDs. Its best-case performance is better but its worst case performance is worse. The 870 QVO does have the advantage that its weaknesses are a bit more predictable, since they almost all stem from the poor write speed of QLC NAND. DRAMless SSDs can be quite variable, as shown by the pair included in this review.
Compared to the 860 QVO, the original QLC SATA consumer SSD, the 870 QVO is an improvement in almost all respects, but only a modest incremental improvement. It smooths over some of the rough edges of the 860 QVO and doesn't bring too many new surprises. Samsung has definitely proven that consumer QLC SSDs are viable, even if they don't have a clear winner.
The 870 QVO probably shouldn't be judged solely as a competitor among entry-level consumer SSDs. It has a better business case focused on the niche of high-capacity SSDs, where there are fewer competitors and the cost savings of QLC NAND are more significant. Samsung has often been on the leading edge of consumer SSD capacity increases, having introduced 2TB and 4TB models when those still sounded a bit outrageous for a consumer-oriented product line. The most important new thing about the Samsung 870 QVO is the 8TB model that isn't actually here yet.
At 1TB and 2TB, there's usually a mainstream TLC drive to be found for less than the 870 QVO or 860 QVO. At 4TB, there are very few competitors, though at the moment the WD Blue/SanDisk Ultra 3D does appear to be a very compelling 8-12% premium to get TLC NAND. When the 8TB 870 QVO arrives, it will occupy a unique market position as the first consumer SATA SSD in that capacity class. (It is possible to buy a grey-market Micron enterprise QLC SATA drive for roughly similar pricing to what we expect for the 8TB 870 QVO, but that forfeits SLC caching and a manufacturer's warranty.)
The biggest problem with the 870 QVO is that Samsung is still using SATA. That's a shrinking market segment, but high-capacity drives are probably going to be one of the last areas where SATA still makes sense—secondary storage and NAS drives don't need the benefits of NVMe as badly. For primary storage duty, the 870 QVO is easily beaten by NVMe QLC drives that offer similar capacities and prices but much better performance overall. Here again, the 870 QVO fares better when looking at higher capacities, because the Sabrent Rocket Q is half again as expensive for 4TB (and probably also for the 8TB).
I can't really recommend the smaller two capacities of the 870 QVO given the plethora of alternatives. The larger models can almost win by default due to lack of competition, but it's hard to recommend them when so few consumers can justify buying so much SSD in the first place.