OCZ Introduces PLL Memory
OCZ was quietly showing a "small" addition to their memory construction, which they described as the addition of a PLL (Phase-Lock-Loop). The PLL IC monitors and corrects operating parameters of the memory, and theoretically, could improve the overclocking performance of the memory.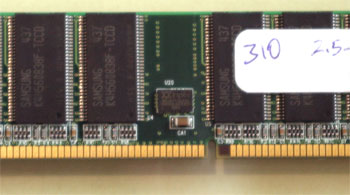 Engineers at OCZ tell us that the patented PLL circuits will eventually be used in virtually every memory module produced by OCZ. Internal testing shows that the PLL - enhanced memory is more stable at every speed, and often overclocks better than DIMMs without the PLL chip. This new PLL memory should be of great interest to both enthusiasts and those looking for the best memory in server applications.